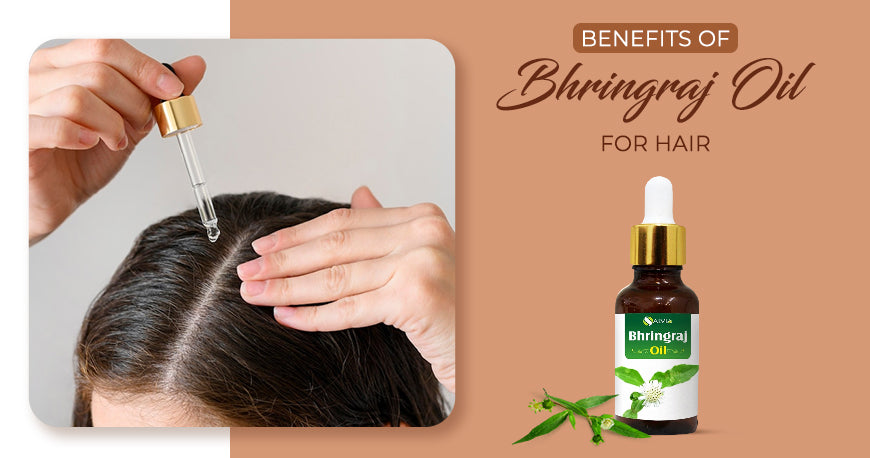 The Miraculous Benefits of Bhringraj Oil for Hair
The Herbal Hair Treatment You Need in Your Life
Since childhood, we have all heard about the ample benefits of bhringraj oil for hair in TV ads, newspapers, etc. Being an age-old secret for beautiful and problem-free hair, bhringrqaj oil derived its roots in ancient Ayurveda, and its leaves were known to be a tonic for hair and strengthening the hair. Bhringraj oil has worked wonders in treating hair problems like hair fall, premature greying, and dandruff. In Ayurveda, bhringraj oil is called 'rasayana', having unique anti-aging properties and rejuvenation. 
The oil is prepared from the leaves of the bhringraj herb. It is rich in iron, magnesium, Vitamin E, Vitamin D, and Calcium. Various research conducted has claimed that bhringraj oil promotes hair growth and treats dandruff. It has been recommended for hair disorders and if used for regular massage, it can assist with headaches and mental weakness by inducing a feeling of coolness and providing a calming effect.  
Nourish and Revitalize your hair with the magic of Bhringraj Oil
Regular and consistent use of bhringraj oil will impose the following benefits for your hair:
Hair growth
Regular massage of bhringraj essential oil is proven to enhance blood circulation to the scalp and roots, which leads to hair growth. It contains Vitamin E, which is known to fight free radicals and thus aids to hair growth. 
Fights dandruff
We all have faced dry scalp and dandruff issues at some point in time. Fighting that stubborn dandruff requires a lot of effort and it will completely banish after a quite long. The anti-inflammatory and anti-fungal properties of bhringraj oil help reduce dandruff and reduce dry scalp conditions.  It deeply penetrates the scalp, soothing dry skin conditions by moisturizing the scalp.
Reduce hair fall 
Bhringraj oil for hair is a great remedy for hair loss due to stress. Its cooling and calming properties reduce stress and nervousness. The herb possesses numerous minerals and vitamins that prevent the breakage of hair thus reducing hair fall. Massaging with bhringraj oil to the scalp increases blood circulation at the roots and provides more nutrients to promote hair growth. 
Slows down premature greying
Greying of hair is a common concern these days and it has got nothing to do with how old you are. Hair greying is majorly genetic, but research has confirmed that bhringraj oil for hair is beneficial in maintaining the natural color of hair and slowing down greying process. The oil contains some active ingredients like haritaki and Jatamansi, which are known to prevent natural hair color and slow down greying. 
Apart from these numerous benefits for hair, bhringraj essential oil is also known to promote better sleep, reducing stress and muscle relaxation.
Shoprythm Bhringraj Oil- The Ultimate Hair Care Elixir
If you also looking for essential oils for hair then you can get the purest and most natural bhringraj oil packed with numerous beneficial properties from Shoprythm. We provide original Bhringraj hair oil and offer the widest range of all-natural essential and carrier oils with no chemicals. All products are safe, preservative-free, cruelty-free, and undiluted.