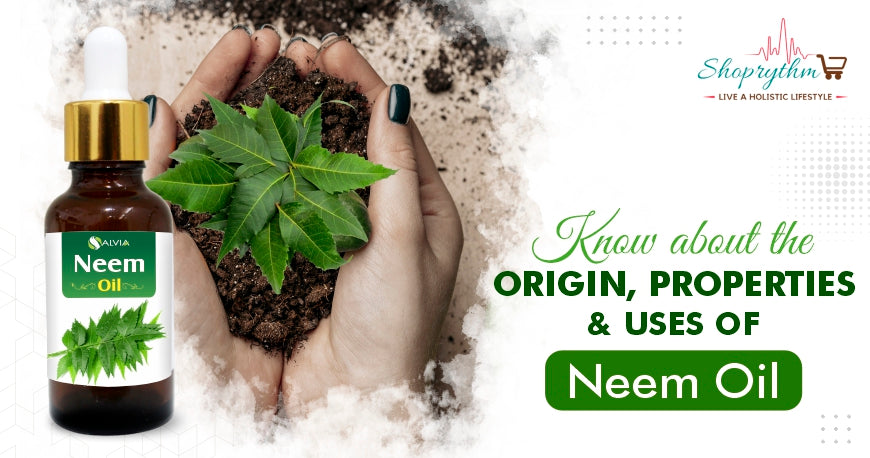 Know About The Origin, Properties, and Uses of Neem Oil
Neem (Azadirachta indica) has been a part of ayurvedic and medicinal areas since ancient times. Neem oil is extracted from the cold-pressed technique through the fruits and seeds of the neem tree. The oil is used in traditional Ayurveda to treat skin infections to ulcers. There are countless neem oil uses in medicinal applications, fungal infection treatment, skin healing, etc. 
The uses of neem oil are not bound only to medicine but benefit your skin and hair. It contains essential antioxidants, fatty acids, and several other necessary compounds. This blog will discuss how neem oil benefits our body in different ways.
What is Neem Oil?
Neem oil is extracted from the fruit and seeds of the Neem tree. Neem trees are mainly grown in the Indian subcontinent. The oil has a bitter scent and is yellow to brown in color. Neem oil works as a natural, safe, and herbal elixir for skin and hair. It contains various components, acids, and ingredients which benefit the skin and hair.
Neem oil can be used as a beauty regimen and is safe for most people. Regular neem oil use may help with eczema, psoriasis, premature aging, hair fall, dandruff, etc. It also prevents baldness and helps in wound healing.
The cold-pressed Neem Oil contains oleic acid (50%) and linoleic acid (15%). It has limonoids, antioxidants, calcium, Vitamin E, and triglycerides. These ingredients are highly beneficial for the skin. Thus, we can say neem oil benefits in resolving numerous skin problems.
Properties of Neem Oil
Neem oil has antibacterial, antifungal, antioxidant, and anti-aging properties. These neem oil properties make it an amazing remedy for skin and hair issues. Various research studies show that this cold-pressed oil may help treat eczema, dermatitis, ringworm, acne, and warts. 
A study conducted in 2017 investigated the anti-aging properties of neem oil. The study showed that Neem oil works on various aging symptoms like wrinkles, fine lines, redness, etc., and also elevates the collagen level in the skin. It makes the skin look plumpy, hydrated, and glowing.
Different studies have also shown that using neem oil fastens wound healing and develops more resilient and stronger tissues. The oil helps reduce harmful toxins present in the skin and fights bacterial as well as fungal infections.
5 Wonderful Neem Oil Uses and Benefits For Skin and Hair
Using Neem Oil for Skin and hair has wonderful advantages. It can give you clean and glowing skin. Applying it to the scalp reduces dandruff, dryness, and hair fall. The other neem oil uses for skin and hair are
1. Say No To Acne
Massaging Neem oil eliminates pimples and acne-causing bacteria from the skin's surface. It is an amazing skin exfoliant that can shrink large pores and prevents blemishes, acne, and pimples. The oil works like a miracle for the skin and gives you pollution-free and clear skin.
Neem oil has antibacterial and antifungal properties, which makes it an effective remedy for acne and skin rashes. Regularly applying neem oil on the skin protects it from harmful UV rays, pollution, and free radicals.
2. No More Stress of Hair Fall
Looking for the best and safest method to prevent hair fall and baldness? Then, neem oil is the ultimate solution for you. Neem oil benefits the hair and strengthens them. It penetrates deeply into the scalp and nourishes the hair follicles. Massaging neem oil on the scalp may boost hair growth, prevent dryness, and reduces hair fall.
The oil has antioxidants, anti-inflammatory, and antifungal properties that promote right blood circulation and boosts hair growth. Neem oil can be used as an antidote for hair loss.
3. Elixir For Skin and Hair Infection
When it comes to treating skin and scalp infections, neem oil shows surprising results. The antibacterial and antifungal properties of this oil make it the best medication for infections. Applying Neem oil to septic and sores helps the skin to heal quickly. The oil can also prevent bacterial infections and bumps on the scalp.
Neem oil contains an active ingredient called nimbidin, which may lower inflammation and treat dermatitis, psoriasis, and other scalp irritations. It also maintains the pH balance of the scalp and prevents itching and irritation.
4. No More Wrinkles and Fine Lines
One of the best neem oil benefits is anti-aging. The oil works amazingly to reduce premature aging symptoms. It is loaded with antioxidants and Vitamin C that help reduce wrinkles, fine lines, and saggy skin. Using Neem Oil for Skin also boosts collagen production and makes your skin plumpy and younger looking.
The oil smoothens your fine lines and wrinkles and makes your skin look younger, and makes it look glowing.
5. Prevents lice and dry scalp
Neem oil contains antibacterial properties and azadirachtin content, which shows effectiveness in eliminating lice. Neem oil shows 99% effectiveness in killing hair lice larvae after 5-10 minutes of application. The oil also helps reduce dry scalp by deeply conditioning and nourishing it.
One can massage neem oil on the scalp or mix a few drops of this oil in the shampoo, conditioner, or hair oil to get the best results.
How To Use Neem Oil On Hair and Skin?
Neem oil is a cold-pressed oil. Thus, one can apply it directly to the skin and scalp. But the oil is highly potent and contains active ingredients, which may cause irritation to sensitive skin. If you have sensitive skin, we recommend a patch test or dilution with coconut, jojoba, or olive oil.
Recommended ways to get neem oil benefits for skin and hair are
Dilute neem oil with coconut oil and apply it to your scalp twice a week. One can leave it on the hair overnight for quick results.

Add a few drops of neem oil to your hair conditioner, shampoo, or body lotion to prevent bacterial growth on the skin or hair.

Dilute neem oil with any other carrier oil. Dab it on the affected area using a cotton swab or ball. Let it rest for 15-20 minutes. Wash your face with lukewarm water.
Do NOT use neem oil on your skin or scalp if you are allergic. It can cause hives, rashes, and skin irritation. Do not use it directly on your face. Always do a patch test before application. 
For a patch test, mix a few drops of neem oil with coconut oil or body wash and apply it to the back of your hand. Do not use it further if it shows signs of redness, itching, or irritation.
The Bottom Line
There are various Neem oil uses on the skin and hair. But one must use 100% pure and natural neem oil for effective results. Neem oil benefits your body in countless ways and is a multipurpose oil. The oil not only benefits your skin or hair but also prevents the skin from bugs or insect bites. 
When it comes to choosing the best product in the market, people tend to get confused. Therefore, Shoprythm brings high-quality and pure oils to your doorstep. Our oils do not contain any preservatives, artificial colors, or adulterants. By choosing our products, you will get visible results within a reasonable time.