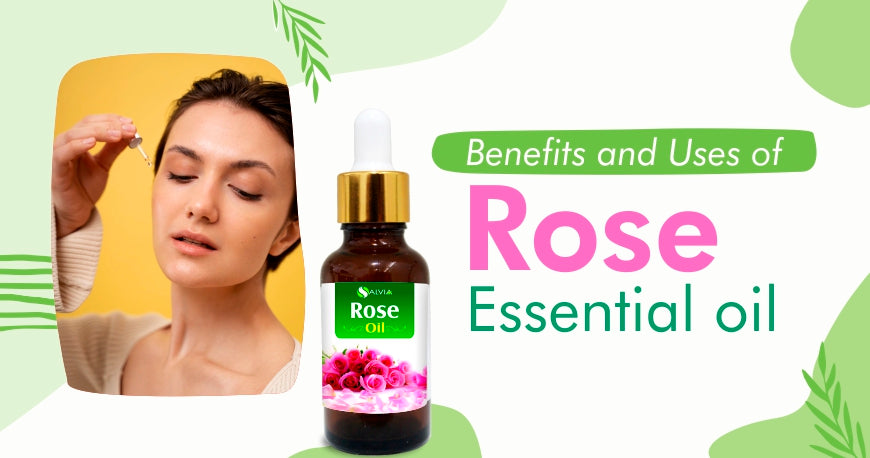 What are the Uses and Benefits of Rose Essential Oil?
Rose Essential oil is considered a powerful healing agent and has been used since ancient times as a health remedy and for skincare benefits. The oil comes from the Rosa damascena and sometimes from the Rosa centifolia (cabbage rose) plant. 
This essential oil is extracted through the steam distillation method of flower petals. Rose Essential Oil benefits your health, skin, and hair. The oil has a warm, deep, sweet, honey-like, and floral scent.
Let us see how rose essential oil benefits our body in different ways.
6 Benefits of Rose Essential Oil
Rose Essential Oil has various benefits, including skincare, hair care, stress relieving, anti-depressant, and perfumery. The essential oil is beneficial in minimizing pain and muscle aches. Massaging rose oil on the body or scalp helps to enhance blood circulation.
Now, we will discuss the other necessary benefits of rose essential oil for our health and body.
 1. Skin Enhancement
Using Rose essential oil for skin is one of the best ways of enhancing it. The rose oil contains various vitamins, minerals, antioxidants, and antibacterial properties that keep your skin safe and nourished. Applying this essential oil to the skin helps to reduce dark circles, oily skin, and scars. It hydrates your skin and makes it moisturized.
Massaging this oil on the skin or face can help reduce scars and blemishes. It also prevents acne scars and growth. Hence, applying this oil to the skin makes it clear, bright, and spot-free.
 2. Aromatherapy
Rose Essential oil has a calming, soothing, and warm scent. This majestic aroma helps to fight off depression, anxiety, and stress. It is considered good for creating a calming atmosphere around us and benefits by clearing up your mind and body. The scent of this oil helps provide relaxation and reduce stressful atmosphere.
To use this oil in aromatherapy, add 3-4 drops of this essential oil in a diffuser or use it in a steam inhaler. It will help to provide relaxation and relieve your stress.
3. Perfumery and Personal Care
Rose oil is a potent essential oil with a lovely fragrance and has various skin and haircare benefits. The oil is used in perfumery due to its mesmerizing scent. It helps in hair growth and skin enhancement. Hence, rose essential oil is used in various creams, moisturizers, hair oils, face washes, body washes, shampoos, etc.
Rose oil can be used in a diffuser to refresh your room. One can also use rose essential oil in DIY skincare products to get bright and glowing skin.
4. Decreases Muscle Aches
Rose essential oil is considered an effective anti-inflammatory and pain-relieving oil. It is often used to treat menstrual pain, inflammation,  sore muscles, aches, etc. This oil helps to alleviate pain and swelling. Therefore, one can dilute this essential oil with a carrier oil and massage it on the body to relieve aching muscles.
To massage this oil on the body or muscle, mix 4-5 drops of rose essential oil with 6-7 drops of any essential oil. Massage the diluted oil on your whole body or the affected area to get relaxation.
5. Anti-aging Properties
Rose essential oil has anti-oxidants and anti-inflammatory properties. Due to this, it helps to nourish your skin and prevent premature aging. It boosts your skin health and prevents wrinkles. It protects the skin from damage, aging, and dehydration. Massaging this oil on the face helps to reduce wrinkles and premature aging signs.
Apply rose oil on the fine lines and wrinkles and massage it for a few minutes. Doing it regularly will show effective results and reduce signs of aging and improve skin elasticity.
 6. Hair Growth
Rose oil is the best hair oil for hair growth and is antibacterial in nature. Therefore, it helps in improving hair health. The oil helps reduce dandruff, hair thinning, hair fall, and dry scalp. Massaging rose essential oil on the scalp helps nourish and strengthen hair and promotes natural growth.
To use the oil on the scalp or hair, dilute rose essential oil with a carrier oil, and massage it on the scalp and hair strands evenly. Do this twice a week. It will help to reduce hair damage and enhance hair growth.
How to Use Rose Essential Oil?
There are numerous ways to use rose essential oil for skin, hair, and aromatherapy. One must not apply this essential oil topically on the skin or hair without diluting it with a carrier oil like coconut oil, olive oil, or argan oil. Essential oils are highly concentrated; therefore, they should not be applied directly without dilution to prevent skin irritation, redness, or allergies.
Various ways to use rose essential oil are as follows:
In aromatherapy, add this oil to the diffuser and create positive vibes in your room. One can also use rose oil in a steam inhaler to get relaxation and relieve stress.

For acne reduction, apply this essential oil on the affected area after diluting it with a carrier oil and massage for a minute or two.

Using rose essential oil in aromatherapy may also help improve your libido. Studies have found that inhaling this essential oil helps to stimulate sex drive in men.

Inhaling or using rose oil in a diffuser helps to reduce depression and stress. It relaxes your mind and calms down anxiety.

For good sleep, rose essential oil has terpenes, which are responsible for the oil's sedative effects. Add a few drops of rose essential oil to your bedtime routine, and enjoy your sleep.
The Bottom Line 
Rose essential oil can be used to help reduce inflammation, soothe skin irritations, and boost mood. It helps ease anxiety and stress, improve circulation, provide relaxation, and reduce inflammation. Rose oil has various benefits that help promote skin and hair health and provides relief to the body. 
But one must use good-quality premium essential oil to get these benefits. Shoprythm has the best-quality list of essential oil that do not contain any impurities and are 100% pure and undiluted. The unique combination of rose oil properties makes it an ideal choice for treating a wide range of ailments.
About Ajay Kakar
Mr. Ajay Kakar is an expert in dermatology with extensive experience. His expertise lies in the realm of essential oils and carrier oils, and he understands how these natural oils can work wonders for our skin and body. With a forward-thinking mindset, he has been a pioneer in introducing groundbreaking skincare products. Mr. Kakar is a dedicated entrepreneur who believes in the importance of focus, vision, strategy, development, innovation, and top-notch quality. His commitment to improving skincare through innovation is truly remarkable.