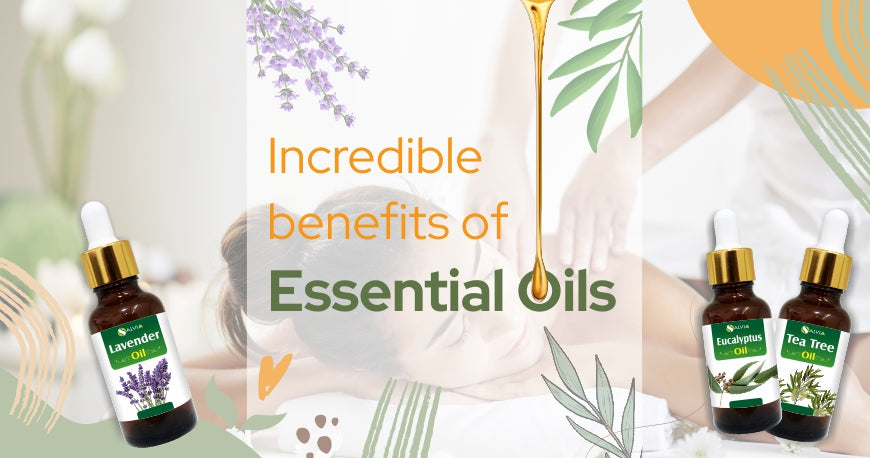 Incredible Benefits Of Essential Oils In Day To Day Life
Benefits Of Essential Oils
It's not only what substances you put on your skin that matters, but inappropriate diet, handling stress, how you rest, and exposure to environmental toxins –also contribute significantly to the skin! Have you ever wondered why skincare is more important for females? Why should women be more particular about their skincare regimen routine? What goes behind perfect skin? Why our skin gets imperfections even after applying so many products available. Chemical-based products might give you the instant result you want, but what if you wake up early morning with as usual stubborn spots, marks, or acne visibility? That's what the answer comes – Natural Remedy. So, if you are seeking the answer of any best approach that could solve most of the skincare problems and weaves a perfect smile on your face after that – then it's time to know the numerous facets of Essential Oil Benefits.
Now the next question comes to those who are new to the term 'Essential Oil' for them – Essential oils are compounds extracted from plants and have a variety of health benefits, from skincare to stress relief. Essential Oil Benefits are numerous – in skincare, haircare, nail care, providing relaxation, aromatherapy, cosmetics, and so on. One can use these oils for skin and hair care DIYs too.
Skin conditions include skin rashes, marks, blemishes, dark spots, UV exposure, suntan, wrinkles, fine lines, sagging skin, skin irritation, and many more. These are some of the common skin types of conditions that could get manage using Essential Oil Benefits. Not here the essential oils' advantages end – it also can manage pain (joints/ knee/ muscle cramp). The essential oil also calms your mind, increases focus or concentration, improves sleep quality, and is widely used in spiritual practices.
Since essential oils are potent, these oils are always recommended to mix with carrier oils (base oils such as coconut, sweet almond, jojoba, etc.) before application on the skin to avoid any sensitivity. This article is all about giving you brief information about essential oil; more than ninety essential oils have unique smells and benefits. We will handpick the most preferred essential oils qualities such as Lavender Essential Oil Benefits, tea tree, and more.
Essential Oil Benefits – Finding The Best One For You
Skincare has always been our healthcare which is our utmost and top priority. When it comes to taking care of our skin, it takes a lot of effort and courage to treat your skin to its best form in absolute ways and essential oils are the only genuine solution we can say which provides an abundance of benefits. As above mentioned, Essential Oil Benefits incorporate stress reduction properties, promotes blemish-free complexion, improves blood circulation in our body, anti-aging, and last but not the least ability to regenerate our skin cells and lots more to offer therefore striking a perfect balance between our skincare and harmony. Isn't it so unique!
So many properties and uses of Essential Oils Benefits, which cleanses our skin to the fullest by fighting with airborne impurities and lots more. Let's begin our study of the most preferred and highly chosen essential oil from Lavender Essential Oil Benefits
Lavender Essential Oil Benefits
This oil is known for its ample benefits on skin, hair, cosmetic industry, etc. It includes promoting healthy skin, is used in aromatherapy, and has relaxation properties that could ease stress and lots more. Proving to have versatile properties and n number of essential oil benefits, these are incredible in our day-to-day routine. That oil is very versatile. Also, Lavender essential oil Benefits lie in improving sleep quality to those sleep-deprived affected people in many ways by easing them with a perfect sound sleep invoking a perfect balance between our mind, body, and soul.
Tea Tree Oil Benefits
Then comes tea tree essential oil distilled from the leaves of the Melaleuca alternifolia plant, which is found in Australia specifically and incorporates several benefits such as antifungal, antibacterial, and so on. Tea tree oil is widely used in the skincare industry as one of the key ingredients in face wash, cream, toner, and soaps.
Not only do the Tea Tree Oil Benefits end here, but this oil is also used to calm the acne issues, athlete's foot, and various other skincare conditions prevalent in the body, such as getting rid of head lice nail fungus, dandruff. It is a perfect alternative for those looking at natural products instead of commercial cosmetic products, which are harmful to our skin in numerous ways that we don't even know about.
Eucalyptus Oil Benefits
Coming to the next popular essential oil – Eucalyptus, it has been shown that this oil possesses antiviral properties that could ease respiratory illness and reduce cough and cold to a great extent. Eucalyptus essential oil benefits are endless. It contains natural ingredients and is derived from the eucalyptus tree originally from Australia. It offers a blend of various therapeutic effects inside it and is associated with various benefits, such as antioxidant effects. Also, this oil is used since old age traditional times primarily for cough, flu, and solving respiratory complaints.
Apart from the above oils, there are more oils too (such as Cedarwood, Geranium, Rosemary, Frankincense, Rose, Myrrh, Vetiver, Grapefruit, etc.) that come up with numerous benefits. So, in a nutshell, in order to reap the Essential oil benefits, one needs to be watchful while buying (need to see the brand and certification).
Pure & Natural Essential Oils
Primary skin conditions that can become a hurdle in confidence talk can be taken care of using our essential oils that benefit the skin with utmost ease and care. We make sure we win our customer expectations with our simplicity and honest approach. Shoprythmstore provides various natural undiluted essential and carrier oils and is well-known for its high-quality natural and organic products. We take pride in delivering products that are very different in delivering high-end skincare and hair care products. Our essential oils and carrier oils are suitable for all skin types, providing a unified appeal to all our customers.
How To Use Essential Oils
There are two to three ways to use essential oils – the first is you can use these oils for massage, the second is for topical usage, and the third is by inhalation. For massage, put few drops of essential oils in two to three tablespoons of carrier oil (Olive, Avocado, or Jojoba). Massage onto your feet, legs, arms, back, or neck where you feel ache. For topical usage, make sure you dilute these oils with a carrier oil (for skin Sweet Almond/ Grapeseed oil/ Neem oil/ Rosehip oil). Always take a few drops of essential oil and a higher quantity of carrier oil on skin or hair.
The third way using essential oil is by Inhalation. You can put a few drops on a water-based diffuser (a device that sprays these oils mist into the air). You can buy inhalers from our e-commerce site too. There we have reached the bottom of the page, providing you important aspects of Essential Oil Benefits. In short, Essential oils could be our best friends if we really want to live a holistic lifestyle going all-natural. Hope you would have enjoyed learning these aspects about essential oils. To know more about essential oils, you can reach out to our customer care team!
Take-Home Message
Essential oil benefits come with multipurpose properties dealing with skin-related and hair care concerns. Essential oils can also be added in face masks, which can therefore be used for complete detoxification of the skin and not to forget that it also promotes healthy hair by working on the scalp.