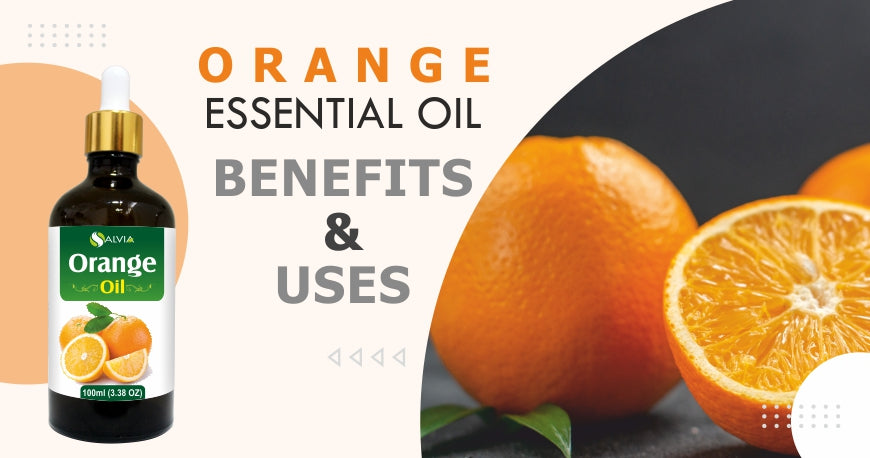 Orange Essential Oil Benefits and Uses
Orange is one of the citrus species fruit, which bears the scientific name Citrus sinensis. Orange essential oil benefits our health and skin in various ways. It is extracted by using the cold-pressed method. Orange essential oil is best known for its uplifting scent in the environment and makes it cheerful. 
Orange oil for skin helps to fight acne, blemishes, and scars with its antibacterial properties. The oil can also treat muscle spasms and help uplift the mood by relieving stress and anxiety. This oil has a natural ability to enhance immunity. It has exceptional health benefits, including multiple skin and health disorders, by applying topically, DIY mask, adding to the bathwater, or moisturizing cream
What are The Benefits of Orange Essential Oil?
Orange essential oil has a sweet and citrusy aroma. The oil is produced by the cells within the rind of an orange and contains high amounts of antioxidants and vitamin C. The oil is a natural antibacterial agent for cleaning and also helps with depression. 
The other ways in which orange oil benefits our skin, hair, and body are
1. Aromatherapy
Orange essential oil has a calming, citrus, and sweet aroma. Hence, when used in aromatherapy, the oil helps to relax the mind and relieves muscle tension. One can add a few drops of orange essential oil to their bath to get relaxation. The oil also helps to improve sleep, reduces anxiety, and lessens depression.
2. Hair Enhancement
Applying orange oil to the hair promotes healthy and nourished hair. It is a natural source of antioxidants and helps boost hair growth. People also believe that orange oil can ward away lice and dandruff. Orange oil benefits hair by treating the dry scalp and keeping the hair soft and moisturized. Using orange oil for hair helps prevent rough, dry, and brittle hair.
3. Skin Appearance
Using orange oil for skin helps enhance its appearance. The oil is rich in antioxidants and has antimicrobial properties. Hence, applying it to the skin helps prevent acne, blemishes, scars, etc. It contains Vitamin C, which makes the skin bright and glowing. Orange essential oil benefits the skin by reducing blackheads and gives you clear skin.
4. Insect Repellent
Various studies have shown that using orange oil for bugs works effectively. The scent of this essential oil helps keep the ants, bed bugs, mosquitos, and houseflies away from the house. One can use orange oil in a diffuser or mix it with room spray to use it as an insect repellent. The citrus smell of orange essential oil repels insects. Hence, it keeps them away from the house.
5. Infection Prevention
This essential oil has antibacterial and antifungal properties. Using orange oil for infection helps to prevent bacterial growth and stops the infection from spreading. One can massage orange oil on wounds, acne, cuts, abrasions, etc. Massaging this oil on the skin helps reduce inflammation and swelling and eliminates any kind of bacterial growth.
How To Use Orange Essential Oil in Different Ways?
One can use orange essential oil in various ways. But it is necessary to dilute it with a carrier or base oil like coconut oil, jojoba oil, olive oil, etc., before applying it on the skin or hair. Using essential oil without dilution can cause swelling, allergic reactions, or skin irritations. We recommend doing a patch test before using it topically on the skin or scalp.
The different ways of using orange oil are
One can mix a few drops of this essential oil in their room spray to use it as a diffuser.
Orange oil is a natural and effective cleaning agent. Add undiluted orange essential oil in water and mix vinegar in it. It will help to keep your house sanitized and clean.
Using orange oil in aromatherapy or steam may help relieve upset stomach and reduce pain.
Orange essential oil helps improve digestion. Massage it on the abdominal area and prevent or relieve gas and constipation.
Dilute the orange essential oil with a carrier oil and massage it on the body. It can calm down knee pain, joint pain, or muscular spasms.
One can use orange oil in perfumery and candles due to its sweet and calming smell. The scent of orange oil works as a mild aphrodisiac and can boost your libido.
The Bottom Line
Various research studies have suggested that orange essential oil is non-irritating and non-toxic and has numerous benefits. One must choose a good-quality and pure orange essential oil to benefit the skin and hair or use it in aromatherapy. Shoprythm is the one place to buy the best quality essential oil. 
Give the best care to your skin, hair, body, and health by using Orange oil. It works wonders for the skin by keeping it soft, smooth, and moisturized, nourishes hair by strengthening it, uplifts the mood, relieves tension, and is excellent for body massage.
About Ajay Kakar
Mr. Ajay Kakar is an expert in dermatology with extensive experience. His expertise lies in the realm of essential oils and carrier oils, and he understands how these natural oils can work wonders for our skin and body. With a forward-thinking mindset, he has been a pioneer in introducing groundbreaking skincare products. Mr. Kakar is a dedicated entrepreneur who believes in the importance of focus, vision, strategy, development, innovation, and top-notch quality. His commitment to improving skincare through innovation is truly remarkable.