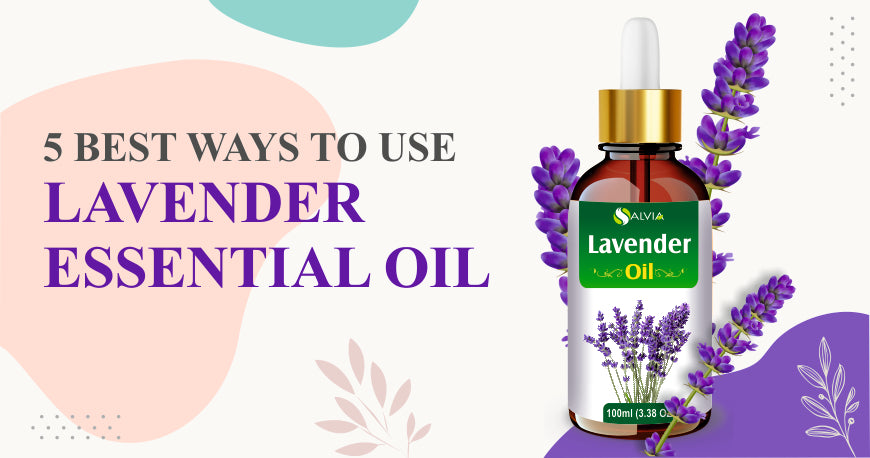 5 Best Ways to Use lavender Essential Oil
Lavender attire is trendy these days, so the Lavender essential oil is. Hold on; we will not explore lavender color dresses here; rather, we will share some important tips on Lavender essential oil uses with you. Lavender oil doesn't just smell amazing, but it's incredibly versatile. From your head to toes, this oil can come up with several pros that work wonders for your skin, hair, nail, aromatherapy, etc.
In this article, you will learn about the lavender Oil Uses, including how to apply lavender oil on your skin, on hair, and in aromatherapy. It is also widely used in cosmetics, perfumery, and diffusers.
What exactly is Lavender Oil?
Well, before diving into the ocean of Lavender oil benefits and uses, let's first gain some basic information about Lavender essential oil. Lavender oil, also known by its scientific name – Lavandula angustifolia, is a steam distilled essential oil derived from the lavender flower and native to the Mediterranean, the Arabian Peninsula, and Russia (although now grown globally).
How is this oil extracted? Lavender oil is derived by a technique known as steam distillation, in which the flowers of the lavender plant are steamed, steam is captured, and the oil gets separated and collected from the water.
This essential oil is known for its versatile uses and DIYs. People often think that lavender essential uses majorly comes in the diffuser and perfumery. Yes, of course, this statement is truly correct, but at the same time, this oil is used for skincare, haircare, spa, and aromatherapy.
If you are planning to buy Lavender essential oil, then you have to keep some factors on a note, like-
If you are buying from an online store, make sure you check TDS (Technical Data Sheet)
If you are buying from a store, make sure you have gained enough information about the store's review
It would be far better if you choose online e-commerce with a decent customers review, feedback, and rating
Cross-check the purity (and ensure the essential oil is undiluted and uncut).
Best Ways to Use lavender Essential Oil
Check out this handful of uses of lavender essential oil-
1.Lavender Oil Aids In Sleep
A healthy lifestyle starts with a night of healthy sleep, and lavender essential oil improves better sleep quality. It has calming properties and promotes slow-wave sleep, helping you sleep longer and better.
How to use lavender oil for sleep- Buy a ceramic diffuser (you can buy it from the Shoprythm e-commerce site, too), and add between 3 to 5 drops of lavender oil. Also, it can be rubbed (one or two drops) on the pillow while sleeping.
2.Promotes Relaxation
The soothing properties of lavender oil create a wonderful atmosphere that makes a person relaxed and peaceful. The lavender essential oil has a sweer floral scent with a woody/ herbal undertone that can be used to stimulate tranquillity, peace, and relaxed vibes.
How to use Lavender Oil for Anxiety?
How to use lavender essential oil for relaxation?
If this oil is applied to the body as a massage (after diluting with a carrier oil), it comes up with a calming and relaxing effect. You can also apply it to your wrists, behind your ears, and the nape of the neck – this will surely act as a perfume fragrance.
3.Soothes Angry Skin Combats Skin Conditions
Lavender oil used for the skin is famous in talks. This oil has come up with versatile properties for skincare. Talking about its soothing nature first, it soothes and cleanses the pores providing a natural glow to the skin. It also helps with open pores and breakouts.
Do you know lavender oil also regulates the oil balance of the skin? Yes, it does! It balances the oil production, thereby preventing new zits from appearing, so if you have oily skin, no worries about choosing lavender oil for your skincare.
Lavender oil has wonderful moisturizing properties that moisturize your skin gently. Since this oil is non-comedogenic, hence it works well for the open pores and allows them to remain unclogged.
As aforementioned, Lavender Essential oil benefits for skin also soothes the skin. So, if your skin has some itchiness, dryness, or tightness, this oil can work for your skin. It also has an excellent characteristic of soothing extreme dry skin conditions.
One of the lavender oil used for skin is its anti-aging properties that prevent wrinkle formation. This oil is rich in anti-oxidants and could slow down the skin's aging process, preventing wrinkles and fine lines. Lavender oil, when diluted with a carrier oil and used topically, moisturizes chapped and aging skin.
The lavender essential oil also protects the skin from free radicals. How? Lavender oil carries anti-oxidant properties that neutralize any oxidative damage caused by free radicals.
Lavender oil is used in anti-aging creams, moisturizers, etc. One of the major lavender oil is used in cosmetics too. There are bounteous benefits of this oil in the cosmetic industry.
Don't you think lavender essential oil uses for skin has several benefits? Hence adding lavender oil to your skincare regime is a big YES.
4.Lavender Oil for Hair care
Coming to its next benefit – hair care. Lavender oil can stimulate the growth of the hair. This oil prevents hair thinning and may promote hair growth. It may also have other major significances associated with the hair care that includes:
It may combat hair loss and hair thinning
It increases circulation to hair follicles
It encourages the hair to shine & sheen
It also provides nourishment to the hair
It improves scalp health
How to Use Lavender Essential Oil for Hair?
There are multiple ways of using lavender oil for your hair care. The first one is - that if you are using this oil as hair oil, you can dilute it with Jojoba oil or Coconut oil before applying it to your hair.
One can also put a few drops of this oil into shampoo and wash your hair, getting radiance shine and a healthier look.
5.Lavender Oil for Aromatherapy
Lavender essential oil uses in aromatherapy – One can use this oil in aromatherapy, too, as it has a calming effect due to its divine aroma. Inhaling its aroma calms you and provides a relaxed state of mind. Lavender oil can alleviate headaches, aid in a sound sleep, and promotes peace around you.
The lavender essential oil can be used in a relaxing shower – add a few drops of this oil into the water. You can create DIYs too using this oil – take a spray bottle, add drops of Lavender into the distilled water and spray it on the walls around your shower area.
The Bottom Line
There we are, at the bottom page of this article; hope you have gathered sufficient information on Lavender essential oil uses and its benefits.
So, in all these ways, one could implement the Lavender essential oil uses in one's skincare regime.If you are a newbie and don't know how to apply an essential oil, make sure you do a patch test (on your wrist) after mixing it with a carrier oil. And the second most important factor is a good buy. Make sure you find the best and most authentic website/ online store for your buy.
Shoprythm is a hub of natural and pure essential oils. If you are seeking more information about essential and carrier oils, you can what's app us or call our customer executive.