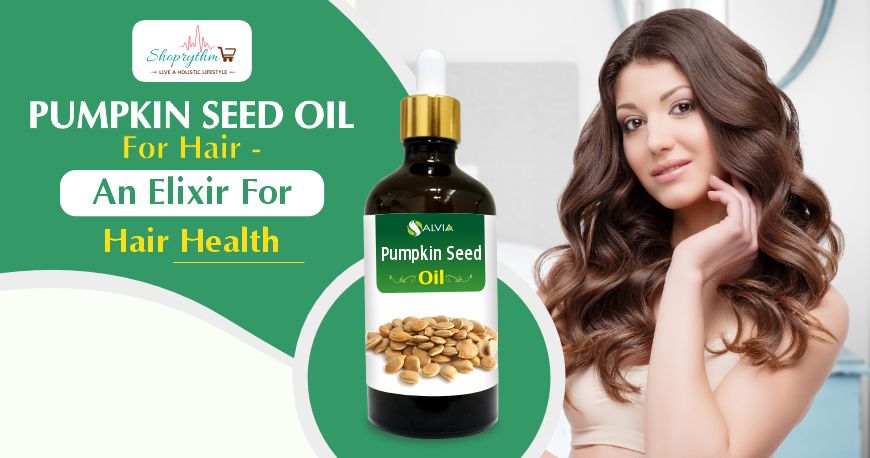 Pumpkin Seed Oil For Hair - Benefits and Uses
Pumpkin seed oil for hair is one of the best solutions for nurturing and strengthening your hair naturally. The oil has attained recognition among people due to its nourishing properties. Pumpkin seed oil helps by preventing hair breakage and reducing hair fall within a short time.
The famous hair elixir is extracted from the seed of the pumpkin through the cold pressing method. It is a carrier oil that preserves the goodness of your hair and helps enhance your hair growth. Pumpkin seed oil benefits your hair as it is rich in fatty acids, vitamin E, zinc, and magnesium. These ingredients improve overall hair vitality and prevent hair dryness.
In this blog, we will explore all the benefits of Pumpkin seed oil for hair and how to use it effectively.
Wonderful Pumpkin Seed Oil Benefits For Your Hair
Pumpkin seed oil benefits your hair and scalp in various ways. It combats hair fall, prevents hair damage, and increases hair growth. The oil gets absorbed into your hair strands and nourishes them. Thus preventing dry and damaged hair issues.
Here are the amazing benefits of Pumpkin seed oil for hair growth: 
1. Stimulating Hair Growth
One of the compelling benefits of pumpkin oil for hair is stimulating growth. It has the ability to grow new hair and reduce hair thinning. Applying pumpkin seed oil benefits by increasing hair thickness and volume.
Pumpkin oil contains phytosterols and beta-sitosterols that enhance hair follicle health and size. The oil helps increase microcirculation to the scalp, which ensures that hair follicles receive the adequate amount of oxygen and nutrients. It increases the circulation and supports the new hair growth.
2. No More Hair Loss
Another pumpkin seed oil benefit is combating hair loss. Pumpkin Seed Oil potentially inhibits the production of DHT(dihydrotestosterone - a hormone associated with hair loss). The hormone can damage the hair and is responsible for conditions like excessive hair fall and male baldness.
Pumpkin oil contains phytosterols that can block the damaging effects of DHT. Therefore, one can use this oil to combat hair loss. The carrier oil also helps promote the retention of existing hair. 
3. Damage Repair
If your hair is damaged due to styling, chemical treatments, or environmental stressors, then using Pumpkin seed oil is your solution. Applying this carrier oil to your scalp and hair helps restore and rejuvenate your damaged hair.
Pumpkin Seed Oil for hair contains minerals like zinc and magnesium and essential fatty acids like Omega3-6-9. These components aid in the restoration of damaged hair cuticles. It also has emollient properties. Thus, it locks moisture in your hair and makes it less prone to damage.
4. Nourishing and Strengthening Hair
Pumpkin seed oil benefits in nourishing your hair. The oil has nourishing ingredients like Omega 3 and 6 and vitamin E. These components reduce the risk of hair breakage and strengthen your hair, which contributes to hair strengthening. 
The oil contains antioxidants that protect your hair from oxidative stress and free radical damage. It makes your hair healthy and vibrant. Pumpkin seed oil provides the necessary buildup for strong and resilient hair. Thus, making your strands strong and beautiful.
5. Improving Scalp Health
Pumpkin seed oil not only benefits your hair but also improves the scalp health. The oil has anti-inflammatory properties. Hence, it helps soothe the scalp and prevents itching and dandruff. The oil balances the oil production in the scalp and provides an optimal environment for hair growth.
The oil reduces anti-inflammation, which contributes to improved scalp health. Applying Pumpkin seed oil for hair creates a favorable environment for hair follicles, which helps in new hair growth. 
Using Pumpkin Seed Oil in your hair care routine can be a valuable step toward achieving healthier, stronger, and more resilient hair. It also addresses common concerns like hair loss and damage. Its natural properties make it a safe and effective option for promoting overall hair well-being.
How to Incorporate Pumpkin Seed Oil For Hair in Your Daily Routine?
To incorporate this nourishing carrier oil, one must choose the best pumpkin seed oil for hair care routine. Countless ways to include this hair elixir for scalp and hair nourishment are -
One can apply Pumpkin seed oil topically on the scalp and hair strands. Gently massage the hair oil on your scalp with your fingertips and apply a few drops to your hair length. Doing this helps nourish your hair follicles and repair hair damage.
Leave the oil on your scalp for at least 30 minutes, or keep it overnight. Later, wash it off with a gentle hair cleanser. It enhances the blood flow and promotes hair growth. Apply the oil twice a week to see effective results.
To make a DIY Hair Mask with Pumpkin Seed oil, mix it with nourishing ingredients like honey, yogurt, and avocado. Mix all the ingredients and make a paste. Apply this nourishing hair mask to your hair strands properly and leave for 30 minutes. After, rinse it thoroughly with water.
One can also create a hydrating hair mask by mixing Pumpkin oil with coconut oil and aloe vera gel. It helps rejuvenate your hair and prevent hair dryness and damage.
Always do a patch test before using it to avoid any irritation. One must be consistent while using this carrier oil for hair revitalization. Regular use of Pumpkin Seed Oil over time will yield the best results, so make it a part of your daily or weekly routine.
The Bottom Line
Pumpkin seed oil benefits your hair in numerous ways. It provides remarkable solutions and has the potential to transform your hair care routine. From blocking the hair-thinning effects of DHT to stimulating new hair growth, Pumpkin Seed Oil offers a range of advantages for those seeking to address hair loss concerns. Its ability to nourish, strengthen, and repair damaged hair is a testament to its exceptional nutritional composition.
It is a versatile ingredient that can be applied topically and incorporated into DIY hair masks for hair strengthening. Shoprythm has the best-quality carrier and essential oil. Our pumpkin seed oil for hair is 100% pure, natural, and undiluted. One can get effective results by choosing us. Get the best pumpkin oil at affordable prices by choosing Shoprythm.
About Ajay Kakar
Mr. Ajay Kakar is an expert in dermatology with extensive experience. His expertise lies in the realm of essential oils and carrier oils, and he understands how these natural oils can work wonders for our skin and body. With a forward-thinking mindset, he has been a pioneer in introducing groundbreaking skincare products. Mr. Kakar is a dedicated entrepreneur who believes in the importance of focus, vision, strategy, development, innovation, and top-notch quality. His commitment to improving skincare through innovation is truly remarkable.