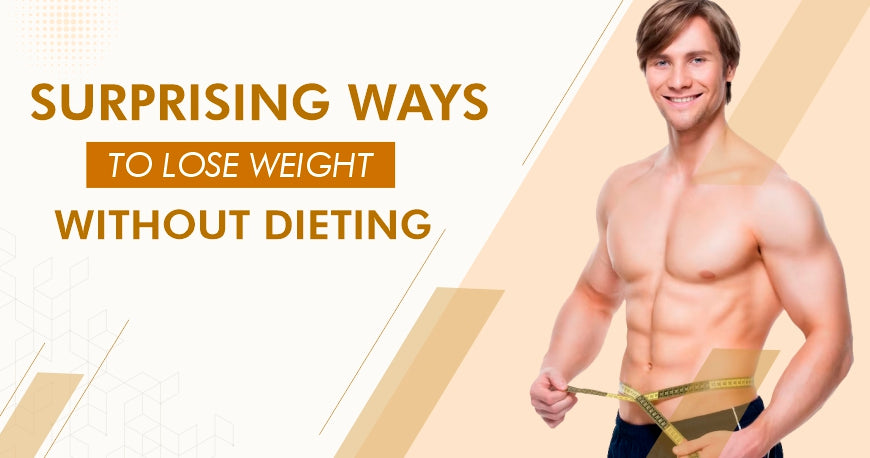 How Can We Lose Weight Without Dieting?
Due to the monotonous schedule and ingesting junk food, thousands of people suffer from being overweight and obese. And when it comes to losing weight, people look for the easiest and fastest way. They stop eating on time and start dieting, which adversely affects their muscle mass, body health, and metabolism.
Losing pounds in a short time by dieting can backfire on your health. Also, dieting can be uncomfortable and may start your cravings, which nobody wants while losing weight.
Therefore, in this article, we will discuss healthy ways to lose weight without dieting.
5 Easy Ways To Lose Weight
Various people do not know that losing weight does not mean reducing muscle mass or food. Losing weight means maintaining a healthy body mass and intaking in low calories.
Being Overweight or obese can lead to several health risks, including heart attacks, stroke, diabetes, increased blood pressure, etc. Hence, maintaining a healthy weight is necessary. Most people want to lose inches in weeks and question - "How to lose weight quickly without dieting?
The five points below will provide effective ways to maintain a healthy body weight and burn extra calories.
1. Stay Hydrated
Drinking adequate and more water is connected with your body weight maintenance. Water makes you feel fuller, so you eat less during the day. Staying hydrated can decrease your cravings and helps in lipolysis. Replacing caffeinated or sugary beverages with water can help cut your daily calorie intake.
Research has shown that drinking 1½ glasses of water 30-35 minutes before every meal can be an effective way to lose weight within a reasonable time.
2. Reduce Processed Food and Sweets
Improving the quality of your food and daily diet can speed up weight loss. Eating processed and oily food is one of the reasons for being overweight. People who eat more sweets and oily tend to gain more calories than those who do not.
Reducing carbohydrates, sugar, and oily food from the diet is one of the best ways to lose weight effectively. One can switch to nutritious snacks like sprouts, fruits, beans, etc., to kill their hunger without compromising their body health.
3. Fibers and Proteins
Fibers and protein-rich foods promote satiety hormones and make one eat less naturally. Including fibers and proteins in the diet reduces appetite by promoting the feeling of fullness. It can also help one take fewer calories and low carbs, which reduces the risk of various health issues.
Protein and fibers slow the digestive process and positively effects the hunger hormones. Hence, one can take sprouts, eggs, fruit smoothies, or other protein-rich snacks for breakfast to avoid cravings and mid-day hunger.
4. Physical Activity
One of the measure reasons for obesity is a lack of physical activity. Increasing physical activity is a must when you are willing to lose weight. You can include cardio, resistance exercises, or yoga in your daily routine can help shred pounds and burn calories.
Performing exercise helps boost both mental and physical health. Cardio helps reduce belly fat and also prevents the risk of metabolic diseases.
5. Proper Sleep
Taking proper sleep is necessary to keep a healthy weight. Various research has shown that improper sleep leads to appetite fluctuations, which may lead to weight gain.
Sleep deprivation increases our hunger hormone levels, and decreases satiate hormones, which leads to inadequate food intake and cravings. Hence, good sleeping habits can lead to a proper weight, fewer calories, and prevent diseases like diabetes.
How Do Melt-It Products Help You Lose Weight without Dieting?
Melt-It range of products is entirely made with the purpose of keeping your body fit. The products help you lose fat and burn extra calories while performing yoga, exercises, or other physical activities. Melt-It products give an anti-cellulite treatment and tone the body.
Melt-it range of products contains the goodness of essential oils, Vitamin E, and antioxidants. Applying Melt-it products on the body helps build collagen, increase skin elasticity, and tone the body.
Using the products before or after the workout around the shoulder, belly, arms, legs, chest, etc., can help reduce fat and cellulite. The products are made with natural ingredients and are one of the best ways to lose fat and keep your body slim.
How To Apply Melt-it Cream or Oil?
Take out a small amount of melt-it cream or oil, depending on the body part you are applying.
Massage it firmly on the body for 15-20 minutes in a circular motion.
Cover the massaged area with a hot towel for 5-6 minutes.
Doing this once or twice a day after pre or post work out can reduce persistent body fat and provide anti-cellulite treatment.
The Bottom Line
Losing weight is difficult until you follow the right steps. Skipping food or fasting may help reduce weight but affects your health adversely. Hence, always choose a healthy weight loss method instead of opting for a quick way. Melt-it brings you natural and effective anti-cellulite products that will help you reduce inches within a reasonable time.
One can buy Melt-it products from Shoprythm, Amazon, and Meesho. Shape your body and burn calories by following a healthy routine and choosing Melt-It.