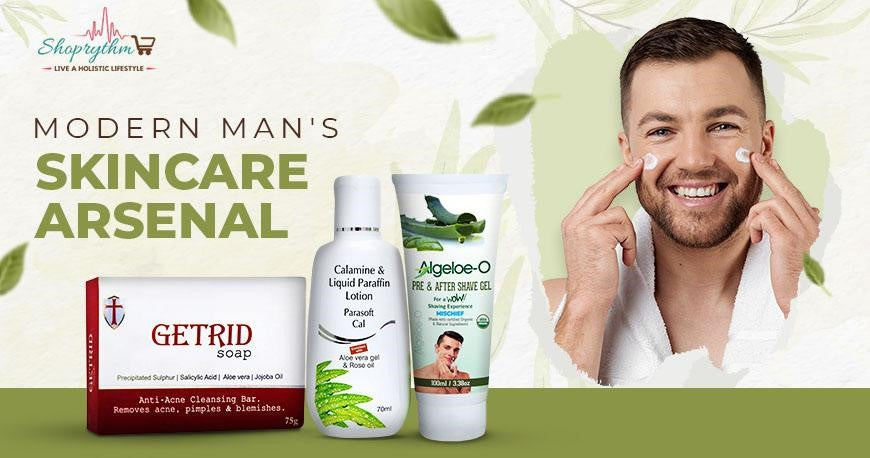 The Modern Man's Skincare Arsenal: Must-Have Products and Regimens
Gone are the days when skincare was solely associated with women. In the modern era, men have embraced the importance of taking care of their skin, understanding that a healthy complexion is not exclusive to any gender. Whether you're a grooming enthusiast or just starting to explore skincare, having the right products and regimens is essential. In this blog post, we will introduce you to some must-have skincare products for men and provide insights into effective regimens that will keep your skin look and feel its best.
For the intense care pre and post grooming, Shoprythm brings the best men's grooming kit which contains Algelo aloe vera gel, Hydraenergizing face mist Spray and pre & aftershave gel. These uniquely curated picks are perfect for all skin type. These skincare essentials for men are packed with the goodness of hydrating ingredients which provide a soothing and calming feel to the skin. 
Maintaining proper hygiene is crucial for healthy skin. The Getrid Anti-Bacterial Soap is an excellent addition to your skincare arsenal. This soap is specifically designed to kill bacteria and germs, providing a deep cleanse that eliminates impurities and prevents breakouts. Its gentle yet effective formula ensures that your skin remains clean and refreshed without stripping away essential moisture. Incorporating this soap into your daily shower routine will promote a healthier complexion and reduce the occurrence of acne and other skin issues.
Shaving can be harsh on the skin, leading to irritation, redness, and razor burn. The Pre and After Shave Aloe Vera Gel is a must-have product for any man who wants a smooth and comfortable shaving experience. Enriched with the soothing properties of aloe vera, this gel provides a protective barrier on the skin, preventing razor burns and reducing inflammation. It also moisturizes the skin, leaving it feeling soft and supple. Whether you prefer a clean-shaven look or maintain facial hair, incorporating this gel into your shaving routine will ensure your skin stays healthy and irritation-free.
Skincare Regimen for Men:
Now that we have introduced you to these fantastic products, let's discuss an effective skincare regimen that combines them for optimal results:
1- Morning Routine:
Cleanse your face with the Getrid Anti-Bacterial Soap to remove any dirt or impurities that have accumulated overnight.

Apply a pea-sized amount of the Parasoft Calamine Lotion, the perfect face cream for men to soothe and protect the skin.

If you plan to shave, use the Pre and After Shave Aloe Vera Gel to prep your skin and achieve a smooth shave.
2- Evening Routine:
Cleanse your face again with the Getrid Anti-Bacterial Soap to remove dirt, excess oil, and pollutants accumulated throughout the day.

Apply a generous amount of the Parasoft Calamine Lotion to calm and nourish your skin while you sleep.

If you feel humid or sweaty before, 2-3 sprays of the

Hydra Energizing mist makes your skin feel calm and ready for a peaceful slumber.
3- Nourish & hydrate with Body Butter:
Incorporate a moisturizing routine for your body by using high-quality body butter. Apply it after showering to lock in moisture and keep your skin hydrated and supple throughout the week.
Conclusion:
Prioritising skincare goes beyond being a passing fad; it plays a vital role in preserving holistic health and welfare. Embracing suitable skincare products and adhering to a regular regimen can lead to the attainment and sustenance of a flawless complexion. By recognizing the significance of skincare, men can ensure the long-term well-being of their skin, contributing to a confident and radiant appearance.