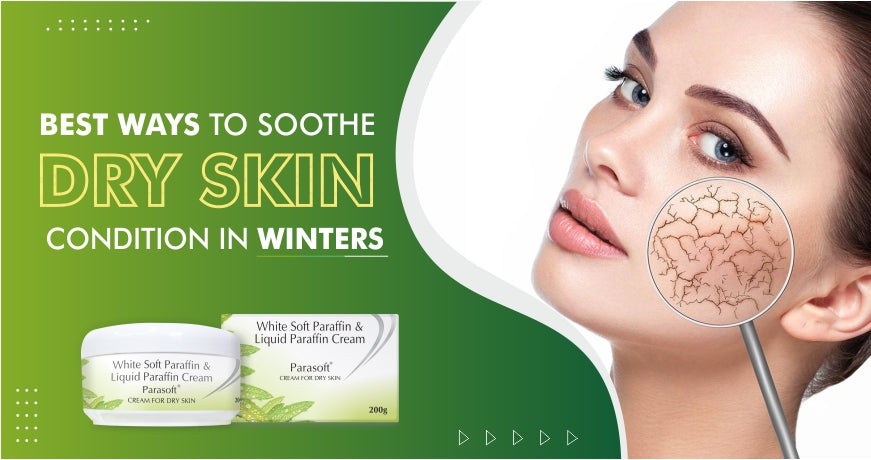 Best Ways to Soothe Dry Skin Condition In Winters
Overview
Winter is plowing ahead, and summers are buggering off gradually. With the arrival of winters, sweaters, scarves, boots, and heaters come! And how can we miss dry skin – a surplus in this season! Uggghhh... That's sadly true! Dry skin may happen due to several aspects; it can happen due to frequent bathing, or even using harsh soap/ bathing bar, choosing inappropriate skincare products; other reasons could be medical conditions, aging, etc. This article will let you know about some of the factors that solve dry skin problems, such as – What do dermatologists recommend for extremely dry skin? How to treat dry skin on face and so on!
Dry skin not only knocks on the door during winters but also some people face flakiness and dryness throughout all the seasons. Even if you have dry or oily skin, dermatologists recommend moisturizers and lotion to keep the skin healthy and glowing. This concludes that – whether your skin is healthy, dry, or maybe oily – you need not skip moisturizer – make a note, please! 
What do dermatologists recommend for extremely dry skin? This is one of the common questions people ask for a solution to manage dry skin conditions. Do you know what dermatologists recommend first? We tell you – they put forward the thumb rule to use moisturizer and lotions regularly on the face and body, respectively. However, there are certainly more steps that you need to follow before buying the skincare item (like checking the natural ingredients, product reviews, and so on).
How to Treat Dry Skin on the Face?
Skin – a word consisting of four alphabets; at the same time, it carries heavy weightage in the person's life. Skin is a vital part and, at the same time, the largest organ of our body that requires special care.
The more you love your skin, the more skin loves you! So the first thing you should take care of when it comes to how to treat dry skin on face is choosing the right skincare products. Skincare doesn't mean only face wash or, say, cream, but it comprises a complete regimen wherein your moisturizer, lotion, sunscreen, face wash, and face mask – all the things are included.
There are some home remedies for dry skin which one can always do without spending a single penny
Limit yourself to five to ten minutes; avoid bathing for a long time if it goes more than five to ten minutes, you may strip away much of the skin's oily layer and cause it to lose moisture.
Do not use harsh soaps; you can go for Parasoft soap for your bath. Parasoft soap is a wonderful skin hydrant that provides nourishment to dry skin through natural skin emollients. It moisturizes and nourishes the skin deep within.
To side-step dry skin problems, stay away from scrub brushes and bath sponges. You can go for a light and very soft touch.
Avoid wearing synthetic fabrics
Do not skip applying moisturizers and body lotions
Do not scratch your skin; remember we have moisturizers
Parasoft White Soft Paraffin Liquid Paraffin Cream is one of the highly preferred creams for dry and healthy skin
Keeping Moisture in the Skin
Skin moisturizers improve skin hydration and reduce the chances of skin problems. Applying a suitable kind of moisturizer for the skin helps maintain balance. Parasoft White Soft Paraffin Liquid Paraffin Cream comprises all-natural ingredients; Paraben-free, sulfate-free, and Ecocert.
Key points about Parasoft Cream
It is a daily moisturizing cream that nourishes the skin
Parasoft cream is known to bind water to the skin
It provides intense moisturization and is perfect for extremely dry skin
It is one of the highly preferred creams in winters
Along with all the above plusses, it is suitable for all skin types
It does not leave any greasy appearance or stickiness on the skin
It helps to keep the skin to be soft and supple
It is non-sticky and non-greasy
Parasoft cream is free from Paraben, SLS, silicones, and other toxic ingredients
Its USP lies in it being dermatologically tested and hypoallergenic to the skin
It has soothing properties that manage dry skin conditions
The Bottom Line
Here we have reached the bottom of the page; hope you would have acquired sufficient knowledge about the approaches to soothe dry skin conditions.
Parasoft range of products not only comprises cream and soap but also it has
Parasoft Cal Body Lotion – Parasoft Cal lotion helps protect the skin in summer when skin rashes and suntan become common problems. It may protect the skin from insect bites and the harmful effects of the environment like pollution and dust.
Parasoft Happy Feet Cream – Parasoft happy feet is one of the Best Foot Creams and a revolutionary brand to repair cracked feet, cracked dry heels, dry chapped feet.
Parasoft Shower Gel – Parasoft shower gel is a refreshing shower gel that cleanses and revitalizes the skin. It is endowed with the goodness of Aloe Vera, Glycerine, and Vitamin E.
Parasoft Body Milk – Parasoft Body Milk is enriched with the goodness of - Aloe vera, Mango Butter, and Shea butter have excellent emollient properties that help rebuild a naturally occlusive protective skin barrier helping in actively replenishing the skin moisture.
Parasoft Ultra-Hydrating Protecting Cream – Parasoft Ultra-Hydrating and protecting cream is suitable for all types of skin and the best dry skin moisturizer cream because of its excellent hydrating and moisturizing properties.
Parasoft Ultra Lotion comprises wild rosella-hydrosella, Shea butter, Vitamin E, Glycerin, and Almond oil. Rosella-hydrosella (Hibiscus Sabdariffa) has incredible skincare benefits.
For further information about our products, you can scout more by clicking.Have healthy skin and glowing you!