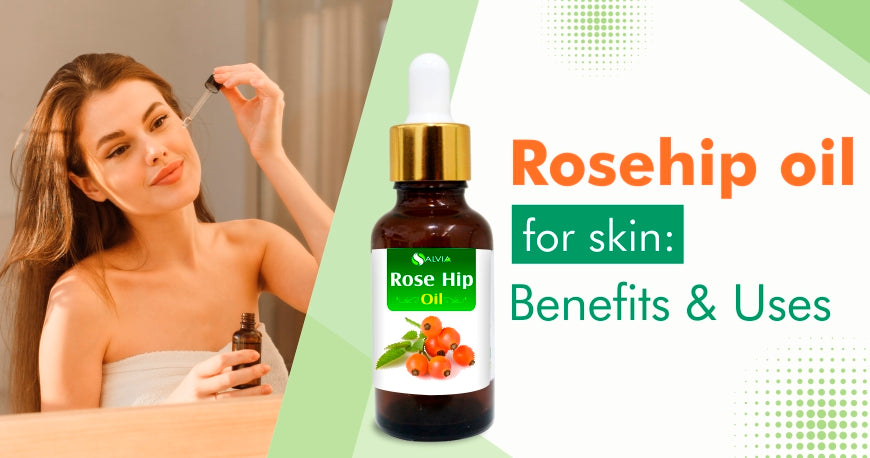 Rosehip Oil For Skin: Benefits and Uses
Rosehip oil benefits your skin in numerous ways. It is one of those essential oils that gives the best care and nourishment. Rosehip oil has skin-protecting properties that give you a glowing look and plumpy, soft, and bright skin. 
Using rosehip oil for skin should be a part of your daily routine that provides the best anti-aging care and nourishment to your skin within a reasonable time.
What is Rosehip Oil?
Rosehip oil or Rose seed essential oil can be considered the fruit of Rosebush. These fruits have medicinal properties, and the oil is helpful for skin and hair. Rosehip oil is a pressed oil from the fruit or the seeds of the rose plant.
Rosehip oil has been used since ancient times for its priceless skin-nourishing properties. The essential oil contains various essential fatty acids and skin-conditions vitamins, including Vitamins E and C.
Rosehip oil benefits the skin, but it is an intense oil and must be used with a carrier oil. The oil also contains phenols, which means it has antibacterial and antifungal properties. Thus, helps in preventing acne growth and skin infections.
Let us know more about the benefits of rosehip oil for the skin.
Benefits of Rosehip Oil
Rosehip oil contains vitamins, minerals, fatty acids, natural trans-retinoic acid, and antioxidants. Thus, rosehip seed oil for the skin is helpful in countless ways.
Let us discuss the Rosehip oil benefits for the skin in detail.
Help Reduce Scars
Rosehip Oil is rich in Linoleic acid and Vitamin A. These ingredients help to maintain sebum production. Due to the sebum regulation, the oil reduces the chances of blackheads and whiteheads. Thus, providing you with clear skin.
The essential oil also has anti-inflammatory properties, which prevent acne growth and scarring. Using rosehip oil for face with a carrier oil gives you a glowing and scar-free look. Mix 2-3 drops of this oil with 4-5 drops of any carrier oil to use rosehip oil.
Maintains Even Skin Tone
Rosehip seed oil benefits your skin by maintaining an even skin tone. It contains Vitamin C and essential fatty acids, including oleic acid and palmitic acid, that helps to give an even skin tone. '
Rosehip oil also contains lycopene and beta-carotene, which help to lighten and brighten your skin. You can massage this oil on the face by diluting it with coconut or jojoba oil to get an even skin tone.
Decreases Dark Spots
Rosehip oil is rich in Vitamins A and C. They have antioxidant properties and skin-brightening properties. These vitamins help to reduce skin dullness and give your vibrant skin. Using this essential oil on the face regularly can help you give a clear complexion without any spots.
You can apply rosehip oil to the dark spots before going to bed. Dilute 2-3 drops of rose hip essential oil with a carrier oil like coconut or jojoba oil. Massage the diluted oil on the affected area. 
Makes Your Skin Glow
Vitamin C, present in rosehip oil, is a great skin enhancer. It is rich in antioxidants and helps to bring up the natural glow and improve skin luminosity. Thus, rosehip oil for face is a good option to make your skin glow.
Rosehip oil also contains Vitamin A, which helps reverse the damage caused by the sun and also helps in wrinkle reduction. This vitamin also helps to prevent acne. Thus, using rosehip oil for skin will make it radiant and glowing.
Moisturizes and Hydrates Your Skin
Due to the changing weather conditions, our skin often gets dry and itchy. Rosehip oil contains essential fatty acids, including linoleic acid. These fatty acids create a strong barrier on the skin's surface. Thus, preventing skin from drying and keeping it hydrated.
Therefore, applying Rose Hip oil to the skin will prevent itching, dehydration, and redness. Massaging this essential oil on your skin will keep it hydrated and nourished.
Boosts Collagen
A study showed that rosehip oil inhibits the creation of MMP-1. The enzyme breaks down collagen in the body. Thus, using rosehip oil on the skin can maintain skin firmness and elasticity. Collagen production can also prevent aging and wrinkles.
Vitamin A is also necessary for producing collagen in the body. Therefore, applying Rosehip oil benefits your skin and gives it a youthful appearance.
Reduces Hyperpigmentation
Antioxidants, Vitamin A, and Vitamin C can prevent damage from UV and sun exposure. Also, Vitamin A contains retinoids. These nutritional compounds have the power to reduce hyperpigmentation and aging signs.
Hyperpigmentation happens due to sun exposure. Rosehip oil forms a protective barrier on the skin. Thus, reduces hyperpigmentation, and its regular use can minimize dark spots and wrinkles. Mix rosehip oil in your regular moisturizer or dilute it with a carrier oil and massage it on the affected area to get the expected results.
How Does Rosehip Oil Benefits Different Skin Types?
Rosehip oil benefits every skin type differently and does not cause harm until you are allergic to it. It works for every skin type and nourishes it in every possible way. The ways in which rosehip oil enhances different skins are
Oily Skin -

Rosehip oil helps manage the sebum or excess oil in the skin. Thus, it is a good option for maintaining oily skin.

Dry Skin -

The essential oil helps lock skin moisture and prevents dehydration. Thus, it can moisturize your skin and prevents itchiness.

Acne-sensitive Skin -

Rosehip oil is non-comedogenic in skincare. Thus, it will not clog your skin pores and has anti-bacterial properties. Thus, using this oil helps to reduce and prevent acne.

Combination Skin -

Rosehip oil contains all the essential ingredients and vitamins that help maintain skin balance. Thus, it will enhance your skin and makes it healthy.
How to Use Rosehip Oil?
There is no right or wrong way to use essential oil. You can use it anytime on your skin, face, or body. But one thing everyone should consider before using any essential oil is to do a patch test.
For a patch test, dilute rosehip oil with carrier oil can apply it on the inner elbow part. Leave it for 24 hours. If you see any signs of redness, burning, or itching. Immediately wash it off with warm water, and do not use this oil in the future.
To apply Rosehip oil on the face, follow these steps.
Clean your face with your regular face wash.

Pat dry your face with a soft towel.

Use a skin toner on your face.

Then, take 2-3 drops of rosehip oil and mix it with 3-4 drops of carrier oil.

Massage the diluted oil on your face or body, especially on dark spots or scars.
Using rosehip oil on your skin or face twice a day will help you have radiant and glowing skin. Massaging this oil helps reduce blemishes, acne, stretch marks, dark spots, fine lines, and skin scars. Hence, one can have clear and bright skin by using rosehip oil on the skin.
Rosehip Essential Oil benefits for skin
This oil is the best carrier oil used extensively worldwide by people elucidating wrinkles, fine lines, hair issues, and face. Rosehip Oil for Face & Hair comes up with the best results if used. Along with all such holdings, Rosehip Oil Lip-gloss gives moisture and softening touch to your lips.
The Bottom Line
Rosehip oil has various benefits and nourishes your skin in countless ways. The oil not only helps in skin enhancement but makes your hair healthy and strong. Rosehip oil has all the beneficial ingredients and minerals that give your skin complete protection. Thus, including rosehip oil in your daily routine means maintaining blemish-free and healthy skin.
You can buy 100% pure and undiluted Rosehip oil at Shoprythm. Our Rosehip oil is uncut and natural. It does not contain any preservatives or impurities. Thus, you will get effective results within a reasonable time. Shoprythm has the best-quality rosehip oil for skin that can nourish and make your skin flawless.
You May Also Like -