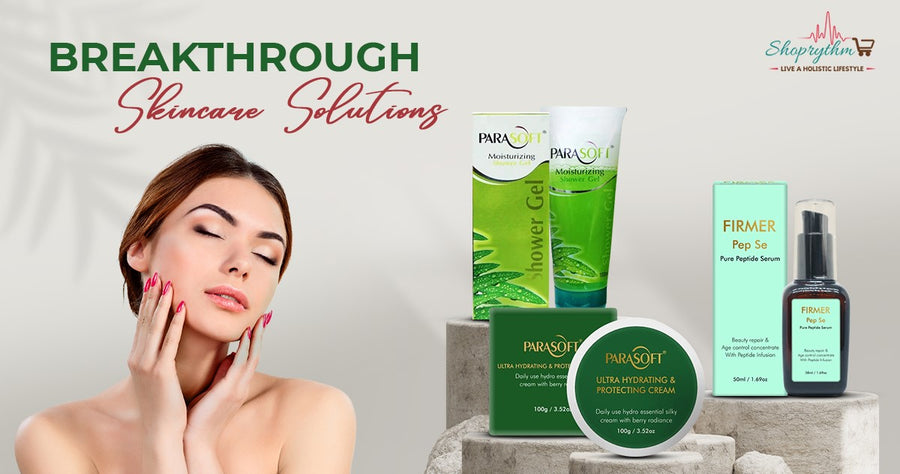 Say Goodbye to Skin Imperfections: With Our Breakthrough Skincare Solution!
Our skin is the reflection of our inner beauty and confidence. But when imperfections arise in the form of skin disorders like acne, scars, wrinkles, etc, they dim the glow that lies within. At Shoprythm, we understand your frustration related to acne, blemishes, fine lines, discoloration, and other skin conditions. And therefore, we are overwhelmed to introduce you to our finest range of skincare products that will revolutionize your beauty routine and help you achieve the radiant complexion you've always dreamed of.
Every skincare product's journey at Shoprythm began with rigorous quality checks by a team of dedicated scientists and dermatologists working dedicatedly to develop truly transformative products that address a wide range of skin concerns. 
At Shoprythm, we are redefining the way you care for your skin with our revolutionary product range crafted with meticulously chosen ingredients that work synergistically to provide exceptional results. The nourishing compounds penetrate deep into your skin, targeting imperfections at their core. One of our best sellers Firmer range of anti-aging skincare products helps combat free radicals and oxidative stress, two major culprits behind premature aging and skin damage.
Firmer Pep Se Pure Peptide Serum is an anti-aging concentrate infused with Peptides. Peptides are amino acids that make proteins needed by the skin. Over time, the level of collagen decreases making our skin look sag, dull, and loose, with the appearance of fine lines and wrinkles. Firmer Pep Se – a pure peptide serum helps build up elastin fibers and collagen. Collagen plumps the skin and prevents wrinkles and fine lines, and Elastin makes skin look firm and elasticated. This is not just a face serum for oily skin but is suitable for all skin types. This is a promising skincare that every woman should use to prevent skin aging.
Another breakthrough skincare solution is our range of Parasoft skincare products comprising shower gel, face cream, body lotion, body milk, foot cream, and more. The complete range is targeted at Hydration, which is key to healthy skin. All products under the Parasoft range are made with all-natural ingredients viz, aloe vera, glycerine, essential oils, etc. Such ingredients are proven to keep the skin nourished and hydrated. The best moisturizer for dry skin is the one that contains hydrating properties and nourishing ingredients. Parasoft face cream is a combination of liquid paraffin and white soft paraffin and aloe vera, all of which deeply moisturizes the skin and form a protective barrier on the skin to protect the skin against environmental pollution and lock moisture into skin. 
So, what makes our product so special? It all lies in the meticulously selected ingredients that work synergistically to provide exceptional results. Another vital factor that makes our skincare products unique is our commitment to offering our customers the best quality at affordable rates. Be it the best moisturizer for dry skin or face serum for oily skin, you will find a product that best suits your unique skin concern. All our products are free from chemicals, paraben, and sulfate. The composition of natural and certified ingredients makes every Shoprythm product trustworthy and safe.