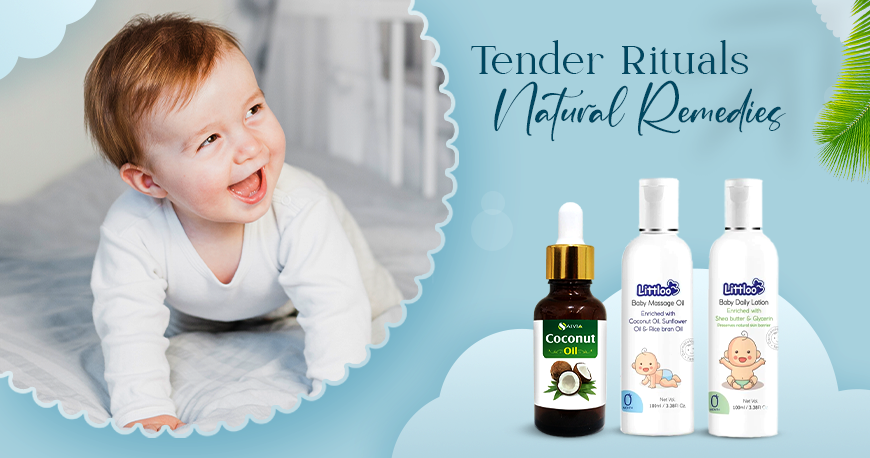 How Baby Massage Oil and Coconut Oil Enhance Baby Care
Nurture your little ones with a tender touch
As a parent, it's essential to choose the best for your baby's delicate skin. The market is flooded with brands selling baby skincare products and this is where the confusion begins. We are stuck between choosing gentle or natural skincare for our babies, where brands are claiming to be both. Through this blog, your search for the best baby skincare products will end. Read on to get an in-depth and insightful understanding of what best suits your child and what are the essential steps to be followed for the best physical development of your newborn. 
The journey of parenthood is filled with both delightful moments and tough challenges. One of the most crucial aspects of this role is ensuring that your babies are well taken care of. Two natural remedies that have become increasingly popular for their remarkable benefits in enhancing baby care are baby massage oil and coconut oil. These traditional practices not only provide physical nourishment but also help to create a deep emotional bond, resulting in a holistic approach to infant well-being.
Littloo's range of baby care products is infused with all the goodness of nature, providing gentle nourishment and protection to ensure your baby's comfort and well-being. From soothing baby massage oils that help you bond with your little one to velvety baby lotion, these natural choices truly show that you care. With ingredients like coconut oil, vitamin E, jojoba oil, etc your baby's skin will be nurtured as it deserves. Cherish the special moments with your baby and feel good knowing you're using the finest natural products to care for them.
Baby Massage Oil for Nourishment & Development
It's undeniable that giving a massage to a baby is advantageous, but which baby massage oil is best for infant massage? When massaging your newborn, it's crucial to use gentle and nourishing baby oil as the baby's skin is quite fragile. Incorporating baby massage oil can also aid in the smooth and easy movement of your hands on their skin.
Using baby massage oil greatly impacts a baby's physical development. The soft strokes and kneading movements during the massage help promote blood circulation, which helps in the growth of the baby's muscles and bones. This is especially useful for premature babies because studies suggest that regular massage can increase weight gain and improve neurodevelopment.
Littloo Baby Massage Oil is formulated for the delicate skin of babies, toddlers, and their physical development. It helps nourish and moisturize the sensitive skin. A gentle massage of this oil helps stimulate blood circulation, which aids in the development of the baby's muscles and bones. This oil contains sunflower, rice bran, and coconut oils, which provide relaxation and softness to the baby's entire body. Additionally, it can relieve pain, inflammation, and tension. This versatile oil can be used on the body and face for various massages.
Nurture your baby with the Goodness of Littloo Baby Lotion
Baby lotion offers a range of benefits for the delicate skin of infants, keeping it moisturized, nourished, and protected. Littloo baby lotion is formulated with goodness of essential oils, shea butter and glycerine to provide gentle and effective moisturization, helping to prevent dryness and maintain the natural hydration of a baby's skin. It can also be used for infant massage, which not only strengthens the bond between caregiver and baby but also promotes relaxation and improved sleep.
A wholesome Approach to Baby care
Littloo Baby massage oil, baby lotion, and coconut oil are the blessed ingredients you can add to your baby's daily care routine. This is a holistic approach that manages both the physical and emotional needs of the child. The nourishment provided by these natural remedies goes beyond the skin, supporting the development of strong bones and muscles.
In conclusion, using baby massage oil, coconut oil, and baby lotion in baby care routines is a testament to the power of nature's gifts. These time-tested practices offer a multitude of benefits that encompass physical growth, emotional bonding, and overall well-being. As caregivers, we have the privilege of enriching our babies' lives through these simple yet profound gestures, nurturing them with the best that nature has to offer.