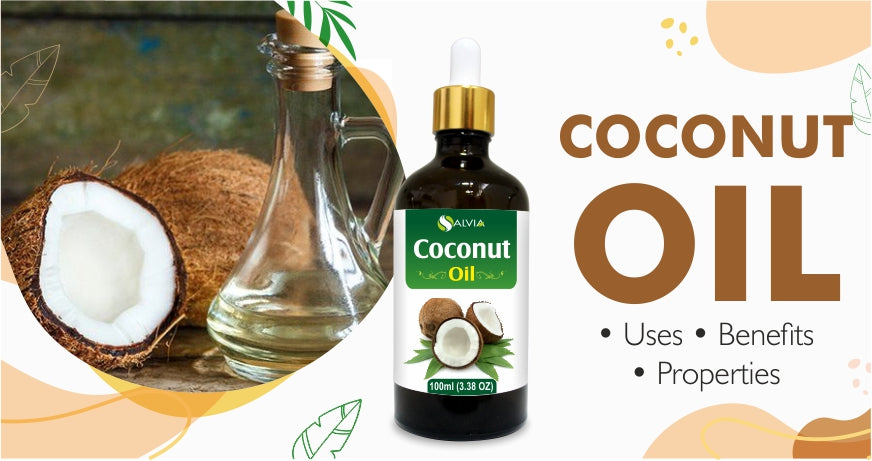 Coconut Oil Benefits and Uses
Overview:
Coconut Oil
Recollect your school days when your mom, while tieing your hair, used to say, Shhh! Don't interrupt; this oil will strengthen and make your hair look shiny. Yeah! She was right.
Whether preparing yourselves for a holi party or a relaxing hair massage, the first name of oil which comes to your daily priority list is Coconut Oil. Isn't it? You get ready by coating your skin and scalp with a generous amount of coconut oil massage to repel the chemically infused colors.
Prior to every head wash, you need a relaxing head massage with this magical oil. But, ever noted the benefits of coconut oil for your hair, skin, and more. The pocket-friendly coconut oil used in your day-to-day activities can do wonders for lip, nails, managing skin and hair conditions, thereby nearly everything you aspire for.
Nevertheless, you will acquire all the necessary pluses of using your bang up-to-date coconut oil. And after reading this editorial, you will surely not see your coconut oil bottle as a usual one. So, let's get started!
Get thorough with this reading aid to acquire the following:
What is coconut oil?
Miraculous Uses and Benefits of Coconut Oil
What is Coconut Oil?
Coconut Oil is derived from the nuts of the coconut palm. It is considered as a carrier oil as derived from the means of cold-pressing. Coconut oil is used widely in different spheres such as cooking, cosmetics, wound healing, and so forth.
However, the method of its extraction may vary according to the specified use. Coconut Oil variants include- refined coconut oil, cold-pressing coconut oil, virgin coconut oil.
Coconut oil holds a fat known as "medium-chain triglycerides." When applied topically to the skin, coconut oil gives a nourishing effect. It is a highly effective natural oil used in beauty products for its versatility.
Uses and Benefits of Coconut Oil
Coconut oil Benefits for Hair
It helps reduce protein loss from the scalp and makes your hair look healthy. Hair is most vulnerable to damage when it's wet. Therefore, applying coconut oil and massaging it to the scalp helps reduce the amount of water absorbed by the hair shaft, preventing hair damage, especially when it's wet. Coconut Oil for Hair- it promotes thick hair growth by reducing hair fall, protecting hair from environmental damage, and moisturizing the scalp as well as hair follicles. For how to use coconut oil on the scalp- Before hair wash(at least 30 mins before), just take a small amount of it onto the palm, rub through, and massage it on the scalp area. Repeat according to the need until the whole scalp is covered. You can also prepare the recipe for this effective DIY for hair.
Coconut oil uses for skin
The coconut oil in your beauty cabinet is precious as its emollient properties nourish the skin, suiting from normal to dry skin. The anti-bacterial properties and constituents present in coconut oil help protect the skin, maintain its hydration, reduce dry-flaky skin, and makes it soft. You can use coconut oil on the face by habitually massaging 2-3 drops in a circular motion and leave overnight. Otherwise, you can also use it in a home-based face pack or scrub. Leaving coconut overnight on your skin manages itchiness, soothes the skin, reduces wrinkles, fines lines, dark spots, and boosts collagen production.
Coconut oil for lips
Coconut Oil works as a natural treatment for chapped and dry lips. The lip skin is thin and is likely to be more affected to the outside environment. Coconut oil uses for lips: it helps prevent any lip infection, keeps them germ-free, reduces swelling, nourishes the lips, thus giving a softer and well-nourished lip skin. You can simply apply a drop onto the lips and massage until absorbed. Even you can make homemade lipstick by mixing your leftover cosmetic color with coconut oil.
Coconut Oil for Burns and scars
Coconut Oil has anti-bacterial properties, which help turn out your scarred skin into a smoother one. Massaging it daily can help heal minor wounds, cuts, and burns. How to use coconut oil for burns and scars- you can massage coconut oil on the affected area as and when required, daily. It will help reduce the scar/ burns appearance, moisturizing the skin and giving it a smooth-looking finish.
Coconut Oil for oral health
Coconut Oil holds essential components that prevent plaque, fight gum disease, prevent tooth decay, and maintain good oral hygiene. You can just swish 1tbsp in the mouth before brushing. Or the second way is to make your own toothpaste by mixing few drops of peppermint essential oil, baking soda, and coconut oil. This effective home-grown toothpaste can be used for brushing daily.
Coconut oil for hands and feet
Tired with those dry ankle and arm joints. Here also your regular coconut oil can be used. It softens the dry skin and maintains its moisture. You can gently apply drops of coconut oil onto the required area at regular intervals. Coconut oil for hands- take 2-3 drops of this incredible oil onto your palm and rub around. This will helps maintain healthy nail cuticles and nourish the hands.
Take Home Message
In the list of Best carrier oils, Coconut Oil stands as one of the most effective and safe to use base oil. It can be diluted with essential oils for obtaining a highly potent blend.
Coconut Oil is one of the easily available and daily used oils in our homes. It can do miracles to your skin, hair, lips, oral health, to near about everything. But handpicking the natural coconut oil is something to look at. You can get your hands on the best and natural coconut oil at pocket-friendly prices.
Now you would see the coconut oil in your beauty cabinet as a magical one!