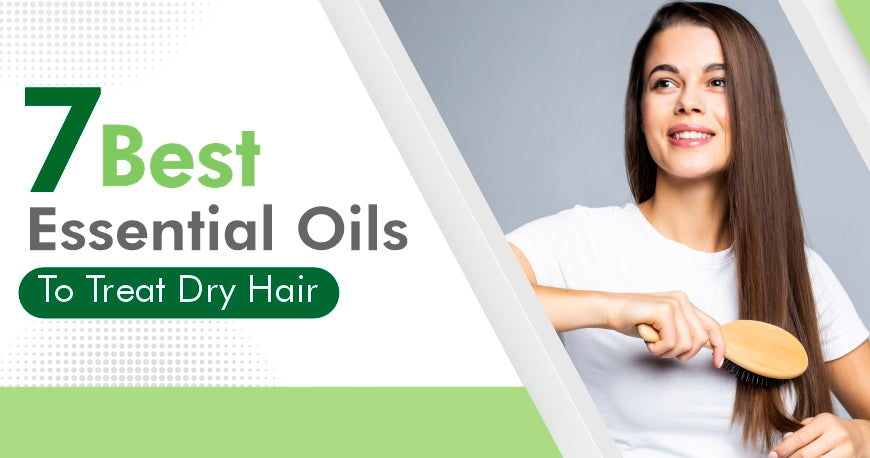 7 Best Essential Oils To Treat Dry Hair
Countless people suffer from dry and rough hair problems even after using various products. Dry hair can result from cold weather, chemical products, genetics, hair treatment, etc. People use various serums, shampoos, and conditioners to treat dry hair, which often does not work for everyone.
Using essential oils for dry hair is one of the effective ways that can nourish your hair. Essential oils are extracted from plants, flowers, fruits, or seeds and are highly concentrated. These oils are rich in nutrients, vitamins, and antioxidants that can help improve your hair.
This article will discuss the five best essential oils for dry hair and how to use them for hair care and nourishment.
Treat Your Dry Hair With These Oils
There are a variety of essential oils that can benefit your hair in different ways. Using essential oils on the scalp helps improve hair texture, quality, and appearance and prevents dandruff, itching, dry hair, and split ends.
The best and most promising essential oils to prevent and treat dry hair, dandruff, dry scalp, and split ends are 
1. Ylang-Ylang Oil For Dry Hair
Ylang-ylang essential oil is a multi-purpose essential oil that benefits not only your hair but also your skin and health. The oil has anti-inflammatory and anti-bacterial properties. Using it is one of the best remedies for dry hair. Ylang-ylang oil works as a natural conditioner and locks moisture in hair strands and the scalp. It adds shine to the hair and prevents hair loss. The oil soothes the scalp and prevents hair damage.
2. Lavender Oil For Dry Hair
Lavender oil is extracted through steam-distillation of the lavender flower. It helps enhance hair in various ways. It nourishes, softens, and smoothens hair. Massaging this essential oil on the scalp promotes hair growth and strengthens the hair follicles. It has anti-inflammatory, antibacterial, and antifungal properties. Hence, using it on the hair can prevent dandruff, dryness, rough hair, and hair loss. The oil can manage scalp issues like pattern baldness or alopecia. 
3. Tea Tree Oil For Dry Hair
Tea Tree oil is extracted by the steam-distillation of Melaleuca alternifolia. The oil is rich in various nutrients that help nourish and enhance the hair. Applying tea tree to the scalp locks moisture and prevents dry hair and scalp. It may prevent itching, flaky scalp, and dandruff. Tea Tree oil contains antioxidants and provides deep nourishment and care to your hair. It stimulates hair growth and may increase the count of hair follicles.
4. Geranium Oil For Dry Hair
Geranium oil is used in various hair care products due to its nourishing properties. The oil is extracted by the steam-distillation of the leaves of Pelargonium graveolens. Using this oil on the scalp helps rejuvenate the hair follicles and treat dry hair by locking moisture in the scalp and hair strands. The oil may help in hair thickening and makes your hair sweet-smelling. Geranium oil has anti-inflammatory properties and balances oil production on the scalp.
5. Rose Oil For Dry Hair
Rose oil has various therapeutic properties and helps with hair conditioning and rejuvenation. It nourishes the scalp and prevents dryness, making your hair strong. Massaging rose oil on the scalp after diluting it with a carrier oil makes hair look shiny and the scalp moisturized. It contains essential linoleic and oleic acids, Vitamin C, and antioxidants that prevent hair loss and damage. It hydrates the scalp and nourishes the scalp efficiently.
6. Rosemary Oil For Dry Hair
People have used rosemary oil for years to treat dry hair and stimulate growth. The oil hydrates the scalp and nourishes the hair with its antioxidants and antibacterial properties. It prevents dry flakes on the scalp and may prevent dandruff and itching. Rosemary oil may reduce baldness and increase hair growth. It contains all the essential nutrients required to prevent dry and damaged hair. Massaging this oil boosts blood circulation and strengthens the hair follicles.
How To Use Essential Oils For Dry Hair?
One can use essential oils in different ways. One can use these oils by diluting them with carrier oils. Some of the ways to use essential oils are -
Add 4-5 drops of essential oil to 7-8 drops of carrier oils like coconut, jojoba, olive, or argan. Massage this diluted oil on the scalp and leave it overnight. Wash it off with a good shampoo and conditioner.

One can mix 8 drops of Ylang-Ylang oil, 4 drops of rose oil, and 4 tablespoons of coconut oil. Apply this diluted oil on your scalp twice a week to get rid of dry hair.

Mix 2-3 drops of tea tree essential oil and 3-4 drops of chamomile oil with 3 tablespoons of coconut or olive oil. Massage this oil on the hair to strengthen hair follicles and moisturize the hair.

Take 2 ½ tablespoons of jojoba oil and mix 5 drops of lavender oil, 2 drops of chamomile oil, and 6 drops of rosemary oil. Applying this oil to the scalp will reduce dry scalp issues.
What Do We Conclude?
Dry hair and scalp conditions can be treated using essential oils. These essential oils contain necessary nutrients and hair-nourishing properties. Essential oils are highly concentrated and must be diluted with carrier oils before applying to the scalp or hair. We recommend a patch test before their application.
One must choose high-quality and pure essential oils to treat dry hair. Shoprythm is the one-stop destination for essential and carrier oils. We provide pure quality oils that will definitely solve your dry hair issues within a reasonable time. Do not apply essential oils directly on the skin or hair. It can cause skin irritation, burning, itching, and redness.