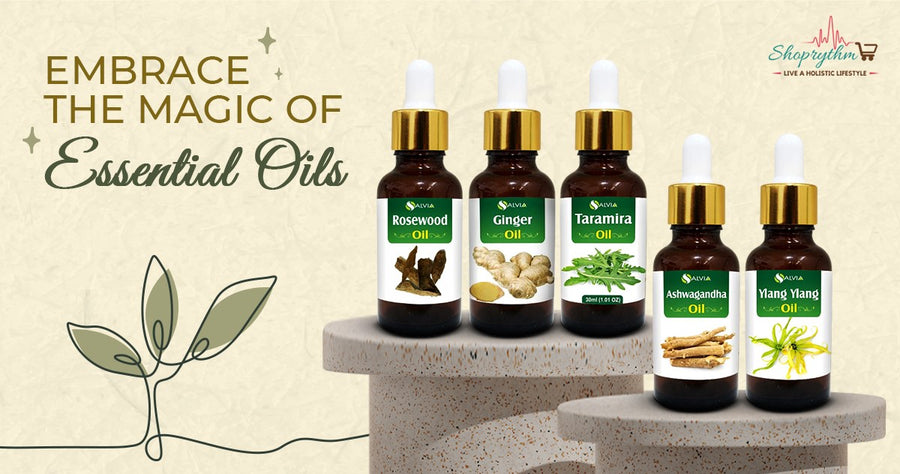 From Nature to Nurture: Harnessing the Magic of Essential Oils
With the growing awareness and easy availability of essential oils, we are gradually investing in essential oils and incorporating them into either our skincare, hair care regimen, or aromatherapy. Embracing the numerous benefits of essential oils, one thing always stuck in our heads, is the essential oils we are using are naturally extracted or artificial. 
With thousands of options available in the market for essential oils, it becomes difficult to identify which one is the best to treat our specific concern. Well, Shoprythm resolves your concern by bringing forth the widest range of essential oils that are 100% pure, natural, and undiluted. 
Read on to explore the numerous ways you can brace yourself with countless benefits of essential oils. Packed with holistic healing properties, Shoprythm offers the widest range of essential oils at the best price.
Brahmi oil- Known for its powerful antioxidant properties, brahmi oil is a blessing for your hair. It is excellent for managing a dry scalp; furthermore, it prevents hair loss and promotes hair growth. The antioxidant components help rejuvenate the hair scalp and promote the regeneration of healthy hair. With cooling and calming properties, a gentle massage with brahmin oil every day promotes relaxation. 
Castor oil-  This thick carrier oil has antimicrobial & anti-inflammatory properties which promote healthy and glowing skin for ages. It has fatty acids which help minimize wrinkles and the emollient properties take care of the skin texture. The beneficial properties of castor oil make it ideal for hair and scalp health too. Its antimicrobial properties help combat scalp infection and also stimulate hair follicles, leading to stronger, thicker hair growth. It is potentially beneficial for reducing inflammation and soothing various skin conditions, such as acne, sunburn,
Lemongrass oil- Because of its unique chemical composition and aromatic properties, lemongrass oil offers numerous benefits. It is well known for its calming and soothing effects. Its fresh and citrusy aroma can help reduce anxiety, promote relaxation, and alleviate stress. It also helps reduce inflammation and alleviate pain. It may be beneficial for relieving muscle aches, joint pain, and headaches. It also assists in reducing acne breakouts and promoting an even complexion.
As you opt for essential Oils, you open the doors to a world of healing, and self-discovery. These essential oils possess the power to transform your mind, body, and soul, which promotes overall well-being. From the soothing and calming effects on the mind to the revitalizing and invigorating properties of the body, these essential oils have the ability to nurture your entire being.
Shoprythm offers the finest grade of essential oils and fragrance oils that are meticulously crafted to ensure the highest quality and purity. Being derived from nature's abundant offerings, capturing the essence of plants and flowers in their most concentrated form, our essential oils are ethically sourced and vegan too. Each drop is a gift from mother earth. So, embrace the power of Shoprythm's essential oils and fragrance oils and head your way towards harmony, and well-being.