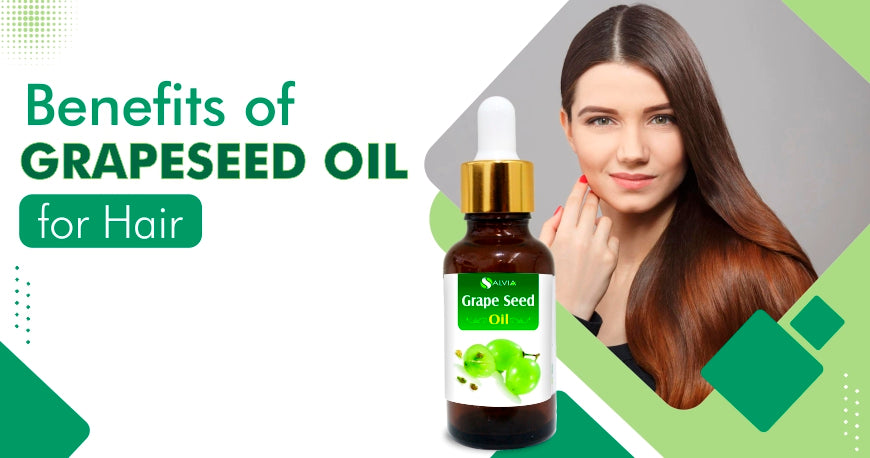 Benefits of Grapeseed Oil For Hair
Choosing grapeseed oil for hair enhancement can be your best choice. Grapeseed oil has the properties and ingredients beneficial for hair and is a rich source of Vitamin E.
Many people have used grapeseed oil for hair loss and have seen effective results. The oil helps to lock up moisture in hair strands and the scalp, thus, preventing frizz and dandruff. This essential oil can be seen as a way to minimize baldness and strengthen your hair.
One should use a good quality oil to see the expected results and nourish their hair. Grapeseed oil benefits in various ways, like adding shine, lowering hair loss, and removing split ends.
Let us know about the benefits of grapeseed oil and how to use it in detail.
7 Benefits of Choosing Grapeseed Oil For Hair Enhancement
Grapeseed oil is a natural carrier oil derived from cold pressing the grape seed and squeezing the oil from the seeds mechanically. This cold-pressed oil contains all the essential nutrients and benefits hair as there is no solvent residue.
Applying this carrier oil can deeply nourish their hair and make them strong. The top seven benefits of choosing Grapeseed oil for hair are:
1- Reduces Dry Hair
Grapeseed oil locks up the moisture in your hair and scalp without weighing down the hair strands. It does not make hair oily but prevents dry hair. One can use this carrier oil as a conditioner to nourish their hair. Grape seed oil is a natural source of fatty acid oxidation, which means it can help protect your hair from damage and promote healthy hair growth.
It contains a high amount of linoleic acid, which makes the oil a good sealant for hair.
2- Elevate Hair Growth
Using Grapeseed oil for hair can promote hair growth because it contains flavonoids, vitamin E, and linoleic acid. Thus, applying this carrier oil on the scalp can increase hair length and thickness. Grapeseed oil also has essential fatty acids, antioxidants, and vitamins that can help improve the condition of your scalp and encourage new hair growth.
Shoprythm has the best and pure grapeseed oil that will help rejuvenate your hair and prevent them from damage.
3- Increase Hair Health
One of the main benefits of using grape seed oil for hair loss is that it can help increase hair health. Grapeseed oil helps to increase circulation in your scalp, which can help bring new blood and nutrients to your hair follicles. It can help promote hair growth and prevent hair loss from occurring.
Applying this hair oil regularly can increase hair volume and thickness. It contains antioxidants that help improve hair quality.
4- Lowers Split Ends
Grapeseed oil benefits hair by decreasing the split ends and rough hair. It is an effective treatment for dry, brittle hair and split ends. This natural carrier oil has linoleic acid that coats the surface of hair cuticles and prevents them from damage. Hence, reducing the risk of split ends.
Shoprythm brings the best quality Grapeseed oil that is pure and can make your hair healthy within a reasonable amount of time. 
5- Fights Dandruff
Grapeseed oil has anti-inflammatory properties, which can help decrease inflammation in your scalp. It will help reduce the chances of developing conditions like dandruff or scalp psoriasis. The oil is a natural source of sebum production inhibition, which can help decrease the amount of sebum produced on your scalp. Thus, it also helps reduce flaky scalp and dandruff.
6- Smoothens Hair
Grapeseed oil locks the moisture in your hair and prevents dryness. Thus, massaging it on the scalp and hair strands twice a week can make your hair soft and smooth. It also makes your hair frizz-free. This natural carrier oil also has anti-proliferative properties, which help in cell regeneration and strengthen your hair.
Grapeseed oil by Shoprythm is 100% pure and natural and can help improve your hair quality and smoothness.
7- Reduces Hair Loss
Massaging Grapeseed oil on the scalp increases blood circulation and stimulates hair follicles. Due to this, the hair roots get strong and result in reduced hair fall. Grapeseed oil can help boost hair growth and rejuvenate the scalp.
Shoprythm's Grapeseed oil contains all the essential nutrients and properties for hair growth and nourishment.
How To Use Grapeseed Oil For Hair?
Using grapeseed oil on hair can make them strong and shiny and locks up moisture in the hair strands. It also makes hair frizz-free and protects them from damage. But people often do not know how to use grapeseed seed oil for hair and the best way to use it.
Let us look at the different ways of using grapeseed oil for the best results.
Mix into your regular conditioner
Grapeseed oil is considered a natural conditioner that helps you make hair shinier and softer. Thus, mix it in your regular conditioner and apply it to your hair to hydrate them.
Massage your scalp
You can mix a few drops of Grapeseed oil with Jojoba and apply it on your scalp directly. Massage it properly. Apply it twice a week, and you will get the best results within a reasonable time.
Apply to your hair
One can warm grapeseed oil and apply it to the hair strands from roots to tip. It helps to make your hair softer. After applying the hair oil, wear a shower cap and leave it for 20-30 minutes. Wash your hair properly after this.
Use it as a moisturizer
Take a small amount of grapeseed oil on your palm and apply it evenly on your damp hair. Comb your hair thoroughly to spread the oil from the roots to the hair tips. Doing this twice a week will help rejuvenate your hair and reduce dryness.
Make your hair serum
Using a dropper, apply a few drops of grapeseed oil on your scalp and massage it. Leave it overnight, and you will smooth and shiny hair.
Is it Safe to Use Grapeseed Oil For Hair?
Various people know about grapeseed oil's benefits for hair. But are there any side effects, or is it a completely safe option for you?
Shoprythm's grapeseed oil is safe for your hair and has no side effects. It is a cold-compressed and pure carrier oil that helps to enhance your hair quality. But if someone is allergic to grapes, they should not use this oil.
If you get headaches, swelling, or nausea after applying grapeseed, stop using it on your hair. Before applying it to the hair, we recommend you do a patch test. Apply a small amount of grapeseed oil on the upper elbow area and leave it for 24 hours. If it gets itchy or there is redness, you must not use this oil, and you may be allergic to it.
Grapeseed oil has shown desired results when applied to the hair and scalp. It is a light hair oil and does not make your hair greasy. But grapeseed oil processed at high temperatures may not benefit your hair or have the essential nutrients. 
Therefore, Shoprythm has cold-compressed and pure grapeseed oil without any solvents, thus, making your hair healthy and enhancing its growth. One should apply grapeseed oil at least twice a week to see effective results.
Why Choose Grapeseed Oil for Hair Growth?
People often consider grapeseed oil a natural remedy for baldness and hair loss. It is a lightweight natural carrier oil that does not make your hair greasy but moisturizes them.
Grapeseed Oil is an excellent source of Vitamin E and antioxidants and treats damaged hair cells. The oil contains Linolenic acid that stimulates hair growth. This natural hair oil also makes your hair frizz-free, conditions them, and promotes growth.
The Bottom Line
Countless people opt for grapeseed oil for hair loss and strengthening them. Shoprythm brings you the best carrier oils for hair growth, and Grapeseed oil is one of them. We have 100% pure and natural grapeseed oil extracted by the cold-compressing method.
The nutrients and antioxidants present in Grapeseed oil benefits hair rejuvenation and growth. The oil helps reduce dryness, flaky scalp, split ends, and dandruff. Thus, making your hair healthy, smooth, and shiny. Hence, Shoprythm's best grapeseed oil for hair will deeply condition and nourish your hair. 
You May Also Like:
About Ajay Kakar
Mr. Ajay Kakar is an expert in dermatology with extensive experience. His expertise lies in the realm of essential oils and carrier oils, and he understands how these natural oils can work wonders for our skin and body. With a forward-thinking mindset, he has been a pioneer in introducing groundbreaking skincare products. Mr. Kakar is a dedicated entrepreneur who believes in the importance of focus, vision, strategy, development, innovation, and top-notch quality. His commitment to improving skincare through innovation is truly remarkable.