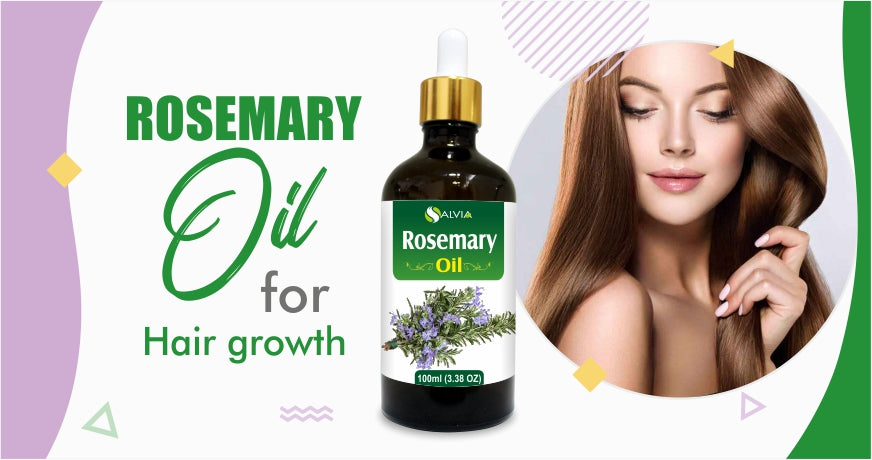 Rosemary Oil For Hair Growth | Uses & Benefits
Overview
Hair loss is God's way to let you know that you are human, but when you see a bunch of hair on the sides of a pillow early in the morning while leaving the bed – it's time to be on the alert. Hair fall can be easily observed easily– while doing comb, shampooing your hair, or even if you flaunt your look with open hair but ops its breaking. However, that's fine because you are not the only one who is in the clutch of hair fall problem. Studies on hair loss reveal that by the age of 50 years, almost 85 % of men suffer from some hair loss. On the other hand, this figure in the case of women is also as high as 50%. So, it is a common problem which many people are facing right now.
There are several ways to overcome hair fall –choosing treatments, buying expensive conditioners, shampoos, and oils – But are you sure choosing these methods safer for your hair for the long term. Or let's ask, are these natural? Might not! The best way to have the problem treated is through natural means. And we are here for you to show a natural path that promotes your hair health and reduces hair fall. You might already be aware that rosemary oil has various health benefits. Amongst the health benefits, the Rosemary Oil Benefits for hair are now well known.
Common Causes for Hair Loss
Hair loss could occur due to various factors. These range from age, infections, immune system-related reasons, hormonal shifts, inherited hair loss conditions, and so on. You also need to note that in some instances, like hair loss from chemotherapy or the use of other drugs, rosemary oil may not be able to stop hair loss. But studies also show that in the usual types of hair loss like Male Pattern Baldness (MPB), the process can be reversed to a certain extent by using this oil.
The Properties of Rosemary Oil Enable it to Treat Hair Loss
It is not without reason that people consider Rosemary oil for hair growth. The basic properties of rosemary oil are such that it helps to boost hair growth. These are as follows:
How Can Hair Loss be Prevented and Hair Growth Promoted by Using Rosemary Essential Oil?
Rosemary oil is well-recognized for holding numerous properties that deal with skin conditions (itchiness, acne-breakouts, improves circulation, and provides radiance shine to the skin) and is known as essential oil solving baldness and hair fall issue. Let's learn some noticeable benefits of rosemary oil for hair growth
It helps boost blood circulation
As pointed above, one of the properties of rosemary oil is that it promotes blood circulation. One common cause of hair loss is that the blood supply to the hair follicles, in some cases, gets reduced. Due to this, the hair follicles get starved from blood circulation. As a result, they become weak and leads to hair loss and thereafter causing baldness. By using rosemary oil, the blood circulation to the hair follicles improves, and thus not only can hair loss be prevented, but it also helps bring about hair growth.
Carnosic acid is an ingredient that is found in plants and also in rosemary oil. It helps in the tissue healing process and also that of damaged hair. It is another factor that enables rosemary oil to treat hair loss.
Other uses & benefits of using rosemary oil
Apart from the points mentioned above, you need to note that the oil is also very effective for preventing premature greying of hair. It also prevents dandruff, and at the same time, it helps to treat the itchy scalp.
A Message From Shoprythm
So, there we are, hope you would have picked up considerable benefits of Rosemary Oil for Hair Growth, so, to conclude, we can indeed say that if you are worried about your hair loss, Rosemary Essential Oil for Hair can easily be a very effective solution to the problem.
Wondering from where to buy Rosemary oil? No worries, from
Shoprythm
you can buy 100% pure and natural form of Rosemary oil without any adulteration.
You May Also Like These Blogs:
About Ajay Kakar
Mr. Ajay Kakar is an expert in dermatology with extensive experience. His expertise lies in the realm of essential oils and carrier oils, and he understands how these natural oils can work wonders for our skin and body. With a forward-thinking mindset, he has been a pioneer in introducing groundbreaking skincare products. Mr. Kakar is a dedicated entrepreneur who believes in the importance of focus, vision, strategy, development, innovation, and top-notch quality. His commitment to improving skincare through innovation is truly remarkable.