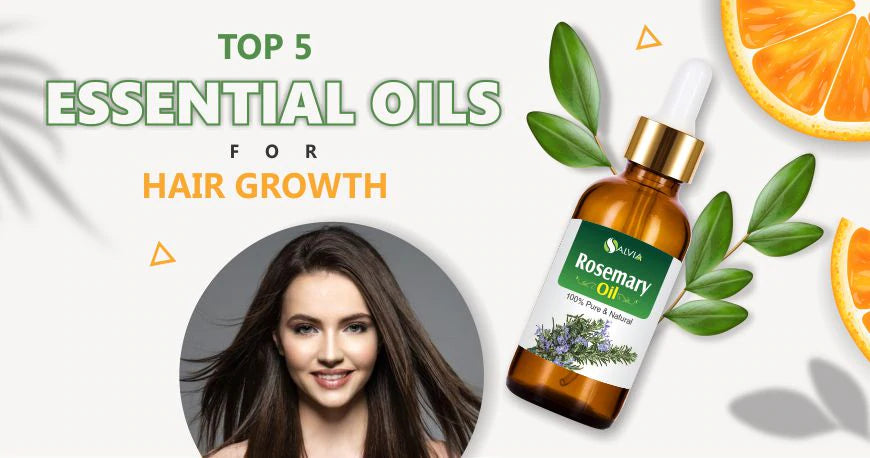 Which Essential Oils Are Good For Hair Growth?
Overview
You don't need to read hundreds of remedies or scout around the videos for the Best Essential Oils For Hair Growth – You must be thinking why you shouldn't? A single word is enough for your query – Essential Oil. Heyy, we are not the only one who is saying this– The Researchers have proved it!
Do you know which essential oils are good for Hair Growth?
Many of you would have known about the benefits and other essential oil features, and some of you would be new to it. Even if you are new or have a fundamental knowledge of essential oils, this article will be damn helpful for you if you (or your close ones) face the issue of hair fall. Hope we have dropped the idea in your mind of what this blog is all about.
There we are on the subject of the highly asked question – what are the Best Essential Oils for Hair Growth? This article will let you know the nitty-gritty facts about the same.
Before diving into the ocean of knowing the chapter and verse about the Best Essential Oils for Hair Growth, let's hit the books to grab this oil's basic information.
Essential Oils are famous for their fragrance and versatile purpose, including skincare, haircare, nail care, stress relief, mood relaxation, and so on. These oils have multiple qualities and are used as ingredients for making soap, creams, moisturizers, perfumes, etc. Essential Oils are extracted from the steam distillation technique and pooled together with the base oil (or carrier oil such as coconut oil, olive oil, almond oil, and so on) to apply it topically.
Before proceeding further, let's have an introduction first- who we are, what we do - Shoprythm - we are a one-stop shopping destination for all your skin and hair care interests. We serve undiluted, pure, and natural essential oils and carrier oils- at the same time, we guarantee the same. In this article, we are going to explore five aspects of hair fall concern–
Signs
Symptoms
Causes of hair fall
Treatment preventing the hair fall
Take home a message
Signs Symptoms of Hair Fall Issue In Men and Women
For women, the early sign of hair loss is often characterized as less fullness to the ponytail. Apart from this aspect, there are many Signs of Hair Fall in men and women; want to know other marks of the hair fall too, there we are :
Signs of hair loss in men and women vary; however one of the widespread hair loss symptoms is noticing more hair in the hairbrush or the shower drain while washing your hair.
Signs of hair fall in Men
A receding hairline on top of the head
Thinning hair on the scalp
Bald spots that grow gradually
Gradual thinning on top of the head
Signs of hair fall in Women
Seeing more hair fall while combing, in the sink, in showers, on the pillows, or in the moping/ sweeping.
Having smaller ponytails
Seeing scalp through the hair
Scaly patches of psoriasis on the scalp – Scalp psoriasis is one of the common issues that add redness, itchiness, and scaly patches of the scalp – this also affects the overall scalp and causes hair fall issues.
Causes of Hair Fall Concern
Since there are different kinds of hair fall issues, knowing the exact cause can be challenging. It's normal to lose anywhere from fifty to a hundred strands of hair; however, if you start seeing more hair fall, then it's time to seek the actual solution. Having an eagle's eye on the natural and organic Best Essential Oil for Hair Growth should be the first step in resolving the hair fall issue.
The medical term for hair fall is Alopecia. Do you know that hair fall is also linked with the food you eat? Yes, hair fall also happens when your body is in dearth of proper nutrition, vitamins, and mineral levels. Does food the only one on the list of hair fall cause? Of course not!
Most balding or Alopecia isn't related with internal body issue, nor is supposed to link with the eating routine. A predetermined genetic factor is one of the reasons behind the hair fall issue. The hereditary factor plays a significant role in keeping the hair healthy and strong. What else missing from this list? Aging- yes, numerous people may experience thinning of the hair beginning in their 30s and 40s. Life changes, including ailment, passionate injury, hormonal changes like those in pregnancy, puberty, and menopause, may cause balding or hair fall. Health conditions also cause hair loss.
Hair should be oiled well using the appropriate Essential Oil for Hair Growth. Undeniably, oil carries an important role, but the shampoo you hand-pick adds a vital role in giving a shine and beautiful hair.
Putting the points here (causes of hair fall issue)–
Genetic factor
Aging
Improper hair care
Hormonal changes
Pregnancy (menopause etc.)
Other medical conditions
Treatment Using 5 Best Essential Oils To Promote Hair Growth
Falling hair is the most nagging problem for both- men and women. Keeping well-groomed and healthy hair for men is as important as it is for women –Right? Who is stopping you then? The essential oils are waiting for you to protect your hair from falling, thinning, and eventually adding glitter to your hair by giving a shiny touch to it.
Essential Oil for Hair Growth is the most effective and the best solution to say Hello for the growing hair and Bye from the hair fall or dry hair. Keeping your worries in mind, we have brought you the pure and natural Essential hair oil that acts as a panacea, checks your hair fall and puts all your worries at rest.
Are you ready to go for the to Essential Oil for Hair Growth – there we proceed –
If you want to see your hair gleaming and cascading up to your shoulders using the essential oils, then you have to find the answer of - which essential oil is the best for hair growth- and there are we – marking a full stop from your worries. We are here to give you the best results of this question.
Top 5 Best Oil For Hair Growth
Rosemary Oil Benefits
Rosemary oil promotes hair growth because of its unique health benefit features. In essential oil form, it can help in the following:
It prevents hair premature greying
It fights the dandruff issue
It stimulates hair growth
It improves cellular generation
It helps improve circulation.
Rosemary essential oil strengthens circulation and prevents hair follicles from being starved of hair supply, dying off, and leading to hair loss. Besides promoting hair growth, rosemary essential oiis also used to prevent greying of hair and dandruff-related cases. It also helps in case of dry or itchy scalp.
Make sure you mix Rosemary essential oil with your favorite carrier oil (Jojoba/ Coconut would be best) before applying it on the hair scalp.
Their most popular uses are as a remedy for hair loss. This is because the menthol in peppermint oil is a vasodilator, and vasodilators improve blood flow. In many cases (such as female or male baldness), hair loss occurs due to starved blood flow to hair follicles. Increasing circulation with a vasodilator like a peppermint potentially improves hair growth and prevents hair loss. Peppermint menthol also gives a freshened smell and tingling sensation on the skin and scalp and Best Oil for Hair Growth.
Since this is an undiluted essential oil, hence mix it with the carrier oil. Apply it to your scalp, and leave it on for 5-10 minutes before washing out with shampoo and conditioner, and the result will give an exhilarating experience for you to feel and others to admire.
Add the oil to your hair products: For hair growth, fragrance, and calming effects, you can add lavender oil to hair products like shampoo, conditioner, or another product. Massage the oil anywhere from once per week to once per day and feel the difference
Mix few lavender oil drops into three tablespoons of carrier oil like olive oil or melted coconut oil, then directly apply that to your scalp and wash out with shampoo after that. It will bring wonderful results. It may become the reason for envy for others.
Our Essential oil blend hair caris a product that can give you the kind of hair you have always dreamt of! Shoprythm's essential oil blends hair care is formulated with a blend of potent essential oil and carrier oil that is known for best hair growth. Improving hair texture, nourishing the scalp, strengthening each hair strand, promoting new hair growth, and preventing graying are some of its qualities that it is known for.
It promotes hair growth: Lavender essential oil recently drew attention for stimulating hair growth. As per the studies, lavender oil helps with issues like Pattern baldness or Alopecia.
It has antimicrobial properties: Lavender oil also has antimicrobial properties, noted in the 2014 review. This implicitly makes it clear that it helps prevent bacterial and fungal growth.
When applied to hair or scalp, it may prevent common hair or scalp issues, itchy scalp or dandruff, and even infections in some cases.
This Essential oil for hair growth promises to give you long, thick, and healthy hair. This luxurious hair growth oil contains natural ingredients that make your scalp healthier than before—promoting new hair growth, restoring its natural hair color, and imparting brilliant shine to your dull hair. Furthermore, it also prevents hair loss and promotes hair growth even on balding scalps. Besides, it also makes the hair soft, silky, and lustrous. As an antioxidant, this oil improves the hair texture.
With all this useful and valuable information, you need not bother anymore; if you are bothered by any hair care-related issues, go through this and pick any of our products as per the need.
Take Home a Message
So, what's stopping you? Go ahead and use these fantastic oils (pure and natural) for your hair care, and if you are new to essential oil usage, then your hesitation in picking the oil is undeniably logical. However, to experience the absolute wonder, you have to get these essential oils in your hands to use them and give honest feedback.
We don't just rest on a few of our products to meet your customers' expectations; instead, we work hard and strive for excellence to give you more choices. You can visit our e-commerce website for further details about - essential oils or carrier oils (and other skin care-related products).
Do not buy the Essential Oil from any local store as you won't get 100% natural and undiluted oil.
You May Also Like: