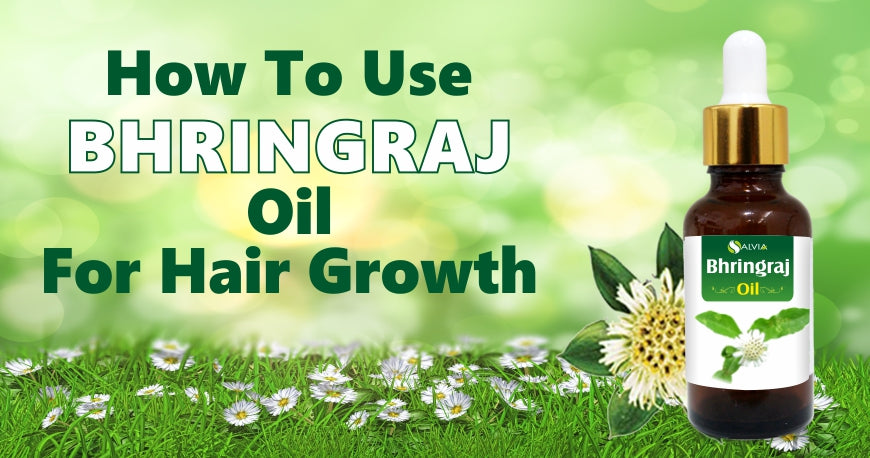 How To Use Bhringraj Oil For Hair Growth?
This article will talk about that cold-pressed carrier oil which has gained wide popularity for its n number of health benefits. Hope the title has given you the hint of what we will talk about - It's Bhringraj oil for hair. 
Who doesn't want to have thick, lustrous, and silky hair?
 But the problem is that maintaining them is a real tedious task. Shampoos, hair masks, supplements, serums, oils various options are nowadays available in the market, claiming to give you the hair you always dreamt of. But most of them are heavily loaded with chemicals that can damage your hair shaft in the long run. If you want to nourish your hair from within without any side effects, then you should try holistic remedies like – essential oils and carrier oils. 
Talking about the essential oils first – these oils are undiluted and pure in form extracted via steam distillation approach. Since these essential oils are unadulterated, hence these oils are never suggested to apply directly on the skin/ hair. There come base oils or carrier oils to mix with the essential oils.
Carrier oils are often plant-based extracted from seeds and nuts. One can apply these oils directly (or with few drops of essential oils) on skin or hair. Carrier oils incorporate several benefits, including skincare, haircare, and massages. 
Bhringraj oil for hair is extracted from the leaves of the 'false daisy' plant native to countries like India, Thailand, and Brazil. As per Ayurveda, Bhringraj contains soothing and cooling properties, and it balances the 'Pitta' dosha of the body. The Bhringraj oil is known to promote hair growth, reduce hair fall and dandruff. Due to its multi-faceted benefits, Bhringraj is known as the 'King of Herbs.' Let's look at a few more interesting facts about this wonder herb and see how to choose the best Bhrinraj oil for hair.
Benefits Of Using Bhringraj Oil For Hair Growth
It contains ample nutrients like Iron, Vitamin E, Vitamin D, Magnesium, and Polypeptides; all of them are known for promoting hair growth and follicle regeneration.
Due to its properties, it has the ability to manage dandruff and fungal problem from the scalp.
It imparts a cooling effect on hair, thus giving relief from itchy scalp.
Bhringraj oil for hair is rich in proteins that strengthen the hair shaft, making them strong and thus preventing hair fall issues.
Pure Bhringraj oil has higher specific gravity; thus, it can penetrate deeper into the scalp and moisturize it to give a nourished look to your hairs.
It prevents dullness and dryness of hair and makes them look frizz-free.
A gentle massage of Bhringraj oil on hairs increases the circulation of the scalp and facilitates nutrient absorption.
The soothing fragrance of Pure Bhringraj Oil helps relieve stress, which is one of the reasons for hair fall.
How to use Bhringraj oil for hair
Lukewarm the oil for 30 seconds, then massage it on your scalp thoroughly in a circular motion for at least 15 minutes. Leave it on your head for 30 minutes, then wash it off. You will feel the difference from the very first use.
How to choose the Pure Bhringraj oil for yourself?
Although many products contain Bhringraj oil; however if you are looking for the best and pure Bhringraj oil for hair, you should choose the one extracted with the traditional method and free from any chemicals and adulteration.
A Word From Shoprythm
Grab a bottle of Bhringraj oil today and get rid of all your hair problems today. At Shoprythm.com, we prepare all our oils with traditional techniques (cold-pressed, solvent extraction, and steam distillation techniques). We take great care so that all the medicinal properties of the oil remain intact during extraction. Our Bhringraj oil is 100% chemical and preservative-free. You may have tried various tricks for getting the hairs you always wanted to. Many times the solution is often simpler than we think. Our Bhringraj oil is the simple solution for all your hair-related issues.
You May Also Like These Blogs: