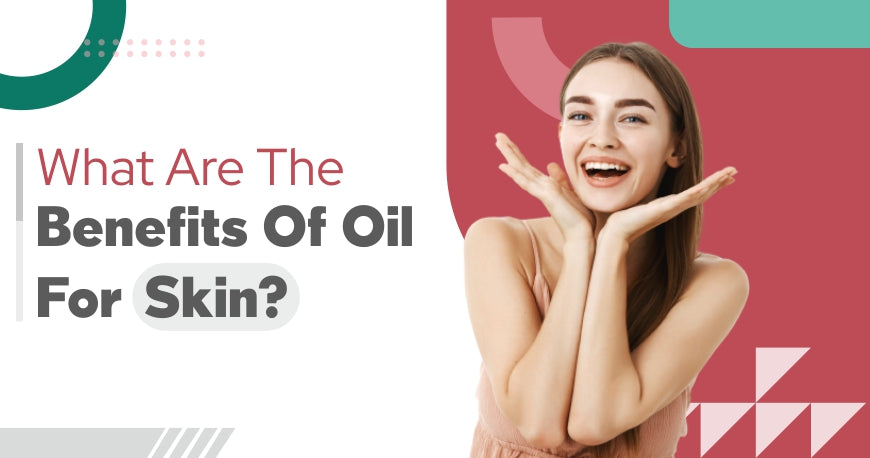 What are the Benefits of Essential Oils for Skin?
Do you know about the benefits of essential oils for skin? Yes, essential oils can nourish and moisturize your skin with regular use. They are extracted from plants with steam-distillation or cold-pressing methods and are rich in essential vitamins. Using them in your skincare routine gives nourishment, hydration, and radiance.
Oils are natural moisturizers that penetrate deep into the skin and lock moisture. Essential oils help form a protective barrier, which means they can help to protect it against environmental pollutants, bacteria, and free radicals.
Various essential oils for skin are rich in antioxidants and Vitamin E, which help protect the skin from harmful UV rays by forming a protective barrier on the skin. The oils prevent skin dryness, wrinkles, fine lines, and other signs of aging.
What are the Benefits of Skin Essential Oils?
Essential oils are highly concentrated and rich in essential fatty acids, vitamins, antioxidants, antibacterial, and various other properties. Hence, applying them to the skin has countless benefits. From protecting the skin to giving an even tone, essential oils can help your skin with everything.
Some of the benefits of essential oils are -
1. Moisturization and Hydration
Essential oils have moisturizing properties and seal moisture in the skin. These oils contain antioxidants and essential fatty acids that help lock moisture and may also balance sebum production in the skin. Using them on the skin prevents dehydration, itchy skin, roughness, and skin irritation. Essential oils for skin work as a natural hydrator and calm stressed skin or burns.
2. Anti-Aging
Aging can be caused due to stress and sun exposure which causes visible changes in your skin. Various skin essential oils help prevent premature aging signs. Essential oils have powerful antioxidants, cell-renewing properties, and essential compounds and may boost collagen production. Therefore, various skin lotions and anti-aging serums also contain essential oils.
3. Acne Prevention
Another benefit of essential oils for skin is acne reduction. These concentrated and plant-based oils are one of the most effective solutions for acne and pimples. Applying essential oil reduces not only acne growth but also scars. The antibacterial, antifungal, and antimicrobial properties of essential oils eliminate acne-causing bacteria and protect the skin from free radicals, thus, making your skin bright and clear.
4. Scar Reduction
Using essential oils for scars is an effective and natural way to clear your skin. Essential oils contain Vitamin C, antioxidants, antibacterial, and skin rejuvenating properties. Thus, massaging them over acne or wound scars can help reduce them. One can mix 2-3 drops of geranium, lavender, cedarwood, or tea tree oil in their skin lotion or face cream to get visible results.
5. Skin Toning
Skin essential oils can help reduce uneven skin tone and reduce blemishes. These oils contain high levels of antioxidants and skin-brightening properties, which give your skin the perfect radiance and glow. Massaging essential oils on the skin after dilution can decrease skin sagging, dark spots, and blemishes and tone your skin, giving it a brightening effect.
Do NOT use any essential oils directly on your skin without dilution. Always dilute them with a carrier oil before using them topically on the skin.
5 Best Essential Oils For Your Skin
Like most people, you probably have a few go-to skincare products you rely on year-round. But what about when your skin is drier and more sensitive in the winter? Can using essential oils for skin be a beneficial addition to your daily routine?
According to some experts, essential oils can help keep your skin hydrated and healthy even in cold weather. You must know that essential oils also work according to your skin type. Hence, choose an oil that is perfectly suitable for your skin. Below, we've outlined five of the best skin essential oils during the colder months.
How to apply essential oils to your skin?
Always dilute essential oils before using them on the skin. One can mix these oils with carrier oils like coconut, jojoba, or olive oil. Another way to use essential oils for skin nourishment is to add a few drops to your skincare products.
Here are three ways you can use essential oils on your skin:
Apply before bedtime to help reduce dryness and inflammation in the morning.
Apply to rough patches on your skin to soothe and protect them from further irritation.
Mix a few drops in your body wash to hydrate and nourish your skin.
We recommend a patch test before using essential oils. For the patch test, dilute 1-2 drops of essential oil with 4-5 drops of carrier oil. Apply this diluted oil to the inner elbow area if you see any sign of irritation, burning, or redness. Do not use the essential oil any further.
Conclusion
If you're looking to improve the health and appearance of your skin, there are a few things you can do to take advantage of the benefits of essential oils for skin. These oils are beneficial because they help promote cellular turnover and reduce the appearance of wrinkles and age spots. Additionally, they are an effective natural anti-inflammatory agent, so using them regularly can help reduce redness and irritation associated with various skin conditions like eczema or rosacea.
Shoprythm has the best quality and pure essential oils to make your skin healthier and brighten within a reasonable time. So what are you waiting for? Give your skin the love it deserves, and treat it with the best products today.
You May Also Like -
About Ajay Kakar
Mr. Ajay Kakar is an expert in dermatology with extensive experience. His expertise lies in the realm of essential oils and carrier oils, and he understands how these natural oils can work wonders for our skin and body. With a forward-thinking mindset, he has been a pioneer in introducing groundbreaking skincare products. Mr. Kakar is a dedicated entrepreneur who believes in the importance of focus, vision, strategy, development, innovation, and top-notch quality. His commitment to improving skincare through innovation is truly remarkable.