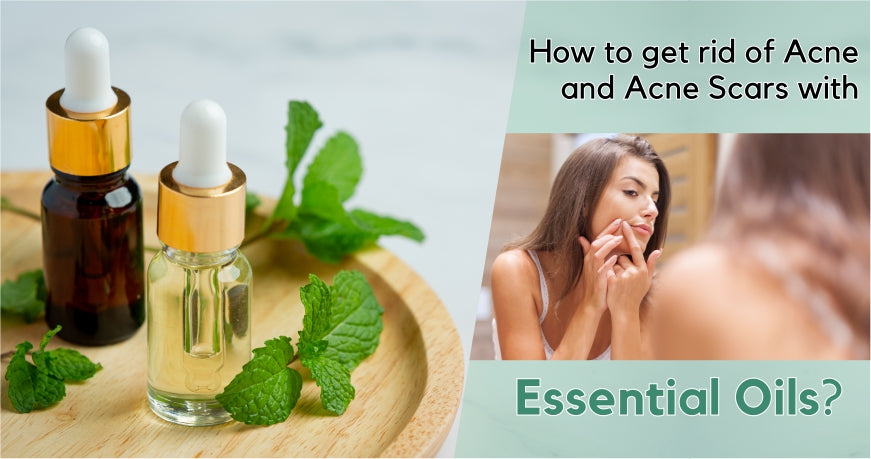 How to get rid of Acne and Acne Scars with Essential Oils?
Overview
Natural Essential Oils for Acne & Scars
Going to a party? Ready with finest clothing, accessories, hair-do, makeup, but, wait! Your acne issues are popping up and spoiling all your super-amazing styling. Tired of those painful red bumps, squeezing out blackheads, and other such discomforts caused by acne? And we know the struggle is real! Isn't it?
Scuffling with each new product in the market that pops up in front of your eyes. Be it a prescribed one or an OTC (over-the-counter), and you must have lost fighting against the irritating acne and acne scars. And you have achieved your bonus by damaging your skin with chemicals present in those products. Right?
Now pause relating to these mentioned situations because, in this article, you will learn - 
How to get rid of Acne and Acne Scars with Essential Oils?
What are acne, acne scars, and their types?
What are the Best Essential Oils for acne and acne scars treatment?
Where to shop for the Best Essential Oils for acne and acne scars
What are acne and acne scars?
We all are familiar with the most general term for acne, i.e., pimples! But, concerning a medical approach seems more appropriate for understanding your acne signs a bit better. 
When the deceased skin cells and sebum(oil) in the skin get plugged with hair follicles, it results in the most occurring condition -Acne. Acne lesions are of two types: non-inflammatory acne (blackheads and whiteheads) and inflammatory acne (pustules, cysts, nodules). 
Acne scars are the effect of inflammation of acne marks/blemishes. The acne opening swells are an interruption that occurs in the barrier of the pore. Some acne spots are minor and the scars produced are shallow and heal fast. Sometimes the insides of blemishes escape into the surrounding tissue and cause deeper scars.
Reasons- why acne triggers-
The upshot of acne usually occurs at the puberty stage during adolescence. The human skin has openings that link to oil glands under the skin. Follicles connect the glands to the pores (Follicles are small pods that produce and discharge liquid).
The glands produce a greasy liquid named sebum. The sebum transmits dead skin cells through the sacs to the skin surface. A slight hair grows through the hair follicle out of the skin. Irritation grows when these follicles get clogged, and oil builds up under the skin.
However, there are other reasons too that prompt acne onto your skin. These include genetic factors, menstruation, emotional stress, greasy cosmetics, etc.
Natural Treatment for acne-prone skin and scars
The treatment for acne has a long list. From OTC products, topically applicable products, oral medications to expensive skin treatment.
But, why spend the hard-earned money? Do you need to damage the skin with chemicals present in the products for acne treatment? Of course not!
We are saying this because there are the best essential oils for acne and acne scars that help treat acne and the issues linked naturally.
What are the Best Essential Oils for Acne and acne scars?
The benefits of Essential Oils are plentiful and unmatched as these are pure and natural because of the method they are extracted. The Essential Oils are made from the steam distillation process from biotic components.
But, there is an evident and important fact that essential oils should not be directly applied to the skin. You just mix them with some sort of carrier oil to obtain a potent and effective blend.
These incredible plant-based oils encompass the natural benefits of the flowers from which they are made of. The benefits incline to nourish, hydrate and soothe the skin. Further, other than performing for skin ailments, these oils can be used to enhance skin appearance, improve texture, and maintain good skin health.
Here are the three best essential oil for acne scars:
Tea-Tree Oil Melaleuca Alternifolia( Tea-Tree Oil) possesses amazing properties to heal wounds and mild to moderate skin ailments. Tea tree oil holds terpene, an oil that kills the bacterial stroke on the skin. Thus, Terpene bouts Propionibacterium, guarding the skin against the acne-causing bacteria and decreasing the level of acne breakout. Not only this, when cast off appropriately, tea tree oil also cleans the pores of your skin and restricts any extra development of bacteria. Tea tree oil for acne scars also helps reduce redness, swelling, itching and soothes the skin from other discomforts. So Tea Tree oil is the best oil for acne-prone skin and scars.
Carrot Seed Oil Daucus carota or Carrot Seed Oil is one of the most effective herbal facial oil for acne-prone skin, which keeps acne and acne scars at bay. Carrot Seed Oil carries antibacterial properties that help reduce acne scars and smoothens the skin's appearance. The Carrot Seed Oil comprises Vitamin A and Beta Carotene, which help improve skin complexion by taking out toxic build-up.Its fantastic antiseptic activities also aid in lessening acne formation and breakouts.
Lavender Oil Lavandula angustifolia is a highly appreciated and preferred natural essential oil that fits in the best essential oils for acne and acne scars list. Lavender Essential Oil helps destroy bacteria that result in acne and efficaciously manages acne breakouts/ scars. It holds several properties and inhibits scarring by encouraging cell and tissue growth.
What is the best carrier oil for acne-prone skin and scars
Noting the fact that essential oils cannot be used solely to manage acne and acne scars. Indeed, they need to be blended with carrier oils so that the potent mixture obtained can effectively do wonders for your skin. To the extent of carrier oils are concerned, they can also do miracles in managing acne-prone skin. The effective and well-identified carrier oils for acne and acne scars are Jojoba Oil, Rosehip Seed Oil, Argan Oil, Olive Oil, and Grapeseed Oil.  Essential oil blends that reduce acne & acne scars- you can dilute Tea Tree Essential Oil(10-15 drops) with Apricot Oil (30ml) & sweet almond oil(30ml) and mix it well before applying topically. And this is the best essential oil recipe for acne scars.
Where to Shop for the Best Essential Oils for Acne and Acne-Scars?
Well! Shoprythm is always your companion, aiding you to get your hands on everything you wish. Worth Mentioning, we at Shoprythm have 350+ Essential Oils and Carrier Oils. We ensure to maintain the authenticity and integrity of all the products.
Shoprythm serves you with 100% pure, natural, undiluted, and the Best Essential Oils for acne and acne lesions. Moreover, the price range is convenient and much affordable, concerning the comfort sphere of our customers.
Take-Home a Message
Acne is not a serious skin condition for which you should worry round the clock. However, acne scars can disrupt the skin's ease. But, not to worry, as the above-mentioned Best Essential Oils for acne-prone skin are your effective solutions for managing acne and acne scars. However, this is not overnight magic and will take time for skin to heal according to the harshness of acne skin condition.
How to use essential oils for Acne & Scars?
A very important Tip –  Before applying topically, make sure you always dilute the essential oils with carrier oils according to the specific amount and defined usage.
And there you go with glowing, flawless, and healthy skin with Essential Oils!