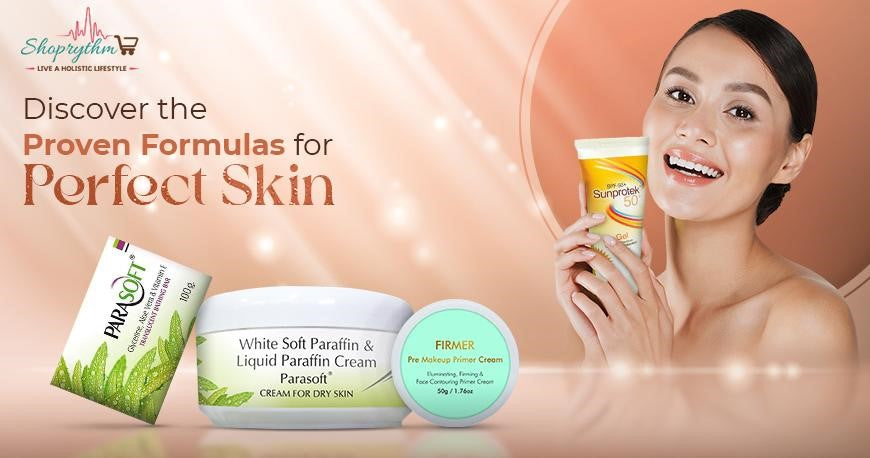 Skincare Secrets Unveiled: Discover Shoprythm's Proven Formulas for Perfect Skin!
The secret behind perfect skin is not just your DNA, it majorly depends on the skincare regimen we follow. We all want to elevate our skincare game and achieve a radiant skin complexion. But aging and environmental pollution are constantly hindering our way to healthy skin. The serious concern is combating these restraints and finding the best skincare solutions. Whether you are a novice or a pro, this article will provide you with in-depth knowledge and understanding to revolutionize your skincare routine. Read on and enhance your understanding of the science behind different skin types and master the art of product selection. 
If you are tired of searching for the perfect skincare routine and failed in your approach of trying new products every time, then you need not have to look no further! We have unveiled our collection of proven formulas that will transform your skin and give you the flawless complexion you've always desired.
Radiant glow with the serum- Serum is the most critical part of our skincare regimen because of its natural ingredients and benefits. A regular application of serum has done wonders for the skin. It not only adds to brightening the skin but also helps treat several skin conditions and the most common is the signs of aging. Firmer anti-aging face kit from Shoprthm is a well-known skincare revolution that is proven to be an effective solution for treating fine lines and wrinkles, rough and scaly skin, and dark spots. The Firmer anti-aging face kit contains a face serum, honey locus gel cream, primer face cream, and peptide serum. All these skincare essentials are a wonderful addition to your skincare regimen in or after your 30s. 
Nourishment with the face cream- Well, it is a proven fact that Hydration is the key to healthy skin. And in search of the best moisturizer, we all have ended up choosing those sticky and oily face cream that makes the skin look oily and often cause acne problems. But Parasoft face cream from Shoprythm is different. It is a power-packed combination of white soft paraffin, light liquid paraffin, and aloe vera which are known for their hydrating properties. The non-sticky and non-greasy formulation of Parasoft face cream makes it lightweight and evenly spreadable on the skin making your skin moisturized and deeply nourished. Parasoft face cream is also suitable for all skin types and is best to manage dry skin conditions. 
Protect with sunscreen- Be it summer or winter or any other weather, sunscreen is a must. Sunscreen not only protects the skin from harmful UVA/UVB but is also essential to prevent skin from environmental pollutants. The gel-based sunscreen, Sunprotek is prepared with WOW technology and contains zinc and titanium. This non-oily sunscreen is perfect for oily and acne-prone skin. Sunprotek from Shoprythm is available in two variants, SPF 30 & 50. A daily application on the skin will promote problem-free and healthy skin over time. 
At Shoprythm, we understand that skincare should be effective and enjoyable. That's why all our products are carefully formulated with the highest quality ingredients and are free from harmful chemicals and parabens and sulfate. Our proven formulas have been trusted by thousands of satisfied customers who have witnessed remarkable results.