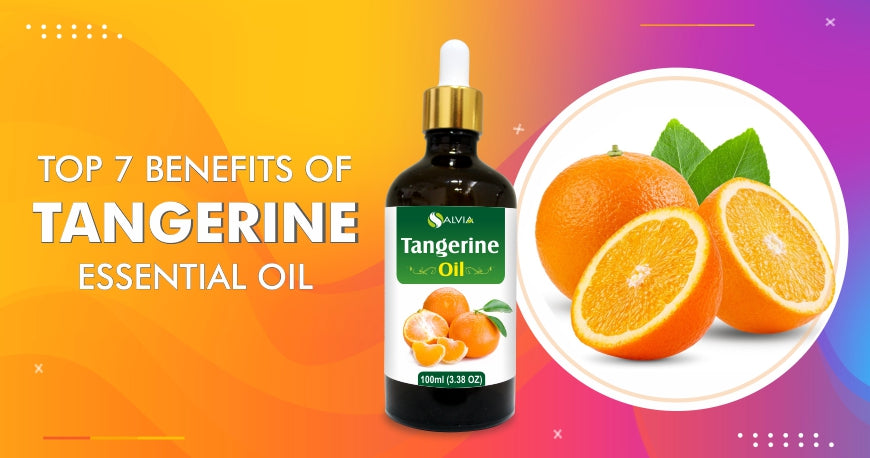 Top 7 Benefits Of Tangerine Essential Oil
Overview
It's not in curtain anymore that Lemon, Lime, and Orange always hold the limelight in the citrus category. But there is yet one undisclosed chapter of the Citrus family not been known by many –that is none other thanTangerine Essential Oil. The fresh, zingy, and uplifting aroma of this essential oil comes up with n number of varieties, including skincare, haircare, aromatherapy, and massages.
Tangerine oil comes in the citrus family; Tangerines are almost similar to mandarin oranges. They have few exceptions – they lack pips (a small hard seed), have a deeper orange color, and are harvested at a different time of the year than Mandarin oranges. If we talk about the botanical name of Tangerine and mandarin orange is the same – known as Citrus reticulata. The question comes here:
How to use tangerine essential oil?,and the significant benefits.
Tangerine Oil Benefits comprise skincare, hair care, and aromatherapy advantages; what about if we start with Tangerine essential oil benefits for skin and then go on.
Significant Benefits Of Tangerine Essential Oil
Tangerine essential oil is extracted by cold-pressed technique and consists of several health benefits and uses-:
Tangerine Oil Benefits for Skin
It has soothing and healing properties that may soothe the skin irritation, swelling, or itchiness. Not just this, this oil also solves skin conditions (dry skin, irritated skin, etc.). It brightens the skin tone.
Since Tangerine is rich in vitamin C (an excellent antioxidant that combats free radicals), it delays aging signs. It also stimulates collagen, thereby providing a youthful glow to the skin.
Tangerine essential oil benefits for hair
It has great conditioning and moisturizing properties and stimulates hair growth. It may stimulate hair follicles and hair growth by unclogging the pores in the scalp. Also, it stimulates blood circulation. Tangerine essential oil for hair is great for conditioning and moisturizing the hair, as well as stimulating hair growth.
Benefits of Tangerine Essential oil in diffuser
It has uplifting and mood-enhancing effects. It can be aromatically used – using a diffuser or inhaler. The aroma of tangerine oil benefits – It can solve breathing difficulties, coughing, and cold. The calming effect of Tangerine oil can calm the mind and relieve the problem of stress and tension. It has a sedative property –so by using the diffuser, one can experience a good night's sleep if you face difficulty while sleeping.
Tangerine oil benefits stretch marks
It is also said that Tangerine oil helps to fade stretch marks. Massage the oil on the affected areas of the body, and stretch marks will start to diminish gradually. Tangerine oil is known for its calming citrus scent and its ability to treat irritation, acne, and reducing the apperance of scars and stretch marks.
Tangerine essential oil for skin
Tangerine essential oil for skin also encourages the generation and growth of new cells – or simply one can say –for skin regeneration. This property of tangerine oil is beneficial for those experiencing premature aging signs or who want a rejuvenating and youthful glow.
Tangerine oil benefit to clean the house
Surprised? Apart from the above-mentioned therapeutic benefits, tangerine oil can be used for cleaning purposes too. Since it holds antifungal properties, it is good to clean the home.
What you have to do is add a few drops of tangerine essential oil to clean water, mix it well, and use a cloth you can use and disinfect the kitchen, bathroom, and other areas that are prone to a build-up of bacteria.
How to use Tangerine Essential oil? 
Since Tangerine oil is an Essential oil and completely undiluted, it is required to dilute with the carrier oil/ base oil.
Add two to three drops of tangerine essential oil to 10ml of Jojoba oil. This mixture of Tangerine and jojoba hydrates the skin and maintains the skin's elasticity.
If you are prone to skin condition, you can mix a drop of Tangerine with four to five drops of Grape-seed oil.
If you want to solve the stretch marks solution (after delivery), you can use the tangerine essential oil. What you have to do is to a few drops of tangerine oil to coconut oil (carrier oil).
Add two to three drops of Geranium with sweet almond oil and apply the mixture to the scalp to control scalp conditions (dryness or itchiness). This mixture also may help promote hair growth and improve overall hair texture.
Bottom Line
So, these were some benefits of tangerine oil and the best ways to use it on the skin. Shoprythm provides pure and natural essential and carrier oils not only in India but also in different countries. If you want to gather more information about Tangerine essential oil benefits, you can contact the support team. Or, if you want to buy this oil for your skin/ hair care regimen, you can proceed with your purchase by adding it to the cart, filling the form, and buying as per your payment mode.
Facing issues while buying the product or need any guidance about the product, contact our support team; we would be pleased to assist you!
You May Also Like: