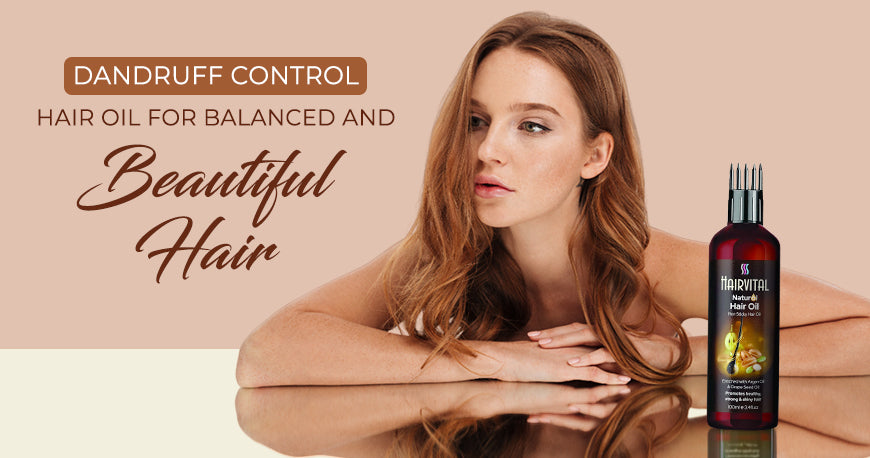 Dandruff Control Hair Oil for Balanced and Beautiful Hair
Understanding dandruff for lasting relief
The most common hair problem we all have encountered during some time in our lives, yes we are talking about Dandruff. It is the tiny flakes or dead skin cells that appear on the scalp and fall on your shoulders. Ever wondered what could be the cause behind this annoying dandruff? If you are thinking that it could be because of bad hair care then you are wrong. The cause for dandruff could be any, ranging from dry weather conditions to your hair care products.
Well, the problem is very common among women as well as men. While researching the causes and treatments for dandruff, you must have come across several hair care products, and that creates a lot of confusion in picking the best one. In a market full of brands claiming to be natural and herbal, pick the product that offers a permanent solution to your problem.
Demystifying dandruff for a healthier scalp
With our busy lives, we often miss oiling our hair and skipping those oil sessions could be a result of various hair conditions. Experts have advised to oil hair atleast once a week, as it will help nourish your hair, maintain proper blood circulation, and promote hair growth. 
Instead of getting confused with the several available solutions, go for an age-old tested treatment and an effective one too. Yes, we are talking about hair oils for dandruff. Hairvital Naturol hair oil is one of the best hair oils for dandruff. It is a nourishing blend of natural ingredients and essential oils like grapeseed oil, Olive oil, Argan oil, Jojoba oil, and Sweet almond oil. Massaging your scalp with this will benefit you by strengthening thin hair, promoting hair growth, keeping your scalp healthy, fighting frizz, etc. The non-sticky and non-greasy formulation will do wonders for your hair and infuse life back into your hair.
Another remedy could be a DIY hair care, which you can prepare with natural essential oils and carrier oils for treating dandruff conditions A combination of coconut oil, sunflower oil, eucalyptus oil, lemon oil, and almond oil is the best hair oil for dandruff. You can prepare this blend at your home with Shoprythm's natural essential oils and carrier oils. This oil is known to nourish the scalp and treat dandruff over time. 
Always opt for oils that have anti-inflammatory, antifungal, and moisturizing properties. Some effective options include tea tree oil, coconut oil, neem oil, and argan oil. These oils can help combat the underlying causes of dandruff, such as dryness and fungal infections. Gently massage the oil onto your scalp and rinse off with a mild shampoo. Don't comb your hair after oiling, avoid tight hairstyles, and avoid styling your hair. Also, refrain from applying too much oil, as it may make your hair too greasy.  
Revitalize Your Hair- Conquer Dandruff
These tips will surely help you combat that stubborn dandruff easily. A few easy steps will help you banish dandruff completely. Although, to stop dandruff from coming back you should always opt for mild, sulfate-free, paraben-free, and chemical-free hair care products. 
 It may be helpful to consult a dermatologist if dandruff persists or worsens despite using hair oil for dandruff.
You May Also Like -