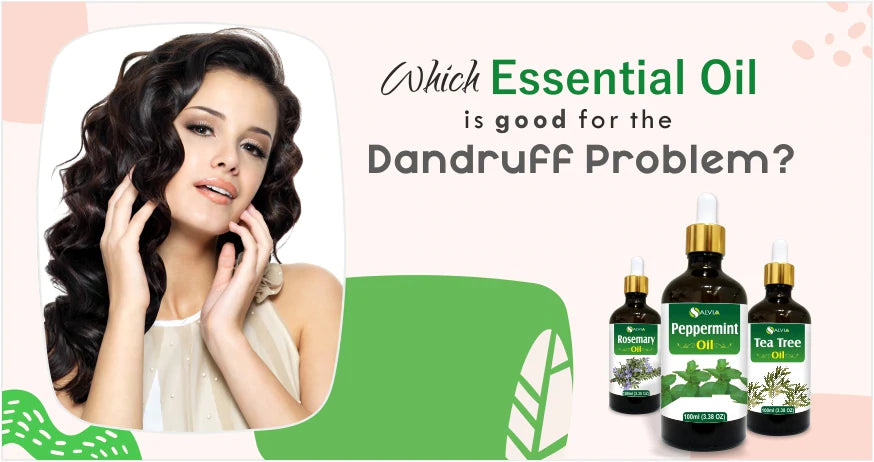 Which Are the Best Essential Oils For Dandruff Reduction?
Dandruff affects more than 50% of the population around the globe and can be occurred due to various reasons. It causes itching and dryness in the scalp and can damage your hair's health. The most common way to treat it is to buy an anti-dandruff shampoo or use essential oils for dandruff removal.
Seeing dandruff in the hair is heartbreaking. It creates scaling of scalp skin, hair loss, flakes of dead skin in hair, and makes the head itchy. Dandruff can be caused due to the use of harmful chemical hair products or shampoos. Hence, using essential oils is one of the effective home remedies to treat dandruff and dry scalp.
There are various essential oils for dandruff that can show effective results in a short period. But one faces challenges in finding the right essential oil for them. Hence, this article will help you find the accurate oils that can fix the problem with dandruff on your scalp.
5 Essential Oils To Treat Dandruff Naturally
Essential oils are extracted from plant extracts and help our hair in numerous ways. People use them to enhance their hair health and appearance. One of the best ways to use essential oil for hair is to use them for reducing dandruff.
Essential oils can save your hair from harmful chemicals and will rejuvenate and condition them. Some essential oils that are effective in treating dandruff problems are
How to choose Essential Oils for Dandruff?
Plenty of essential oils are available in the market, promising to fix your dandruff problem, but you must decide which is suitable for your hair. One must check the purity and authenticity of the oil before using or buying it. 
Choose a mild shampoo for your hair. Make sure to read the ingredients on the label to see if the shampoo product you use has the essential oil you want to try. 
Make sure never to drop a lot of essential oil into the shampoo you plan to use on your scalp. Only a few drops of essential oil would be perfect for healthy use. One of the things people mistake for essential oil usage on their scalp is the direct implementation. You should never apply it  directly to your hair or scalp.
A Word From Shoprythm
The usage of the Best Essential oil for dandruff is a good idea, but there are things that you should know before you start thinking about buying it. Before using these oils, one of the important things is always to do a patch test (to avoid any allergic reaction that can be prevented at the right time). 
All the oils mentioned in the article have various usages, but their properties are much more effective against dandruff, dry flakes, or dry scalp issues you have. Various essential oils can be used for hair care, but Shoprythm has the best quality essential and carrier oils that provide deep nourishment and care to your hair.
You May Also Like These Blogs: