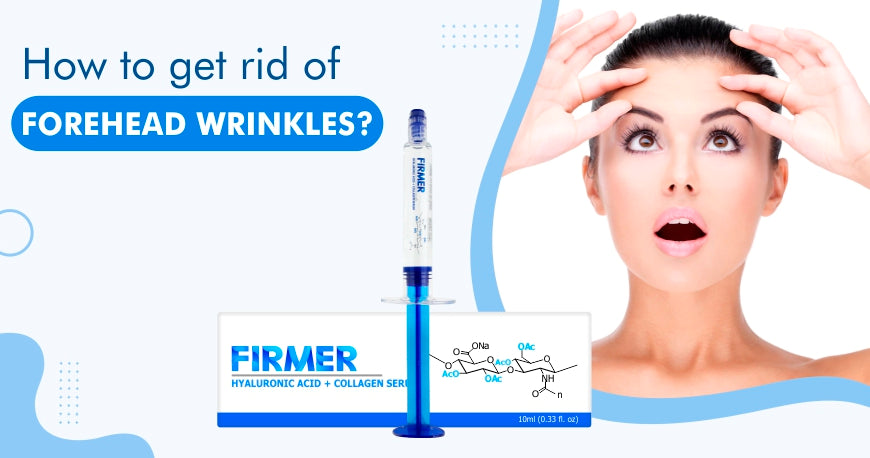 How To Get Rid of Forehead Wrinkles?
Wrinkles are often visible when your skin is tight over your forehead, creating the "crease" that others call your forehead crease. However, they can appear anywhere on the face due to gravity working its magic and leading the skin downward.
Forehead wrinkles are prevalent in people with oily skin. The oily skin causes the skin to get "wetter" and, thus, leads to more wrinkles. It is not a question of if you'll have forehead wrinkles. It is more about how bad they are going to get and for how long they will be there.
People get frustrated and want to know,
"How to remove Wrinkles from Forehead?"
The Internet shows countless ways to reduce wrinkles, but not all work effectively. In this article, we will discuss different ways to remove them completely.
What are Forehead Wrinkles?
Forehead wrinkles are fine lines that appear on the skin as a sign of aging or due to loss of collagen. They normally appear on the skin or face and indicate aging skin. 
Repetitive facial expressions can also cause forehead wrinkles. The appearance of these thick lines concerns many people. Most of us want to know how to get rid of forehead wrinkles without botox and other medical treatments. 
7 Different Ways To Get Rid of Forehead Wrinkles
Forehead wrinkles are unavoidable. But, one can not neglect them when they appear young. Forehead wrinkles are normal, but if you want to reduce them, there are various ways to do that. 
Keep your skin hydrated because it helps the skin get rid of any excess oil that it may have produced. The oil-reducing ingredients in creams, serums, oils, and moisturizers will help you achieve this. 
You should use a moisturizer after cleansing and before toning. Your moisturizer helps your skin retain its moisture so it feels less dry. Some effective ways to keep your face free from forehead wrinkles are:
What Causes Forehead Wrinkles?
Forehead Wrinkles are caused due to the constant crunching of frontalis muscles or happen to those who are more expressive, says Dermatologists.
Aging, sun exposure, skin thinning, and genetics can also be the main cause of forehead wrinkles. There is no particular age for these wrinkles. Thus, they can happen to different people at different times. The other reasons forehead wrinkles appear on your skin are:
Excessive oil production

- When the skin is too oily, it clings to any available surface, including your face. It makes your skin appear shiny but can lead to wrinkles.

Dry skin

- If you have dry skin, your skin's barrier likely gets dry, too. When the skin is dry, it can take in damaging UV rays, which produce more sebum and leads to forehead wrinkles.

Fluid retention

- When the body has too much fluid, it feels heavy, making your skin look older. It sometimes becomes the cause of forehead wrinkles.

Water retention

- Water Retention in the face can lead to puffy eyes, a sagging forehead, and a wrinkled chin. It may make your face puffy and cause forehead wrinkles and aging lines on the face.

Stress

- Too much stress can change skin proteins and decrease it's elasticity. Stress also leads to furrowed eyebrows and forehead, which leads to wrinkles and lines.
How to Prevent Getting Wrinkles on Your Forehead?
You can prevent forehead wrinkles on the face by following some simple steps. These steps can help make your skin look young and reduce aging and fine lines. The steps to remove forehead wrinkles at 30:
Exercising -

Physical exercise is proven to reduce the risk of aging through its effects on muscle thickness and connective tissue, which will help your skin maintain its youthful appearance.
Moisturizing Routine -

Keeping your skin hydrated, exfoliating your skin regularly, and using a good moisturizer will help your skin maintain a healthy complexion and prevent future blemishes.
Turnover With Peptides -

Apply skin products that contain peptides. It brings back the firmness of your skin and reduces aging. Firmer Pep Se Pure Peptide Serum is one of the best

products for forehead wrinkles

and fine lines.
Products With Hyaluronic Acid -

Hyaluronic acid is the best to hydrate and plump your skin. The Firmer anti-aging serum contains this acid that helps to rejuvenate your skin,

prevent forehead wrinkles

and reduce aging signs.
Massaging with Oils -

Various carrier and essential oils contain Vitamin E and antioxidants, thus, providing the best skin care. Oils like Argan Oil, Pumpkin Seed Oil, Agarwood Essential Oil, etc., from Shopryhtm, may help

reduce forehead wrinkles

from your face.
The Bottom Line
Various people use different products and find ways to get rid of forehead wrinkles and fine lines that appear on their face. But they do not get any effective results. To prevent forehead wrinkles on your face, one must take care of their skin, take a balanced diet, and avoid smoking and alcohol consumption.
Along with these things, they must use appropriate and best-suited products on their skin to get desired results. Firmer's anti-aging kit is one of the best products to reduce forehead wrinkles and is suitable for every skin type. One must keep their skin hydrated and reduce stress to have a youthful appearance.
Forehead wrinkles and aging lines can be cured only when you take the right steps. Therefore, using effective cosmetics and maintaining an appropriate skincare routine can help prevent forehead wrinkles and make your skin look younger.
About Ajay Kakar
Mr. Ajay Kakar is an expert in dermatology with extensive experience. His expertise lies in the realm of essential oils and carrier oils, and he understands how these natural oils can work wonders for our skin and body. With a forward-thinking mindset, he has been a pioneer in introducing groundbreaking skincare products. Mr. Kakar is a dedicated entrepreneur who believes in the importance of focus, vision, strategy, development, innovation, and top-notch quality. His commitment to improving skincare through innovation is truly remarkable.