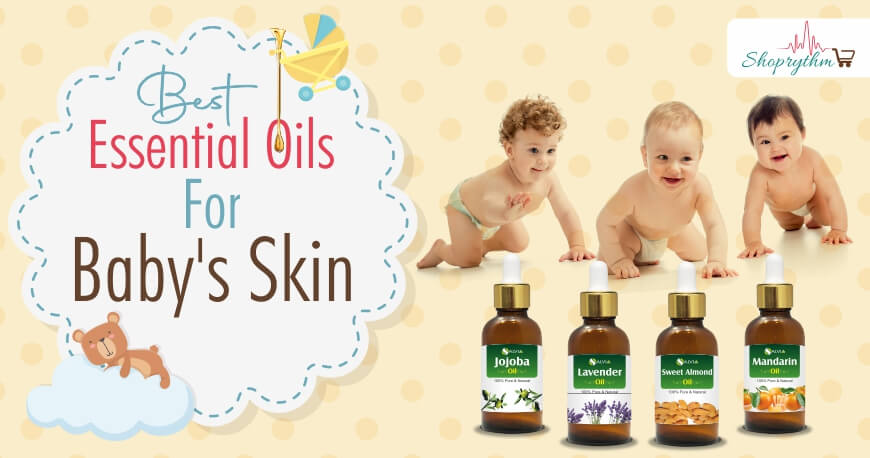 Best Essential oils for New Born Baby's Skin
Overview
Baby's new skin is much more delicate than an older child's, so anything used should always be organic and free from synthetic ingredients and preservatives. Essential oils should be used very sparingly for babies, and not on a regular basis. Save them for emergencies. These are the essential oils that could be used on babies up to three months old unless specifically directed in this section:
Kid Safe Essential Oils List
One of the gentlest and yet most effective ways to treat various common ailments involves allowing the molecules of essential oil to evaporate and circulate throughout the baby's room. But because the amount of essential oil required for new-borns is so tiny, all types of diffuser should be avoided. These Essential Oils safe for babies Skin.
How to make blend of Essential Oils for Babies?
The only method that gives you complete control over how much essential oil is being evaporated into baby's room is the simple bowl of steaming water.
First, add 1 drop of essential oil to 2 teaspoons of water and mix well. From this mix, take a ½ teaspoon and drop it into a bowl of steaming water, placed on the floor in a corner of the room, away from baby's head. This is a tiny amount of essential oil — a quarter of a drop — and not all of it will be evaporated into the room because the water will go cold before that happens. Clearly, keep other children and pets away from the bowl, to avoid any accidents.
If the baby is suffering from any kind of digestive problem — colic, indigestion, constipation, diarrhea, or regurgitation — coriander seed essential oil is very helpful. Use in the room method just outlined. If your baby isn't sleeping well, use lavender or chamomile roman as these are best essential oils for babies sleep. To freshen the air and make it smell delightful, while baby is not in the room use lavender, sweet orange, or mandarin essential oil for their antibiotic, antiseptic, disinfectant, and slightly antiviral properties. Even with the tiny quantity of essential oil recommended, the aroma will be lovely and infinitely better for your baby than any chemical air fresheners — which should definitely be avoided in a baby's room.
Safe Essential Oils for Baby's Skin

What follows is a blend of carrier oils that can be used on a newborn's skin, for various purposes. Opinions vary on what to do with the vernix caseosa, a greasy substance that protects baby's skin as it floats in the amniotic fluid. The vernix, as it's often called, can't be washed off with water because it's oily, and it's either left on, wiped off with a cloth, or taken off with oil. A mother in the hospital often has no control over what oil — processed or mineral — is put on her baby's skin, but if a blend of carrier oils is prepared before the delivery, this could be used. All the following carrier oils are nourishing, and organic versions are available:
First Body Oil for New-borns
Sweet almond oil, 2 teaspoons (10 mL)
Jojoba oil 1 teaspoon (5 mL)
This same oil can be used for dry and wrinkled skin, which is quite usual in babies. And it can also be used as a gentle massage oil for baby (or mom). Babies love being touched and held, and it all helps the baby's development and the bonding process.
Blend of Essential Oils for Baby's Cradle Cap
Cradle cap, also called neonatal or infantile seborrheic dermatitis, is characterized by yellowish scaly patches, usually found on baby's head but also around the ears and elsewhere. The scales fall off over time on their own and light brushing might help, but never try to remove the scales with your fingers — let them come off in their own time. Cradle cap is not itchy or uncomfortable for the baby, so if baby starts scratching his or her head, it could indicate another condition. Olive oil is sometimes recommended for cradle cap, but I find it too heavy for a baby's delicate scalp. Jojoba or avocado oil are much better; add 5 drops of borage seed oil (Borago officinalis) to every 2 tablespoons (30 mL) of whichever oil is used. Alternatively, use Baby's First Body Oil, outlined above. Other remedies that have been shown to help are baking soda and water mixed into a paste, and a blend of cider vinegar and water — making sure the water is distilled in both cases. Whatever you apply, remember the fontanel. This term applies to several membranous gaps in a young baby's cranial bones, but the one we're most concerned with is the one right at the top of the head. Any touching in this area should be most gentle.
Best Essential Oils for Baby's Massage
In the blend below we use a carrier oil that's good for skin and essential oils that are good for a great deal more besides. The amount of essential oil used here is about one-tenth that of an adult's massage oil. Even so, this blend can lessen the symptoms of eczema, cradle cap, inflammation, and redness due to teething problems, while boosting the immune system and acting as a general strengthener. It also has a marvelously calming effect on the nervous system, and babies become more content — no doubt appreciating the loving touch they receive. Massage over the whole of your baby's body, but avoid the face, head, neck, and genitals.
Baby's Massage Oil blend
Chamomile roman Oil 1 drop
Lavender Oil 1 drop
Geranium Oil 1 drop
Dilute in 2 tablespoons (30 mL) of carrier oil, and use no more than a ¼ of a teaspoon for each massage, depending on the baby's size. With babies, there's no need to use essential oils on a daily basis, and any remedy should be used on alternate days, or as directed, or when immediately needed. In the case of massage oil, use plain sweet almond oil on the other days.
 Essential Oils to Cure Diaper Rash
Diaper rash is the most common of baby problems, and although thought of as a minor inconvenience it's actually very sore and uncomfortable for the baby and worrying for the parent. Pure organic vegetable oils and waxes, plus a little essential oil, provide an easy solution to the problem.
For diaper rash: Chamomile German Oil, Lavender Oil for babies
When washing baby's bottom, use cotton wool dipped in a bowl of warm water to which you've added either chamomile german or lavender essential oil — 1 drop to each pint (475 mL) of water. Before using, swish the water around well with your hand and then pour through an unbleached paper coffee filter. This is to remove any globules of essential oil that might be remaining. Alternatively, use organic chamomile or lavender hydrolat. Use clean cotton wool each time you make a wipe. Then dry the baby thoroughly.
Natural Essential Ointments for Diaper Rash
Tamanu oil 2 teaspoons (10 mL) Jojoba oil 1 teaspoon (5 mL) Aloe vera gel 1 fl. oz. (30 mL) Blend the tamanu oil and jojoba oil into the aloe vera gel and apply a small amount over the sore areas, but avoiding the genital area. As with all baby ingredients, these oils should be organic. Another method uses zinc and castor oil cream. To each 10 teaspoons (50 mL) of cream add 1 drop of chamomile german or lavender essential oil. (This is when the tiny pots collected earlier will come in handy.) If you make up a blend using equal proportions of the two essential oils, again just mix 1 drop in with the 50 mL of cream. You really won't need much more than this. Use a small amount each time you change the diaper only for as long as required. Do make sure that you blend the essential oil well with the cream before applying it to your baby's bottom.
Pure Essential Oils to Cure Impetigo
Impetigo is an infection of the outer layers of the skin that can be caused by an infected scratch or insect bite. It starts as tiny red spots, turns into blisters, and can change into a sore, pus-filled area that gets bigger and spreads. Not only is impetigo contagious from person to person but infection can be spread from one area of skin to another on the same person. It is quite a common complaint, and if one child in the school has it you can be pretty sure that others will too. Impetigo sores do not just go away, and they must be treated as soon as they are noticed. To clean the infected area, prepare a small bowl of around 3½ fl. oz. (100 mL) of boiled water that has been cooled, add 10 drops of lavender oil, and wash the affected area thoroughly with the solution using clean cotton wool. Now apply a compress. First, prepare your essential oils — equal amounts of tea tree and palmarosa in a blend. You'll also need a piece of cotton material cut in a rectangle large enough to cover the infected area twice over. Soak the material in water and then put 2 drops of the blend in the center. Fold over the two ends of the material so that the essential oil will not be in direct contact with the impetigo. Use a bandage to tie the material to the body, or if the impetigo is on an awkward part of the body attach it as best you can. Leave the material there for an hour and then remove it so that the area can be exposed to the air. Repeat as necessary.
Pure essential oils blends to cure eczema
Eczema is very itchy, and this blend can be applied to the affected area once a day:
Chamomile german oil 8 drops
Manuka oil 1 drop
Diluted in:
Camellia seed oil 4 teaspoons (20 mL)
Jojoba oil 2 teaspoons (10 mL)
Evening primrose seed oil 10 drops
Pure Oils to cure Urticaria (Hives)
Urticaria, or hives, are raised patches on the skin that develop from an allergic reaction. They're very itchy and can affect any part of the body. There are three potential options to use. First, follow the same instructions as for eczema.
Second, put 2 drops of chamomile german essential oil into a ¼ cup of baking soda, then add to the bath. The third option is to make the oil that follows. Try it first on a small section of skin. If there is no reaction, use a small amount each time.
Tamanu Oil (Calophyllum inophyllum) 10 mL
Fragonia Oil (or Ravensara Oil) 2 drop
Take home a message
These essential oils are safe to be used on baby's sensitive and delicate skin. These pure and natural Essential Oils are Best essential oils for kids. It is very helpful for babies sound sleep. These are also the best essential oils for baby cough and congestion. These pure oils are best essential oils for baby's dry skin. The only thing to keep in consideration is to use right amount of oil diluted with apt amount of carrier oil. Try the aforementioned blends and share your experience in the comment section below.
You May Also Like: