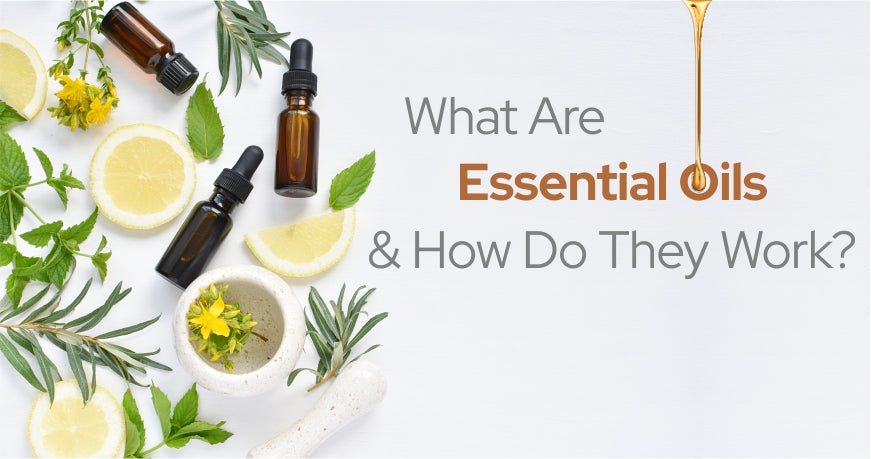 What are Essential Oils and How Do They Work?
Overview
Ever Heard about them?
Many of you are aware of essential oils, and there would be a major audience for whom this is something new! Not to worry, because we will help you gather about each term related. 
The Essential Oils are steam distilled biotic/plant-based extracts used to manage various skin, hair issues and keep them healthy. The essential oils are either breathed in(aromatherapy) or used for diluted topical application on the skin to treat and cure various health conditions.
By this short overview, you must have now be equipped with the hint of what this article is about. Yeah! That's right, Now let's dive into the pool of knowledge about terms related to Essential Oils.
To start with, you must get familiar with an important fact, i.e., Essential Oils must be used in a blend with Carrier Oils such as Coconut Oil, Sweet Almond Oil, Jojoba Oil, Olive Oil, etc.
In this reading aid, you will be versed about -
What are Essential Oils?
How do Essential Oils Work 
 How to use Essential Oils?
List of Valuable Essential Oils with their Benefits
Where to get the Purest and Effective Essential Oils
What are Essential Oils?
Some of you must be well-acquired with Essential Oils meaning, and for those who are new to this trend, these Essential Oils are incredibly compelling. Mentioning, some of the essential oils have been prevailing for ages, and some have been known now.
Essential Oils are liquid extracts of various effectively beneficial plants. Essential oils are compounds extracted from plants. The oils capture the authenticity of the plant's scent and flavor, or "essence." Matchless aromatic compounds give each essential oil its characteristic essence. Essential oils are made through the steam distillation method.
Essential Oils hold plenty of benefits, as are obtained from plants. Additionally, they possess many pluses and unique properties of the plants they are extracted from.
How Do Essential Oils Work?
It is noteworthy that essential oils usage has certain limitations to the extent of their performing activity. In the same lane, the trend of using essential oils follows a mandatory fact that these should always be diluted with a carrier oil, concerning the amount of concentration it has to be made.
How to Use Essential Oils?
The uses of essential oils are uncountable. Essential Oils possess many benefits for both the skin, hair, and body. Eventually, the uses of essential oils vary from person to person and their interests associated.
What are essential oils used for?
Primarily essential oils are used for aromatherapy. Essential Oils are frequently used to relieve headaches, migraine pains, reduce stress, ease the mood, better sleep, and many more in the queue.
Say, for a person who loves to take care of oneself, the uses may be different. An individual may use essential oils for skin, and the other may purchase essential oils for hair.
Or a manufacturer may use essential oils for various purposes. Consequently, essential oils can be used for formulating skincare cosmetic products to add value to their benefits. Hereafter, essential oils can add excellent pluses for enhancing beauty appearance or just for routine skincare.
The List of Essential Oils and their benefits:
Essential Oils Benefits the skin, hair, internal body, and mind, of course, in many ways. Also, it is much evident that essential oils hold a deep ocean of their specific benefits. The excellent properties of essential oils follow a range of activities such as antiviral, antibacterial, antimicrobial, topical applications, inhalations, antioxidants, and other uncountable boons.
List of Some Treasured and Valuable Essential Oils with their benefits:
Where to get the Purest and Effective Essential Oils?
We won't let you scout around the web to search for the Best Essential Oils at reasonable prices. Are you hinted? Yeah! Exactly because Shoprythm is your one-stop solution for purchasing the Best and 100% Pure Essential Oils. 
At, Shoprythm you are offered more than 350+ Essential Oils and Carrier Oils. The Essential Oils served are cruelty-free, 100% natural, available at affordable prices, aromatic, free from preservatives, undiluted, and are completely safe. 
Other than the Best Essential Oils, you can get skincare, haircare, and babycare products. No! this doesn't end here; the list of products is long. You can buy gifts, luxury candles, combo kits, and essential oil DIY kits.
Take-Home a Message
The list of Natural Essential Oils is long. Consequently, the benefits of Essential Oils style="font-weight: 400;"> are unmatchable as they can soothe skin from various minor ailments, solve hair issues, and can serve you through a couple of different spheres as well!
However, it is important to note that the Essential Oils should always be diluted with carrier oils like Jojoba Oil, Coconut Oil, Olive Oil, etc., to increase the efficacy of the potent mixture. And, also you should always perform a patch test before you use Essential Oils for topical application.
You May Also Like: