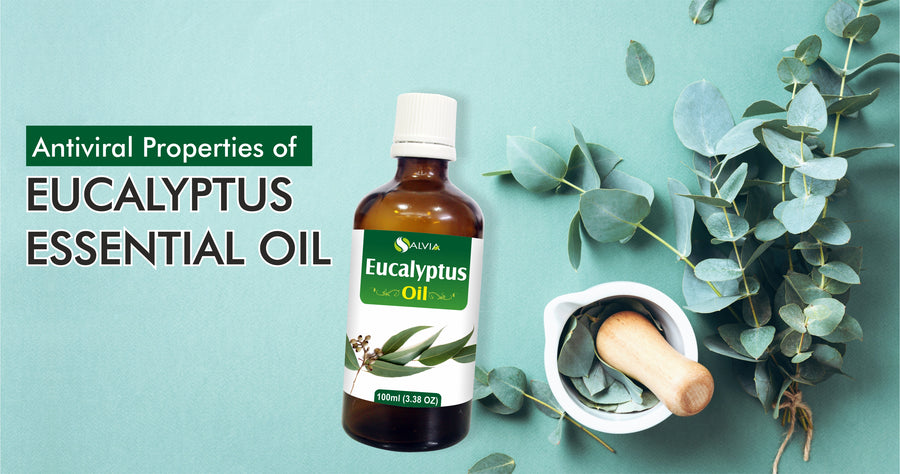 Most Powerful antiviral Essential Oils
Eucalyptus Oil- Most powerful antiviral Essential Oil
The attention-grabbing fact about essential oils (Eos) consists of numerous benefits: anti-inflammatory property, antimicrobial, antifungal property, antiviral, and so on. Essential oils have long been recognized for the above properties; furthermore, these oils also incorporate the potential ability to fight the SARC-CoV-2 virus. Due to the lipophilic nature, the essential oils are supposed to penetrate the disease-causing or viral membranes that turn out membrane disruption. At the moment, few in vitro researches/ studies and computer-aided docking are available that show anti-SARC-CoV-2 actions of essential oils.
A drop is precious! Yes, we are talking about the Essential Oils here.
Furthermore, EOs hold multiple active phytochemicals that can act synergistically on many viral replication stages and positively affect the host respiratory system, including mucus lysis and bronchodilation. Respiratory disorders like COPD (chronic obstructive pulmonary disease) or asthma cause bronchospasm (narrowing the airways). And what is a narrowing airway? This condition makes it hard for a person to cough mucus up and a problematic situation to get air in and out of the lungs. Some essential oils combat numerous medical diseases and are acknowledged to possess versatile properties; one such oil is – Eucalyptus Essential Oil. 
Introducing one of the effective essential oils that stamp out cold, cough, flu, prevent COVID-19 symptoms, and also considered to be one of the effective remedies of COVID-19- Eucalyptus essential oil. Before diving deep into the Nilgiri essential oil benefits and its properties, let's delight in this story!
Based on the narration of an old English story, it is said that once when an English pilgrim inadvertently hurt his finger with an ax, his dad had guided him to keep a portion of the Eucalyptus leaves wrapped against the injury. Afterward, when a specialist checked the wound, he was altogether astonished by the recuperating done, particularly without any infection caused.
Stories like these spread quickly, which started the rise of removing oil from the Eucalyptus plant, presently known as Eucalyptus Essential Oil.
Nilgiri oil is extracted by the steam distillation method and obtained from Eucalyptus globulus and treats many respiratory disorders that include bronchitis, sinusitis, pharyngitis, etc. This oil is well-recognized to unravel flu-like conditions such as cold and cough. If we start counting the benefits of this essential oil, then we will come up with numerous characteristics; let's be familiar with Nilgiri essential oil in deep.
BENEFITS OF EUCALYPTUS ESSENTIAL OIL
As extracted from the leaves of the eucalyptus tree or Eucalyptus globulus, this oil is known for its versatile properties. Based on the studies, Eucalyptus essential consists of antimicrobial, antifungal, and herbicidal properties of eucalyptus oil distinguish it. Vapors of Eucalyptol oil show rapid anti-IFV actions. Studies also have depicted a positive outcome solving the matter of influenza. Its notable benefits are as follows:
Eucalyptus Oil Benefits For Hair:
This essential oil induces hair growth and one of the easiest ways to solve the lice issue. If you are bothered by and are involved in an outbreak of head lice, you can heave a sigh of relief by considering eucalyptol oil as a possible treatment. It helps to soothe an itchy scalp. The blend of this essential oil and tea tree oil eradicates the lice from the head if applied on alternate days. It stimulates hair follicles. A 2010 study concluded that this oil with its anti-inflammatory properties could diminish and soothe scalp inflammation to create an ideal environment for hair growth. It also resolves the dandruff problem. Do you know about half of the adult population is affected by Dandruff and seborrheic dermatitis? Antifungal and antiseptic features of Eucalyptus citriodora oil make it worthwhile for anti-dandruff treatment too.
Eucalyptus Oil for Colds and Flu:
Based on a 2010 review, eucalyptus essential oil was found to have antiviral and antimicrobial properties, and these properties are known to treat the cold. If this oil is inhaled, its vital constituent 1,8-cineole fights viruses and conditions like bronchitis. Clinical studies have also stated that inhalation of Cineole (Eucalyptol) from eucalypts is effective for COPD and asthmatic patients. How to use eucalyptus oil for cold and flu- Inhaling the vapor of this essential oil loosens the mucus, and cough is expelled. This oil, if rubbed to the chest and throat, relives the common cold and flu.
Is Eucalyptus Oil a Good Disinfectant?
When it comes to its disinfectant role, this oil contains natural anti-microbial agents which destroy harmful microorganisms. Thus, it is a good disinfectant. Data from the clinical and preclinical trials –points toward the actual therapeutic quality present in the nilgiri oil and its most important constituent – Eucalyptol or Cineole. When this oil is used as a disinfectant air spray, it comes up with a potent natural air cleanser. Its anti-microbial activities play a significant role in eradicating the bacteria and virus existing in the atmosphere; it also freshens the air.
EUCALYPTUS OIL BENEFITS FOR SKIN:
This oil also has skincare properties; it diminishes and eradicates acne issues, leaving a healthy vibrance glow. It also has anti-inflammatory properties that resolve redness and other inflammatory conditions.
Eucalyptus Oil as a Bug-Repellent:
Yes, it is one of the best bug-repellent sprays; there are different variations of this essential oil; however, most of them work well in repelling mosquitoes. Using eucalyptus oil for mosquito control works because of the elements like citronellal and p-methane 3, 8-diol (PMD) present in this essential oil.
How you can prepare a bug repellent spray –add ten drops of Eucalyptus essential oil into the 60ml of water and shake it well! Apply to the areas where insects are seen
The Vital Constituent of Eucalyptus Oil – Eucalyptol
This essential oil has been recommended remedy for upper respiratory and viral infection; also, this oil relieves the symptoms of rhinitis and asthma. This oil is one of the constituents of ointments and cold remedies designed to be rubbed on the chest (to relieve cold and cough) or applied around the nose to clear up cold sores.
The active ingredient of eucalyptus oil – EUCALYPTOL, makes it unique; EUCALYPTOL comprises 1,8 – Cineole (unto 70-75% concentration) and hydrocyanic acid – in lesser amounts. Eucalyptol is also known to have bronchodilatory and mucolytic properties. Remarkably, eucalyptus essential oil is known to have disinfection properties and impede the growth of viruses on several utensils and filter devices. Let's come up with all the researched data from preclinical and clinical trials- Eucalyptol (present in eucalyptus oil) points towards the promising therapeutic ability and acts as a prevention and treatment of COVID-19. The studies are further on the research.
Since this oil is considered an effective remedy to solve respiratory viruses, multiple researchers have also attempted to explore the evidence of its antiviral efficacy against SARC-CoV-2 using molecular docking methods and in vitro assays.
Frequently asked Questions about Eucalyptus Essential Oil
There we have reached the bottom of the page, now as we have understood the vital features of this excellent essential oil, let us address common questions asked by the people about this natural essential oil –
Q- Is eucalyptus essential oil safe for babies to breathe?
Essential oils are usually not advisable for pregnant women and babies because of the undiluted and robust characteristics. Hence, this essential oil is also suitable for infants (under three). Communicate with the pediatrician to use for the children if needed.
Q- Is eucalyptus essential oil suitable for dogs?
No! It's not safe and could harm the pet.
Q- Does Eucalyptus oil has antiviral properties? How Eucalyptol (1, 8 –Cineole) is beneficial?
Based on a 2010 review, Eucalyptus essential oil possess antimicrobial and antiviral properties, and when inhaled, this oil fights respiratory problems. So, yes Eucalyptus oil has antiviral properties. It destroys the virus – because of the presence of Eucalyptol (1,8 – cineole main component of eucalyptus oil). As an isolated composite, 1,8-cineole is identified for its spasmolytic and mucolytic action on the respiratory tract, with confirmed clinical efficacy.
1,8-cineole also own therapeutic benefits in inflammatory airway diseases, such as COPD (chronic obstructive pulmonary disease) and asthma. Due to its potent antiviral ability, it is effective against SARC-CoV-2.
Q- How Eucalyptus essential oil is effective for acne?
It has the property to reduce the excessive sebum formation that could come up with a positive outcome against acne formation.
Bottom Line
In short, Eucalyptus is one of the most effective essential oils; the leaves of the eucalyptus tree are gathered, dried, crushed, and then distilled into an essential oil. It treats sinus congestion, common cold, fever, and other respiratory disorders; also, this oil is used for aromatherapy.  Due to its antimicrobial, antifungal, antiviral properties, this oil is used for multi-purposes – say it's taking care of the cold and congestion, or solving the respiratory ailments, warding off the insects and bugs, or reducing the inflammation or pain.
Eucalyptol or Cineole is an active ingredient that makes Eucalyptus oil finest to fight against the virus, bacterial infection, or respiratory illness. Cineole has also been shown to be beneficial in treating sinus infections. It reduces inflammation and pain when applied topically. Eucalyptus Essential Oil has antiviral properties.
Disclaimer – Note the information are taken from the given sources.
You May Also Like: