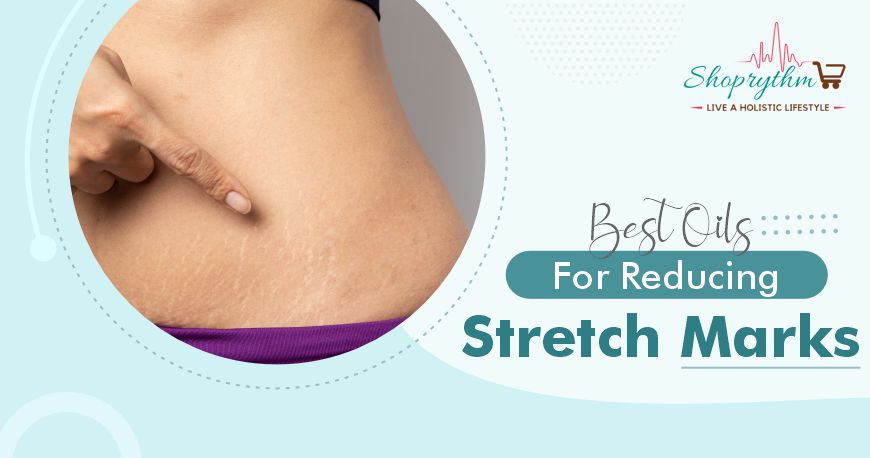 Which Are The Best Oils For Stretch Marks Reduction?
No one wants that red and white lines on their thighs, hips, or stomach. Those shabby lines are called stretch marks. They are caused by overstretching of the middle layer of the skin, i.e., the dermis. Stretch marks are a common skin concern for both men and women. It can happen due to pregnancy, weight gain, puberty, or even rapid growth. 
Women are more prone to stretch marks than men. Although having stretch marks is not a medical concern, but it is a cosmetic concern. Stretch marks often appear as red or purple streaks on the skin, which can fade to a silvery white over time. 
For walking out with confidence, everyone wants to look their best. Thus, countless people look for a natural and rapid remedy for reducing stretch marks on their skin. What can be best than choosing natural stretch marks oils? 
Natural and pure oils are considered effective solution for stretch marks. Essential oils for stretch marks are a natural source of various bioactive ingredients having several medicinal properties. 
In this blog, we will discuss the best oils for reducing the appearance of these persistent stretch marks.
Common Reasons For Having Stretch Marks
Stretch marks could occur due to several reasons, including –
Women who are pregnant experience stretch marks during or after birth. (approximately 50-90% of the women)

During the puberty phase, rapid growth is usual in young people; this can lead to the occurrence of stretch marks.

Those who put on weight in a short space of time are likely to have stretch marks.

Medical conditions - Continued usage of corticosteroid creams can decrease collagen levels in the skin.

One can observe stretch marks on the bodies of men and women undergoing heavy weight training during their exercise regime.
Why Choose Natural Oils for Stretch Marks Reduction?
Oils containing high antioxidants, vitamins, and fatty acids can help nourish and heal the skin. They can also improve skin elasticity and stimulate collagen production, which can help reduce the appearance and formation of stretch marks over time.
Using oils for stretch marks is a safe and natural alternative to harsh chemical treatments. They are easy to apply and can be absorbed quickly into the skin. 
Additionally, various carrier and essential oils have extra benefits, such as preventing inflammation and enhancing skin texture.
Undeniably one can get thousands of options searching for how to remove pregnancy stretch marks. Stretch marks cannot be diminished overnight; therefore, you need to put on the chosen method regularly.
But what matters here is that – which method is safe and has a natural approach – don't you think so? Natural carrier and essential oils are safe and effective options for nourishing and healing the skin. 
9 Stretch Marks Oils To Enhance Your Skin
How To Use Stretch Marks Oils on Your Skin?
The above oils have properties that can improve skin elasticity and promote healing. These oils work best for reducing stretch marks. But one must know how to use them effectively. 
To use these oils, apply a small amount to your stretch marks and massage gently. One can use them individually or combine two or three oils for added benefits. 
Remember to be patient when using these oils, as it may take time to see results. Also, it is important to consult with a healthcare professional before using new products on your skin, especially if you have allergies or sensitivities.
One must do a patch test before applying these oils to their skin. For a patch test, apply the oil to a small area of your wrist or back palm. Do not use the oil if you experience burn, irritation, redness, or itching.
Here's a quick DIY that you can prepare at your home after you buy essential oil.
Blend Grapefruit, Lavender in the mixture of Shea butter, vitamin E, and coconut (carrier oil). Use heat to mix all these ingredients. Let the mixture cool down. Now apply this blend and see visible results in two to three weeks or so.
The Bottom Line
Stretch marks can be persistent and may dull your skin appearance, but natural and pure oils can reduce their appearance. You must choose natural and good-quality stretch marks oil for your skin.
Shoprythm is one of the best-sellers of essential and carrier oils. We have 100% pure and undiluted oils that show effective results within a reasonable amount of time. Our oils are available at affordable prices and benefit your skin in several ways.
Get the best-suited oil for your skin from Shoprythm and reduce the formation of stretch marks.
You May Also Like These Blogs:
About Ajay Kakar
Mr. Ajay Kakar is an expert in dermatology with extensive experience. His expertise lies in the realm of essential oils and carrier oils, and he understands how these natural oils can work wonders for our skin and body. With a forward-thinking mindset, he has been a pioneer in introducing groundbreaking skincare products. Mr. Kakar is a dedicated entrepreneur who believes in the importance of focus, vision, strategy, development, innovation, and top-notch quality. His commitment to improving skincare through innovation is truly remarkable.