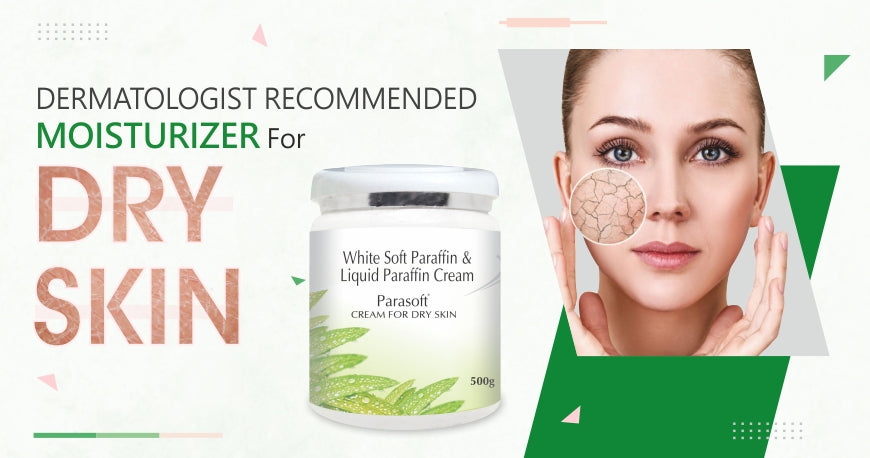 Dermatologist Recommended Moisturizer For Dry Skin
Overview
Having dry skin can be irritating. It makes your skin look dull and lifeless. The outer layer of our dermis needs some essential healthy fats to remain soft and supple. This natural fat helps to trap water and maintain the hydration level of the skin. The deficiency of natural oils on the dermis leads to dehydrated and itchy skin. With increasing stress and level of pollution, the problem of dry skin is also escalating. 
Hello, all you lovely ladies; want to get rid of your flaky, itchy, and lifeless skin? Then you must check out our wide range of moisturizing products. They are prepared with no chemicals and harmful ingredients just to give a boost of chemical-free hydration to your skin. This article will tell you about some of the finest ingredients to look out for before selecting the best face moisturizer for dry skin. 
Best Moisturizer for Dry Skin in India
Parasoft Cream is best for healthy skin and is enriched with high emollients and skin nourishers. It hydrates, moisturizes, and binds water to the skin hence managing and controlling trans-epidermal water loss. It deeply moisturizes the skin, thus becoming one of the best creams for healthy and dry skin. It helps manage extremely dry skin conditions and keeps the normal skin type soft and supple. 
Along with all the above features, Parasoft cream doesn't leave your face with greasiness and has a non-sticky formula that makes it an ideal choice for winter care when skin gets more prone to dryness. Parasoft cream is free from parabens, SLS, silicones, and other toxic ingredients. Its USP lies in its is dermatologically tested and hypoallergenic to the skin.
Parasoft Cream incorporates healthy ingredients that the dermatologist recommends. It is enriched with – 
1. Liquid paraffin
Liquid paraffin acts as an emollient it soothes and softens the itchy skin. Most importantly, it locks the moisture in the outer layer of skin and maintains hydration for almost 12 hours. Yay! You don't need to reapply your moisturizer every now and then. It is also very useful for people suffering from medical conditions like eczema, ichthyosis, and pruritis. 
2. Natural Essential oils
Essentials oils such as rose oil, jojoba oil, and Avocado oil are rich in essential fatty acids, which are an integral part of the dermis. They are also rich in antioxidants which help the damaged skin to heal and rejuvenate. Essential oils prevent hyperpigmentation and give you even-toned and bright skin.
3. Aloe Vera
This magical ingredient has been known for its umpteen beauty benefits for a very long. It is used for several skin conditions like psoriasis, fungal infection, and dry skin. Aloe-vera gel has hydrating properties; it can easily penetrate into the deeper layers of the skin and moisturize it from within. Having Aloe-vera in your moisturizer makes it work miraculously on your skin and helps you to get rid of almost all your skin problems.
4. Calamine
With the virtue of its moisturizing properties, it provides instant relief from dry skin and makes your skin look hydrated and nourished. The pink-tinged calamine has soothing properties and can also reduce the itchiness and flakiness of dry skin. 
Dermatologists also recommend calamine for people facing skin conditions (dry/ scaly/ and skin problems). It helps to reduce acne and their marks. 
Take Home A Message
While looking for the best moisturizer for dry skin, you must watch out for things that will help lock in the moisture in your skin. It is important to remember two things while adding a product to your hydration routine; firstly, it should suit your skin type, and secondly, it should be free from harsh chemicals. 
Choosing the wrong product may exacerbate the problem. Not sure where to find the best cream for dry skin? Check out Parasoft body lotion (for the body) and cream for dry skin (for face & body) containing essential oils and liquid paraffin to give a hydrated and glow look to your skin. Grab a bottle of Parasoft Cream for healthy skin and hail a final goodbye to dull and dry skin from Shoprythm. Take care of your skin using natural and dermatologist-recommended moisturizers and keep your skin healthy and smiling.
You May Also Like These Blogs:
About Ajay Kakar
Mr. Ajay Kakar is an expert in dermatology with extensive experience. His expertise lies in the realm of essential oils and carrier oils, and he understands how these natural oils can work wonders for our skin and body. With a forward-thinking mindset, he has been a pioneer in introducing groundbreaking skincare products. Mr. Kakar is a dedicated entrepreneur who believes in the importance of focus, vision, strategy, development, innovation, and top-notch quality. His commitment to improving skincare through innovation is truly remarkable.