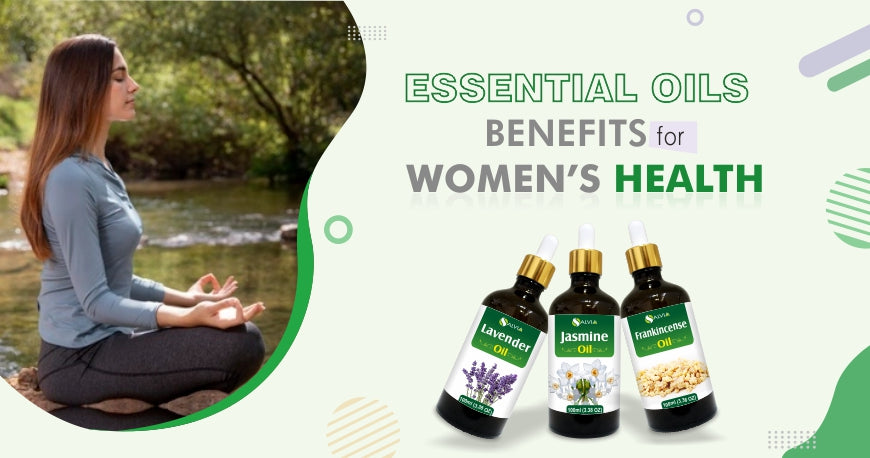 Essential Oils Benefits for Women's Health
Overview
Thank your body has the whole kit and caboodle to take care of your health from all angles. Your body is your temple; thus, it is mandatory to have proper consideration of it! What do you think when you hear – Holistic Lifestyle? A holistic lifestyle implicates living in the sense of balance not just with your body but also with the spirit. Being in a holistic way of life incorporates several aspects such as eating a nutritious diet, buying organic, meditating, doing yoga regularly, and getting a massage. In short, we also can conclude these statements into a short one – Eat Better, Be Active, and Avoid Toxins. Natural – This word itself carries a natural connotation, isn't it? A holistic lifestyle also represents using safe skin hair care products. And there it comes – the super-secret way of keeping oneself in a healthy standard of living is none other than by using the Best Essential Oil in your day-to-day routine. Showing close attention to detail, we are here for you to provide the nuts bolts about the Best Essential Oil and how to use it when talked about health care. We at Shoprythm offer a comprehensive range of topical natural and safe health care products and pure Essential Oil for skin and hair. We provide body creams, body butters, diffusers, and so on; however, in this article, you will be acquiring the facts and figures about the benefits of pure and Best Essential Oils.
Essential Oils Benefits for Women's Skincare and Health Care
Well, apart from skin and health care, essential oils are used in several other aspects, such as making the natural scent, making the pet shampoo and flea spray, and so on! Do you know that making a potent and robust combination creates self-made DIYs at home? DIY using the essential and carrier oils are much in demand these days, and why should not it be; after all, this is the magic bullet for countless remedies.
Essential oils are compounds that are extracted from the plants (flower, leaves, bark, or fruit) – such oils capture the plant's scent; thus it has a scent – mild or maybe strong. Essential oils are most of the time taken out by the technique of steam distillation. This method turns the "essence" of a plant into a liquefied or watery form for lots of recreational and medicinal uses.
Ten, twenty, fifty – No! More than 90 essential oils have their unique smell, properties, and health benefits.
Essential oils are best for aromatherapy and have astonishing healthcare benefits. It reduces anxiety, treats fungal infections, joints or muscular pain, mood relaxation, skin-care healing properties (acne, scars, stretch-marks, and so on), hair-care, and many more!
Outstanding Right? Undeniably the essential oils work well when applied in the right amount. Since there are several Best Essential Oils for Women, we will be hand-picking those essential oils with remarkable features and have multiple properties for skin, hair, nail, stress relief, pain, etc.
The essential oils hold a prominent place in folk and traditional medicine across the world. Speaking about today's era, modern medicine supports several benefits and medicinal properties about the Best Essential Oils including –
Health Benefits 
Fungal Infections
Disease Prevention
Improve Sleep Quality
Stress Reduction
Five Must-Have Essential Oils Women Should Keep
Before taking you to the highly preferred Essential Oils, let's gain some fundamentals about the Best Essential Oils
Essential oils are not meant to be swallowed – these oils are only used topically.
Essential oils, when applied to the skin, are first diluted with the base oils. Why is dilution necessary? These oils are undiluted and uncut and could cause skin sensitivity if applied unadulterated; hence it is recommended to dilute it first before applying to the skin.
You shouldn't use essential oil if you are pregnant.
These oils should be kept away from children.
These some nittygritty regarding he usage of essential oils we know you would be curious to highly favored and Best Essential Oils for Women we have highlighted the top five must-have essential oils for Women
The Best Essential Oils For Women Healthcare Are
Take Home A Message
But there are more essential oils apart from these five essential oils for the women who want to live a healthy and holistic lifestyle, so do not limit yourself to the above five provided lists. Go and explore more!
Ensure you do not use these Best Essential Oils for Womendirectly on the skin (topically) because essential oils are pure and undiluted. The result will be more effective if you mix the oils with the carrier/ base oils. You can try mixing the oils with your much-loved carrier oil for abdominal massage when feeling discomfort associated with the cycle.
You May Also Like:
About Ajay Kakar
Mr. Ajay Kakar is an expert in dermatology with extensive experience. His expertise lies in the realm of essential oils and carrier oils, and he understands how these natural oils can work wonders for our skin and body. With a forward-thinking mindset, he has been a pioneer in introducing groundbreaking skincare products. Mr. Kakar is a dedicated entrepreneur who believes in the importance of focus, vision, strategy, development, innovation, and top-notch quality. His commitment to improving skincare through innovation is truly remarkable.