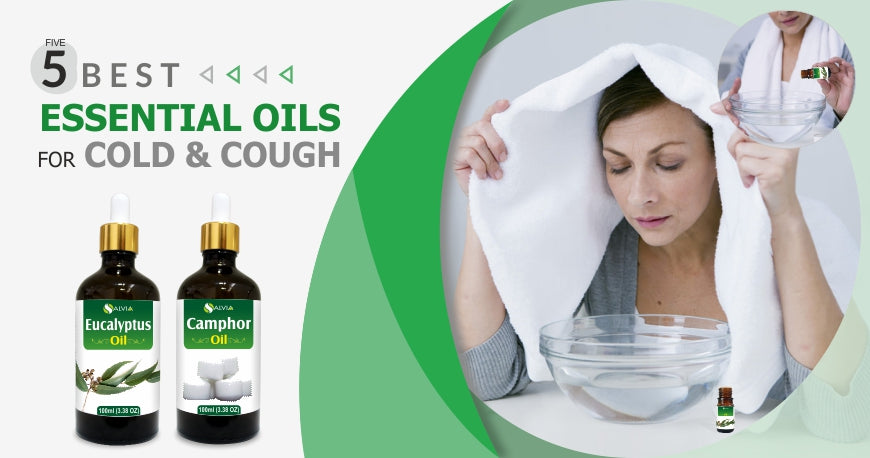 Which Essential Oils To Choose For Cough and Cold?
Various remedies are available to treat cough and cold, and essential oils are one of the best among them. Using essential oils for cough and cold is an effective solution, but one must use them with care.
Essential oils are known for their natural healing qualities and are extracted from plants grown worldwide. Most people use essential oils for aromatherapy, skin enhancement, and hair rejuvenation. But these oils also contain vitamins and antioxidants that may keep you away from cough and cold.
Some essential oils help ease cough and cold symptoms by soothing the throat, fighting bacteria, and reducing pain. Let us discuss the best essential oils for cold and cough and how to use them.
5 Best Essential Oils for Cold and Cough
Researchers have found that essential oils can benefit in treating cough and flu. Essential oils are extracted through different methods from plants. Thus, they contain various health benefits and have antibacterial properties.
The five essential oils one can use for relieving cough and cold are 
How to use Essential Oils for Cough?
By mixing them with the carrier oil for applying topically on the skin or body.

Add a few drops to the bowl of hot water to breathe oil-infused steam.

Use a diffuser, humidifier, or spray bottle to put in the air.

Mix the oil by adding it to the bathwater or spa products.

There are multiple Essential Oils for Cold and cough that help to relax them or make you feel more comfortable dealing with the symptoms of cough or cold. These are the five essential oils for breathing difficulties.
Essential oils are potent, so it needs to be used with care. Aromatherapy involves inhaling essential oils through the nose and mouth, helping to cure cough and colds.
Take Home A Message
Essential oils are beneficial in improving health when used appropriately and pure. Shoprythm has the best-quality essential oils and does not contain any impurities. Using our undiluted and pure essential oils will help you get relief from cough and cold.
When used in aromatherapy or diffuser, essential oils may cure cold and cough. Do not use essential oils if you are allergic to them.
You May Also Like: