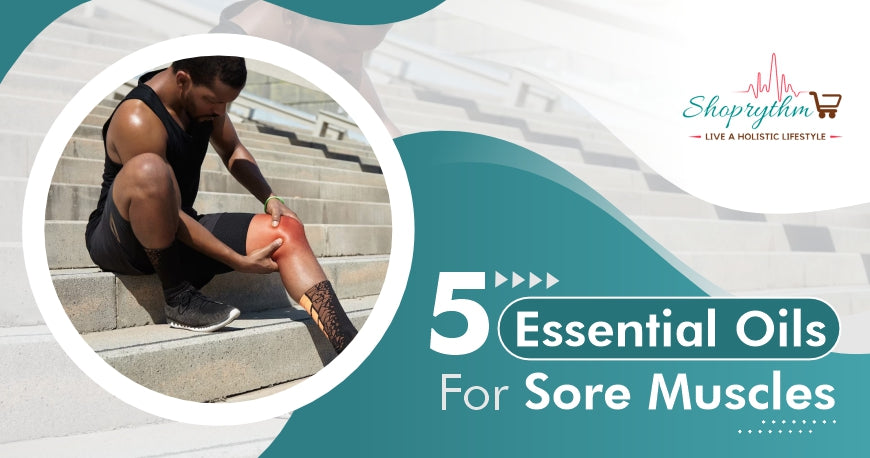 Which Are The Best Essential Oils For Sore Muscles?
Sore muscles can be common after a tough workout or a long day of physical activity. While exercising, your muscles contract and relax repeatedly, and this can cause small tears in the muscle fibers. These tears can lead to soreness and stiffness, which can last for a few days. Additionally, your body's immune system responds to the damaged muscle fibers by sending white blood cells to the area, which can further contribute to inflammation and pain.
People use various natural methods, including heat therapy, stretching, and essential oils. Using essential oils for sore muscles is effective due to their anti-inflammatory, analgesic, and muscle-relaxing properties.
Why Use Essential Oils For Sore Muscles?
Essential oils can be an effective way to relieve sore muscles. They contain concentrated plant extracts that have been used for centuries for their therapeutic properties. 
These oils are a natural and safe alternative to over-the-counter pain medications or prescription drugs that can have side effects. They are derived from plants and do not contain any synthetic chemicals. 
Many essential oils have analgesic properties that can help relieve muscle pain and discomfort. Various oils have anti-inflammatory properties that can help reduce muscle inflammation and stiffness. 
Essential oils like lavender oil can also help in relaxation and reduce stress, which can minimize muscle tension and soreness.
In this blog, we will explore five essential oils for sore muscles and how to use them effectively.
5 Best Essential For Muscle Pain and Soreness
Some of the best essential oils to relieve muscle tension and soreness are 
1. Peppermint Oil
2. Lavender Oil
3. Eucalyptus Oil
4. Ginger Oil
5. Rosemary Oil
How To Use Essential Oils To Treat Muscle Soreness?
Essential Oils are highly potent and concentrated oils. Hence, one must dilute these oils before applying them topically to the skin or hair. We also recommend doing a patch test before application to avoid skin irritation, burning, or allergic reactions. Some of the ways to use essential oils for muscle pain are 
To use peppermint oil for sore muscles, mix a few drops with a carrier oil, like coconut oil, and massage the mixture into your sore muscles. 

To use lavender oil for sore muscles, add a few drops to a warm bath to help soothe your muscles.

To use eucalyptus oil for sore muscles, add 3-4 drops of eucalyptus oil to a warm compress. Then, apply it to the affected area for 10-15 minutes.

To use ginger oil for sore muscles, mix a few drops with a carrier oil like jojoba oil and massage the mixture into your sore muscles.

Gently massage diluted rosemary oil onto the sore muscles in circular motions. Apply a bit of pressure, but do not overdo it. Apply heat to the affected area after the massage to improve blood flow and aid muscle recovery.
The Bottom Line
In conclusion, essential oils can be effective in relieving sore muscles. However, it is crucial to use them safely and effectively by diluting them with a carrier oil or base oil. One MUST perform a patch test before use. If you are looking for high-quality and pure essential oils, then Shoprythm is the best place for you. We have the best and undiluted essential oil for sore muscles. Incorporating our essential oils into your post-workout routine will help soothe sore muscles and aid in the recovery process.
You may also like -