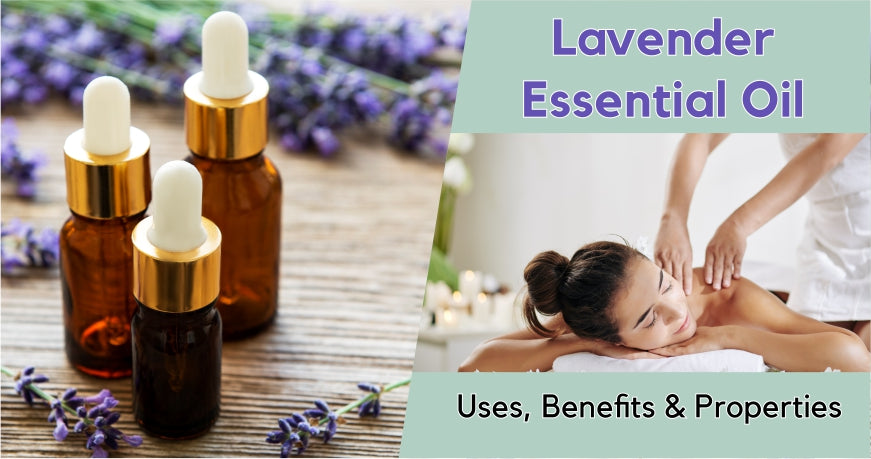 Lavender Oil- Uses, Benefits, and Properties
OVERVIEW
Lavender Essential Oil
Lavender! Illustrated a place full of little and deep royal purple-colored shrubs, aromatizing the whole environment with a soft and calming fragrance. 
No- No!  Come back to the real world because today you will get through some fantastic and effective Benefits, Uses, and Properties of Lavender Oil. Yes! Lavender Essential Oil- that holds the same advantages as the flower from which it is extracted. 
The trend of using essential oils has increased with people's concern for their skin, hair, and mental health. Eventually, the reason can be concluded to the various benefits they come with. One such miraculous essential oil is Lavender Oil.
In this reading aid, you will gain information about:
What is Lavender Oil, and How is it extracted?
Lavender Oil- Uses and Benefits for the skin
Lavender Oil- Uses and Benefits for hair
Lavender Oil for Aromatherapy
Miraculous Properties of Lavender Essential Oil
Lavender Oil (scientific name-Lavandula Angustifolia) is extracted from the flowers of the lavender plants through the method of steam distillation. Steam distillation is the most common way to obtain aromatic compounds (essential oil) from a shrub. Lavender Oil is also accepted as Universal Oil for the reason that it covers various qualities. Lavender oil has also been commonly used in making perfumes. Since Lavender Essential oil is pure and undiluted in form, it is suggested to dilute with a carrier/base oil such as Coconut Oil, Jojoba Oil, etc.
Lavender Oil- Uses and Benefits for the skin:
Lavender oil benefits for Skin- It is good for skin lightening, reducing acne issues, heals wounds, deals with certain skin conditions. 
Lavender oil manages acne by killing bacteria, unclogging the clogged pores. It can further lessen the acne breakouts and give the skin an even texture. Lavender oil for skin redness- It can reduce skin itching and redness caused by the growth of pimples. Subsequently, you can blend lavender essential oil with a carrier oil and gently massage it onto the skin for best results. 
Dry skin Issues can knock on your door any time. Sometimes, the dryness in the skin can even give birth to eczema and Psoriasis. But, not to worry, as Lavender Oil comes to save you and relives the skin from itchiness, scaly patches, flakes on the skin surface, and other such signs. It further smoothens the skin with its natural activity.
Lavender Oil for skin lightening- helps you to reduce signs of hyperpigmentation, initiate an even skin tone, and maintain its complexion. Also, Lavender oil for Anti-Aging- is used to lessen the appearance of wrinkles and fine lines.
The Natural Lavender Essential Oil benefit for skin- If you apply Lavender Oil and Coconut Oil mixture onto your minor burns, rashes, insect bites, or other mild wounds, it can boost healing of the skin tissue. The use of Lavender Oil for skin may vary, concerning the purpose you are using it for. You can apply it with a cotton ball and massage it with your fingertips. It is important to note to always mix it with a carrier oil before its topical application. Eventually, for your question about how to use lavender oil for face: it can be used as a daily moisturizer if well-blended with the base oil.
Lavender Oil- Uses and Benefits for hair:
Lavender Oil for Hair-  Lavender Oil benefits your hair in numerous ways. It can help improve hair texture, relieve scalp dryness and itchiness, thus, preventing head lice and managing good hair health.
Lavender Oil is one of the best essential oils for hair growth and thickness. It stimulates hair growth and makes hair grow thicker and healthier. Lavender Oil for Hair Benefits is more effective as compared to that of the skin. It may also manage male and female pattern baldness.
Lavender Oil for dandruff- It helps relieve the scalp from itchiness and flakiness that results in dandruff. Lavender is an Essential Oil that helps ease the scalp from irritation caused by simultaneous itching of dandruff. You can use Lavender Essential Oil for hair in a blend with coconut oil, almond oil and massage it gently onto the scalp. It may help relax the scalp too.
Lavender Oil for Aromatherapy-
Lavender essential oil is one of the most versatile essential oils used in aromatherapy. Lavender Oil is a remarkable oil for relaxing senses, easing the mind, and treating cough. Distilled from the plant Lavandula Angustifolia, the oil stimulates relaxation and is believed to treat anxiety, depression, insomnia, nausea.
Lavender oil for sleep, anxiety, and relaxation- The scent of Lavender is very soothing and pleasing, which can help relax the mind and senses, leading to relieve anxiety and have a sound sleep. Now you have understood how to use lavender oil for sleep as well as how to use lavender oil for anxiety.
Best Essential Oil: It is touted as one of the best natural essential oils to relax the mind from insomnia. It is the most suitable oil used as a natural remedy for depression, migraine headaches, sprains. You can add few drops of valuable oil in bathing water to boost blood flow and maintain mental well-being.
Lavender Oil for Cough
Lavender Oil soothing properties may help you get relief from cough. Concerning how to use Lavender Oil for Cough- you can either add some drops in the boiling water and inhale its steam.
Miraculous Properties of Lavender Essential Oil
The uses and benefits of Lavender Oil, as stated above, define it all. It covers many pluses for the skin and hair as well. 
Properties of Lavender Essential Oil includes-:
Anti-Bacterial action
Soothing effects
Moisturizes the skin
Wound-Healing Properties
Promoting hair growth
Curbing scalp issues
Skin lightening
A word from Shoprythm
Lavender Essential Oil can do wonders to your skin and hair. It can deal with mild-moderate skin and hair issues as well. Indeed, it proves as an effective and natural treatment alternative to chemical-infused products. It is to note that before applying Lavender Essential Oil, you need to dilute it with a carrier or base oil, such as almond oil/coconut oil. 
You can get your hands on the best and undiluted Lavender Oil from Shoprythm. We serve 350+ pure and natural carrier oils and essential oils at affordable prices. 
If you are looking for Lavender oil price then visit our store. We hope this information addresses your concern; For any further queries, feel free to contact our support team!
You May Also Like These Blogs: