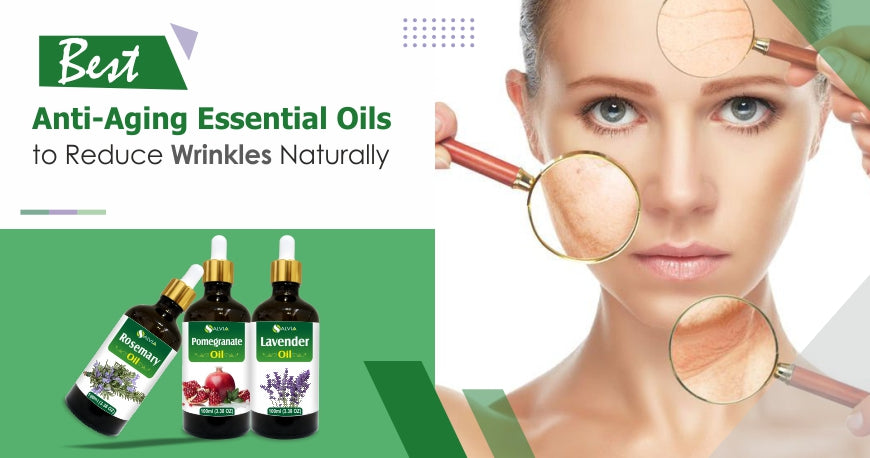 Best Anti-Aging Essential Oils to Reduce Wrinkles Naturally
Overview
Best Anti aging Essential Oils
We eagerly wait for our birthdays, but we never love to see that when it comes to aging signs. This is a bitter truth – you cannot stop your aging completely or reverse it 100%; however, preventing the early onset of aging is up to your hands. This article is all about letting you know how to reduce aging signs or tighten the loose/ sagging skin using Best Essential Oils for Skin Ageing. Curious to learn about how essential oils manage wrinkles and aging signs – let's get into nuts and bolts about this matter.
Aging comes with many challenges; if you're having difficulty controlling the effects of aging, you need to look for a remedy to the aging process using the natural approach. Anti-aging essential oils seem to have properties that can help you deal with most of the aging problems. The aging problem is natural, and it will happen to everyone. But luckily, there are few things you can try to slow down aging signs (including fine lines, wrinkles, saggy skin, and so) using some best essential oils.
In the market, there is no shortage of commercial products that promise a lot of things but without any definitive proof of any kind supporting their claims. Anti-aging essential oils can deal with wrinkles and fine lines, causing no side-effect.
While there isn't a mass of examination on the effectiveness of essential oils in eliminating wrinkles, there are some of the most common essential oils in cosmetic products. They will indeed affect the wrinkles, but they will never eliminate the wrinkles. Reduction of these wrinkles is the goal that you want to pursue. Anti-aging essential oils help you achieve it without any problem, as they have the properties that will help the wrinkles to appear more rarely and smoothen your skin during the process. Let's learn how the best essential oils for skin aging work.
Essential Oils to Reduce Wrinkles
Anti-aging essential oils are often used in CAM (complementary and alternative medicine) to natural remedy reducing aging signs. Here are some of the best essential oils that you can use for natural recovery on the skin.
A Word From Shoprythm
Essential oils are blowing in recent years for their usage and making the push. The oils mentioned above are the best essential oils for skin aging. While you will find plenty of them in the market, only some will bring you the natural healing process to your body; hence, before buying any essential oil, check the brand's authenticity. Shoprythm is recognized for its natural and premium Aromatherapy products and delivers pure and 100% natural essential oils.
You May Also Like These Blogs: